I first saw the limited edition Smashbox Softbox palette in Sephora Ion Orchard. I swatched some of the colours under the eyes of a scary pushy SA and instantly fell in love with this shade called Truffle.
I'm in a crazy phase of falling in love with random taupe colours – Truffle is one of them (I wish Smashbox would come out with a single!) and the other is Chanel's Fauve – but you're not going to see it here (yet) because it costs over RM100 for a single and I'm still debating dropping that sort of cash on ONE shadow. I'm crazy… not stupid… yet.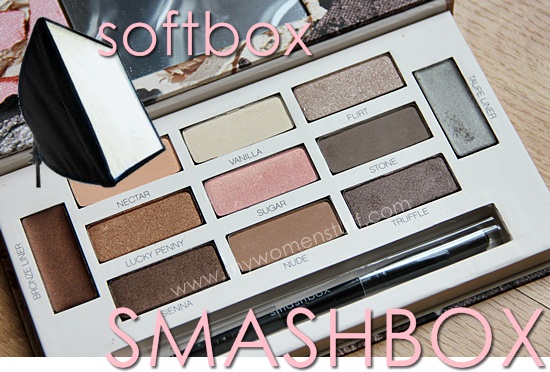 Ok back to Smashbox 😛 For just about the price of 2 Chanel Ombre Essentialle single eyeshadows, you get a palette of 9 neutral eyeshadow shades and 2 cream shadows/liners and a double-ended brush… AND a lid primer. Will the excitement never end 😛
If you're wondering what on earth a softbox is, its that contraption that professional photographers use to diffuse lighting. You know those umbrella-y boxy things they use to shine on you to get a soft diffused look? Yes, that one. And that's the inspiration behind this palette too. The eyeshadows aren't loud, smack in your face, vibrant colours. They are soft, diffused and when applied, layer to give a there… but not… colour … but not sort of look. I thought I'd be all blah about it.
But its the one palette thats gotten me compliments every single day I wear it. Its fascinating really. And the best part is that with your eyes kept all diffused and soft, you can go with the red lippie! 😀
Some quick swatches will tell you that the shimmer colours swatch very well. The colour is quite true to the colour in the pan, and the shimmer is not overly glittery. Its lovely and soft to the touch too. The matte shades however, don't pick up very well with fingers. With a brush, its fine. But with fingers, not so fine. Texture is good though.
Smashbox Softbox Palette Swatches L-R: Nectar (Matte), Lucky Penny (Shimmer), Sienna (Shimmer), Vanilla (Matte), Sugar (Shimmer), Nude (Matte), Flirt (Shimmer), Stone (Matte), Truffle (Shimmer), Taupe Liner, Bronze liner
The colours and descriptions are self explanatory. Like almost all Smashbox palettes, you can use the colours across for contrast, or vertically for complementary colours. It tends to be a bit flyaway. So I do find I have to blow off the eyeshadow dust after using this palette, because it does get a little dusty, especially the matte shades.
I worked out two very simple looks with this palette.
Look #1 – Truffle, Stone, Flirt
Also Featuring: Diorsnow powder foundation, Bobbi Brown Pink Coral Shimmer Blush, Dior Addict Ultra Gloss #557 Empire Pink
Look #2 – Truffle, Vanilla, Sienna Sugar
Also Featuring: Diorsnow powder foundation, Smashbox Masquerade Illusion blush/highlighter, Bobbi Brown Pink Coral Shimmer Blush, Maybelline Pulse Perfection Mascara, Ellis Faas Glazed Lips L303
You can't really see the colours on the lids. They aren't meant to be seen that way – but for some reason, I get a very polished look with this palette. I especially love layering the colours – it isn't heavy or chalky and it applies very nicely. Its a palette I wear when I pull on a tailored dress, pumps, pearls and my Chanel (I'm just kidding about one of it :P) It, for some reason, brings out the professional and lady in me – I have no idea why! But it does. And I like that I have a palette for those days when I just want to feel and look like a lady 🙂
In a nutshell
If you don't already own a palette full of neutral shades, take a look at this one. The colours are soft and neutral. It could do with a really dark shade for lining and definition but in the main the colours play well together to give a subtle diffused shade to the eye that is very work friendly and flattering. You may like this if you like neutral colours or don't have a neutral eyeshadow palette, or don't have the colours in this palette. You may not like this if you like bright colours.
Pros: Lovely soft texture, Shimmer colours are not overly shimmery, Lovely wearable neutral colours, Inclusion of a brush and lid primer is useful for a well rounded palette kit
Cons: Palette is rather bulky, Cream colour/liner may dry out over time, Shadows are a little flyaway
The Smashbox Softbox eyeshadow palette is limited edition. I do realize its not the most exciting eyeshadow palette out there, but who knows eh, if it might appeal to you too 🙂 Now, Smashbox, please make Truffle a single shadow – its an amazingly versatile colour!
Paris B
Smashbox Softbox palette retails at RM209 at Smashbox counters at Parkson Pavilion KL, 1 Utama and Sephora Starhill and KLCC. It is limited edition.