We all have seen the gorgeous Smashbox Masquerade Eyeshadow palette, and the O Glow Noir gloss and maybe even the Intrigue cream blush and lipgloss. But I have noticed a void.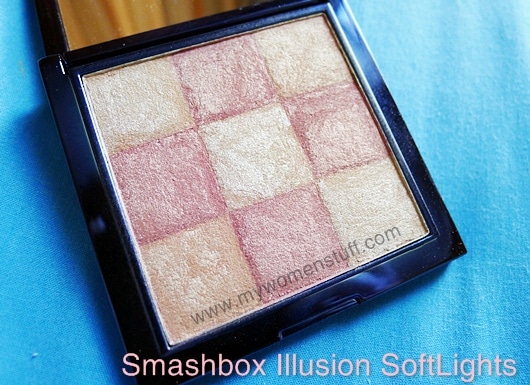 No one seems to have any love for the Masquerade Baked Fusion Softlights palette in Illusion. No one but me anyway. Try doing a search online – there aren't many reviews on this and I wonder why.
Admittedly, this palette is a throwback to the ones from Clinique back in… was it 2006 or 2007? You know the "dark ages" 😛 Time moves so fast these days! But you might remember them. I have the ones from Clinique and they were great. But they were limited edition. There were some drugstores ones too (Jane and the like) Anyway, this one's from Smashbox and its called Illusion, and I like it.
Smashbox has what they call the Baked Fusion Softlights which is like a highlighter and blush in one. If you are pale enough, they act as blush. If not, they act as highlighters. Illusion is a pale peachy gold highlighter that can pass for a peachy gold toned blush if you are fair enough.
Although it is shimmery, it is not glittery (there is a difference) so it is wearable and it applies prettily over cream blush, or over any blush to accentuate cheekbones. Just be careful not to overdo it, and you'll be fine. I like using a fluffy brush so you don't overdo things.
I like how this gives a lovely glow to the skin. I have old acne scars and still, this one does not accentuate marks on the skin. It does not look shiny and oily and its a lovely highlighter/illuminator. No one seems to love it but me but I hope you'll give it a shot because its quite nice! 🙂
Pros:
Lovely soft highlighter, Not overly shimmery
Cons: Design is a little boring, Colour is light
Here is the Smashbox Illusion palette with the one from Clinique (Shimmering Berries) and Jane (Tahiti) Clinique's was limited edition whilst Jane is not available here in Malaysia. Smashbox is 😉 So if you think you might like this, check it out. I don't think it particularly expensive 🙂
Paris B
Smashbox Baked Fusion Softlights palette in Illusion retails for RM119 at Smashbox Cosmetics' counters – Parkson Pavilion Kuala Lumpur & Parkson 1 Utama. It is part of the Smashbox Masquerade Fall 2010 collection and is Limited Edition.