Dare you try something called a "Snail Cream" if only for the sake of experimentation or beauty?
I kid you not. Snail cream is a very valid range of skincare that has been gripping Korea by storm. Almost every Korean brand of skincare – Etude House, Tony Moly, Baviphat, It's Skin etc – has a line dedicated to snails. The first time I saw it, I shuddered.
Snail mucus on your skin?! Eww!
But really, its not all that gross as it sounds. It actually looks and smells just like any other moisturizer out there. Nothing slimy or gross about it at all. And it isn't as new an "invention" either. There have been snail creams around for a while, and when I did a quick online search, one that popped up over and over was Elicina Snail Cream from Chile. I'd never heard of it before this so I forgive you if you haven't come across it either 😀
What these snail creams do is use extract of Snail Mucin in their products – apparently yes, that's the mucus bit. According to the brochure of the Tony Moly Intensive Repair Live Snail Cream, the skincare benefits of snail mucin was discovered by Chilean snail farmers who discovered that from handling the snails kept for food, the mucus helps heal cuts and abrasions and kept their hands looking smooth. And research showed that snail mucin had regenerative effects on the skin. Apparently, even Japanese cosmetics companies are looking into this due to the popularity of snail creams in the region.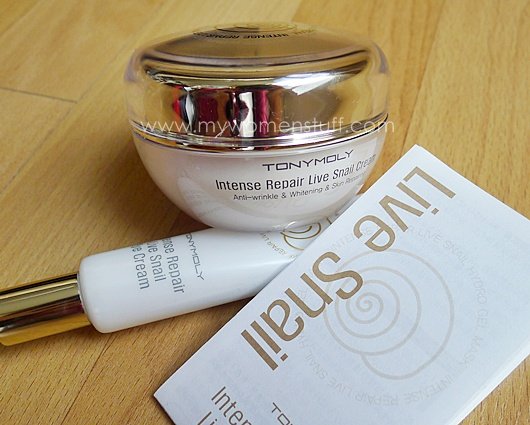 Tony Moly Intensive Repair Live Snail Cream and Intensive Repair Live Snail Eye Cream
The Koreans, being presently at the forefront of skincare technology, have embraced the technology of snail mucin and incorporated it into their skincare. It is touted as a cure all, from having anti-aging benefits to whitening to hydration. In fact, it seems to be an all in one sort of cream! Boxes of snail creams were being snapped up even as I stood deliberating over my purchase so yes, if you are wondering, it is very popular.
So, would you dare put this cream on your face knowing what it contains? 😀
Update: Read my Tony Moly Snail Cream review here!
Paris B
Tony Moly is not presently available in Malaysia. The Tony Moly Intensive Live Snail Cream set as shown retailed at US$29 (duty free)