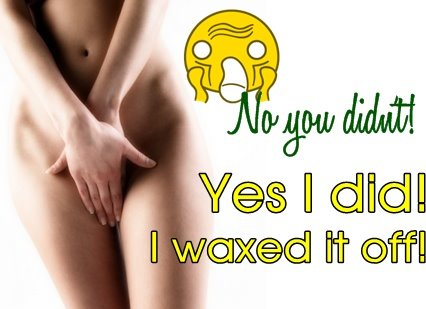 Did I hear a sharp intake of breath when you saw the title of this post? 🙂
Not to worry, every time I see the words "Brazilian Wax" I make a face, close my eyes and give a little shudder. Why they call it a "Brazilian" makes no sense to me, considering a large part of Brazil is covered by the Amazon forest 😛 Still, it was the women (and men) there who popularized the art of waxing the hair off the pubic area. Partly for vanity (those string bikinis leave nothing to imagination!) and partly for hygiene.
Now I, like many of you are a Brazilian Wax virgin but its been one of those things I have on my bucket list. "Get a Brazilian Wax before you're 30" it says there at Item No. 50 so I bit the bullet 😛
Before we go further, this post is about my experience having a Brazilian wax. I'm not going to review the salon(s) I went to in this post, but I'll leave it for another post. Instead this is to tell you how I felt and to give some pointers if you too will like to let 'er rip… as it were.
My Brazilian Wax Experience
When people asked me how it was, my answer was "Like that lah!" It was actually a LOT less painful than you imagine. I fell down recently in public, skinned my knee and have a giant bruise that is taking weeks to go away. And that is more painful than a Brazilian wax. In fact, get a paper cut and drop lemon juice on it. THAT is worse than a Brazilian wax 😛
What I felt was not so much pain, as it was smarting. If you imagine ripping out your hair by its roots, yes that's painful. But if it is done in 2 seconds your body has no time to react, before a soothing lotion is placed on the sore spot. So, after the first two rips where I was a little tense in anticipation, I relaxed. And that is really the key thing – relax. The therapist usually will do a little countdown before they rip off the wax so I find it helps to take a deep breath when she goes "One, two" and at "three" breathe out. It helps me 🙂
I had the full Brazilian i.e. everything off from the front and back. I call it the "slash and burn" leaving nothing in its wake 😛 Other than a gynaecologist, the lady doing the waxing is probably the only other female allowed to get that close to my nether region, and that intimate 😛
I did find that immediately after having my waxing done, the skin at the pubic area was red and smarted a little. It didn't hurt or anything, just felt a wee bit uncomfortable. It was alright the next day though. Now for the tips I'd share 🙂