Never say never. It can turn around and bite you in the butt!
I am not a fan of BB creams for the many reasons I have set out in a previous post. But it doesn't stop me trying new ones in the hope that perhaps there is one that might work without turning me into an oil slick, or making me look like a zombie or like I had a fake tan.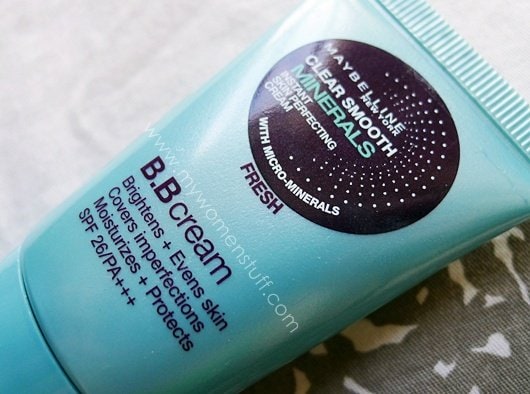 Interestingly, I might have found one that sort of works, in the form of the new Maybelline BB Cream. Actually its called the Maybelline Clear Smooth Minerals Instant Skin Perfecting Cream aka BB Cream – phew! Let's just call it the Maybelline BB Cream k? 🙂
Now, I do not know enough about BB Creams to know if this is really one or not. I'll just go by its name and the fact that it claims to address 8 skin concerns including skin brightening, evens out skin tone, covers imperfections, moisturizes skin and protects with SPF25 PA+++
If you're interested in this one, I've got some comparison pictures below showing you if it does cover imperfections and even out skin tone as it claims 🙂
The texture is quite light, and my colour is Fresh which is a pretty light tone. I'd say that its quite neutral in skintone, which is very good. Most BB Creams I've tested tend to be too grey or too orange. This one, as you can see from the swatch is close to my natural skintone. Please don't ask me why there is shimmer. There isn't any shimmer in the cream itself. It might be some residual shimmer left on my hand that the camera picked up.
Fresh is pretty much my skin colour and blends in into nothing. It feels nice on the skin and I only use a dollop as you see in the picture. I apply it like how I apply my regular liquid foundation – if you're lazy to click through, its by spreading it between my palms and then applying to my face.
The nice thing about this Maybelline BB Cream is that it leaves no white cast nor does it oxidise on my skin. So I don't have that dreaded two toned look after a while. As to whether it turns oily, it does but very moderately. I don't have oily skin to start with and if I use a mattifying primer or base, I do not see the oiliness. If I happen to use a sunscreen that turns oily (like the L'Oreal UV Perfect sunscreen) then I'm an oil slick anyway so its not quite attributable 100% to this BB Cream.
Now to address its claims. Does the Maybelline BB Cream even out skin tone, brighten skin and cover imperfections? Well, answer is yes and no.
As you can see from the collage, just on its own, the Maybelline BB cream does not quite cover my pigmentation although it does even out the skintone somewhat. Redness is reduced in the cheek area although my nose looks markedly reddish still.
After I pat over some loose powder (I used my fave Lavshuca loose powder) it looks a lot better doesn't it? Using a light dusting of loose powder over the BB cream also helps it stay matte all day.
Pros: Light texture, Good colour match for my skintone, Helps even out skin tone, Affordable, No oxidisation or drastic oiliness
Cons: Unable to cover imperfections on its own, Does turn a little bit oily, Only comes in 1 shade which might be unsuitable for darker skinned ladies
So, like I said right at the top, I think I might have found a BB Cream that works well enough for me at an inexpensive pricetag and one I would feel comfortable repurchasing and telling you to try 🙂
Might you have tried this one? I believe its been out at the counters for a while now. Its quite a small tube but you only need very little so it can last a while. I also think it might be exclusive to Asia but if anyone in the West can confirm having seen this, it would be helpful! 🙂
Paris B
The Maybelline BB Cream retails at RM22.90 at all Maybelline counters. It comes in only 1 shade.