Quite a few people have emailed me since this post, asking if I will ever be reviewing the MoroccanOil Oil Treatment any time soon. This my friends, is a serious kick to the butt to get down to things, so here it is.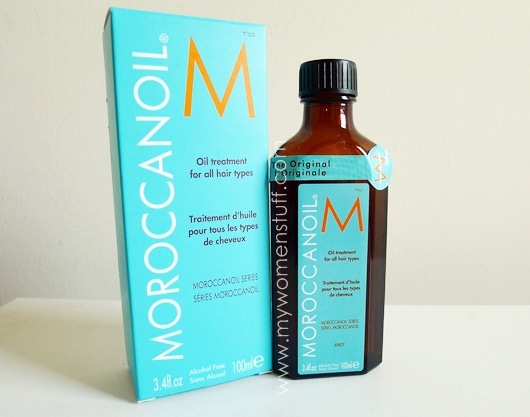 I purchased this bottle of MoroccanOil Oil Treatment for hair at the Stephan Way hair salon on New Bond St, London. I shall digress for a minute to tell you that I was pleased at how well I was treated there, although I was just literally popping in to inquire about the MoroccanOil range which they carry. It was late Saturday evening and they were down to their last customer but they sat me down, told me what I wanted to know, offered me a choice of coffee or tea and all without even knowing if I would buy anything! I did of course. The MoroccanOil Oil Treatment for £29.90 (I think) I was told also that Stephan Way Hair Salon is the first salon in London to use the MoroccanOil range and to carry it for retail. I don't know how true that is so someone in the UK will have to clarify this.
Back to the oil treatment. I purchased the MoroccanOil Oil Treatment for hair because while I was in the UK, my hair was slowly hardening and turning to straw from the weather and hard water. It was so bad I could hardly comb it and I was quite frustrated. When I passed the Stephan Way Hair Salon and saw that they were selling MoroccanOil and remembering the good things I'd read about it, I stepped in.
Point to note: MoroccanOil is the name. Moroccan Oil is the Argan Oil they use in the product which is sourced from Morocco. Its a bit of confusion which can lead to lots of misunderstandings. This review is on MoroccanOil (the brand) not on Moroccan Oil (the oil)
At the salon, I was told that for my short hair, I only needed very little of the MoroccanOil oil. In fact, all I had to do was to place my palm over the mouth of the bottle, upturn it once and that's it. That is the amount I need.
I was a little sceptical. I mean, I knew the Moroccan in the MoroccanOil bit refers to Argan Oil sourced from Morocco. There is a whole bunch of other stuff mixed in, as you can see from the ingredient list below, including silicones so do take note if you don't like silicones. It has a thick serum feel, but isn't oily. I can feel the silicones in it though, which was what made me feel a little sceptical.
Still, that evening, after I got back to the hotel, I washed my hair but did not apply conditioner as I was told, towel dried it and then rubbed a bit of the oil from mid shaft to the ends. I then blow dried my hair. To my surprise, my hair was actually manageable! It was not tangled, neither did it feel hard and knotted and my hair felt light for the first time in days.
I used it everyday thereafter, and it was great. With this oil, as the guy in the salon told me, I could use any old shampoo and still have great hair without even having to use a conditioner. I tried it, and he was right. I stopped using conditioner and still had lovely manageable hair.
However, the holiday was over and I returned here to hot humid Malaysia. I still used it every day, after shampooing as I blow dry my hair in the evenings. I found however, that after a couple of weeks of straight use, my hair went from feeling light to feeling a bit heavy. It also stopped feeling lovely. I think that because our weather here is humid as well as hot, the oil + silicones might be a tad heavy when used everyday.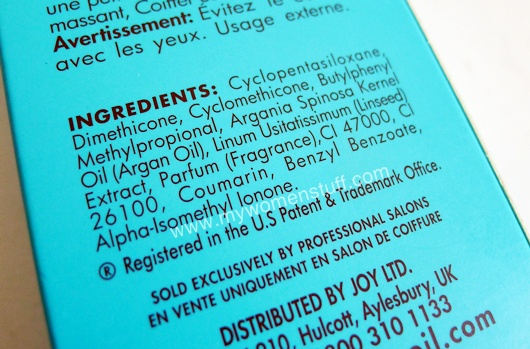 So I stopped using the MoroccanOil everyday and switched to using it every alternate day or after about 2 days. Perfect. My hair went back to being manageable and soft and I did not need to use conditioner on those days when I use the Moroccan Oil. Saves me a bit of money that 😉
Pros: Makes hair lovely and soft and manageable, Hair feels stronger and less breakage and hair fall, light non greasy texture
Cons: A little heavy for hot humid climates if used everyday, Expensive initially
I think this will be great for those who have long hair or who have very dry frizzy hair in our hot climate. It feels lovely on the hair – light and not greasy at all – and tamed my stiff hair almost from the word go. I recently did a home dye with Liese Bubble Hair Color and although it was drying on my hair, daily use of this MoroccanOil treatment has kept it soft, shiny and very manageable. I can even use it on dry hair to tame it and since colouring my hair, I use it everyday without it feeling heavy.
Although at £29.90 its not cheap, for the amount I use, a bottle can easily last me a year or even more since I don't even use it everyday. I would like it if there was a pump dispenser or a way to get it out without that wide open mouth of the bottle though.
Oh and for those wondering where to get it, its not yet available in Malaysia at time of writing. If it comes in, I'll be sure to let you know 🙂
I must say however, that the hype about this product relies heavily on the use of argan oil as its primary ingredient, but it is pertinent to note that it contains a lot of silicones as well. I do not want to get into the debate however because I'm not learned that way. I just tell you how it feels on my hair, which on dry home-dyed hair, is great and I'll continue using it.
There are other alternative brands out there, or if you can get your hands on it, you can use pure argan oil straight. I'm not sure where we can get alternatives locally though so if you do, please share!
p/s I might have found some similar products available locally. Will share in due course 😉
Paris B
MorocconOil Oil Treatment was purchased at £29.90 from the Stephan Way Hair Salon on New Bond St. London. It is not presently available in Malaysia.