I'd known about the Urban Decay Primer Potion for years now. In beauty circles its also affectionately known as UDPP. Believe me, when you are new to makeup forums and people throw around acronyms like UDPP, you learn fast or be left out!
What it is is a primer for the eyelid area, to be applied before putting on eyeshadow. Its supposed to help eyeshadow last on your lids longer, and make the colour more intense. I resisted the lure of UDPP for years.
Until last year when Sephora went on sale and I had a kind offer from an online friend in the USA who offered to shop for me. Uhoh – big mistake! I blew a ton and one item I got for myself was the Urban Decay Hall of Fame set (US$29) ostensibly because it had the Primer Potion in a 60% more than normal size – I like getting my value for money 😛
The Primer Potion in the set is a larger than normal size and the packaging just wants to make you rub it and hope a genie appears where you can wish for great skin all the time …. or a million dollars LOL… But since that's far fetched, the next best option was to see what the hype was about the Primer Potion.
Want the truth? I dislike it. I don't hate it – that's too strong an emotion. I just dislike it because it doesn't serve any purpose for me! I walked around for days with UDPP on one lid and just eyeshadow with no base on the other. At the end of the day, I noticed no difference.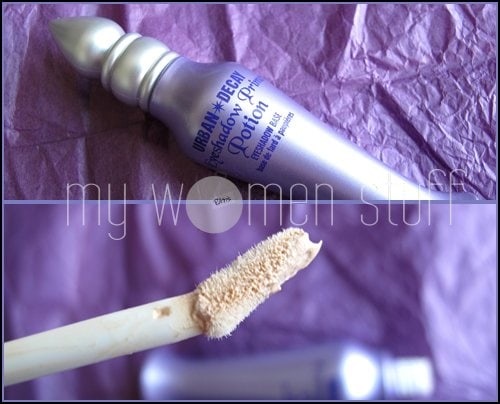 The reason I don't "hate" it is because it works well when I'm using loose powder shadows or loose pigments. It forms a good base for loose powder to grip onto and colour is intensified. BUT I get the same result with cream shadows as a base which is what I've been using in my UDPP-less days.
The reason its not pure magic in a bottle for me might be because I don't have oily lids. So, eyeshadow colours don't usually crease or fade on me. Having UDPP on makes no difference for me hence my ambivalent attitude to it. I know of many people with oily lids who swear by it. I guess I should count myself lucky for being able to cut out one step in eye makeup 🙂
At this time, Urban Decay is not yet available in Malaysia but I hear its available in Singapore. So if you want to get the Urban Decay Primer Potion, make a trip down to Singapore or you'd have to get it online or get a friend to help you. I'm not sure what I should do with mine 😛 May 2010 Urban Decay is now available at Sephora Malaysia and the UDPP retails at RM75 (old packaging) new packaging comes in a tube and should be in store later.
The regular 10ml Primer Potion is US$18 – will last you ages and ages.
Pros: Helps powder shadows and pigment colours stay on lids better, Intensifies colour of eyeshadows

Cons: Did nothing for me as I do not have oily lids
I was quite intrigued by the rest of the items in the Hall of Fame set though. Other than the Primer Potion which was supersized the rest of the items were miniatures. I'm not fussy about the difference between a "miniature" and a "sample" – for me its both sides of the same coin. But these little mini goodies were fun to play with and easy to tote around.
Urban Decay 24-7 Glide On Eye Pencil in Zero
I'd used this before a long time ago. Unlike many who love it, I find that it smudges something awful on me. The colour is an awesome black though. I use it mainly for smokey looks when I want a smudged line. Otherwise I just think its not worth the money.
Urban Decay Midnight Cowboy lipstick
This is the most adorable mini lipstick ever! The colour isn't quite me being a little pale but it'll work for when I'm feeling like rocking strong eye looks. Being a little mini wonder, I'd probably finish it up in no time. Yes the close up shot shows you all there is!
Urban Decay Pocket Rocket lipgloss – Timothy
You might have seen the "naked man" lipgloss on Soloverly – well, meet Timothy my mini boy toy 😀 Unlike the full size version that does the "now you see me now you don't" holographic peekaboo, the mini version I own is straight out erm… undressed! Not the full monty – get your mind out of the gutter! 😀 Timothy is a gorgeous red on the lips too. Hmm… at least its a colour I'd wear often. Oh dear I can forsee myself wearing Timothy out 😛
Urban Decay Skyscraper Mascara
The final mini item is the Skyscraper mascara which I haven't tried because I have a ton of unopened mascara and I don't want to add to it. I'll report when I do try it, if anyone's interested.
If you want indepth reviews on either of the above mini products, please let me know in a comment and I'll try to oblige. 🙂
Now you tell me. Have you tried the iconic Urban Decay Primer Potion and did you like it/hate it/ find it does nothing for you?
On another note, I know many people are only starting work today! Personally, I started work on Friday. Officially that is. Unofficially, we had a long long lunch and then bunked off after half a day 😀 Today though, work starts in earnest and there is so much backlog to take care of! Eeps! How about you?
Paris B