I was down in Melaka today (or what I prefer to call Malacca which I find more romantic) for work. While driving around and being disappointed with the famous chicken rice ball brunch, I came upon the new Aeon Jusco Bandaraya Melaka mall. Being a bit of a mall rat (and still hungry) we dropped by to enjoy the air conditioning and to grab a bite.
After a bite, and knowing full well that I wouldn't shop on impulse on an empty stomach, I took a walk around the mall.
For anyone wondering, I was quite impressed by the new Aeon Jusco Bandaraya Melaka mall. Its large, bright, sleek and spanking new yet well tenanted. There are the usual fast food restaurants as well as one or two more interesting eating places. The anchor tenant is, of course Jusco. But there are lots of other clothing, IT and beauty shops (which I'm sure you are more interested in 😉 ).
Among the beauty stores I spotted were Elianto, TheFaceShop, Etude House, The Body Shop, H20+, Watsons and Sasa. There could be others but my ailing memory fails me 😛
So anyway, as any good intrepid beauty blogger does, I popped into Sasa (because I wanted to check out the new Kate eyeshadow palette which isn't in yet) to take a look see. The store is new so everything looks so neat and pristine in there. The SA was a little clingy but I managed to evade her intense attentions 😛 That's when I spotted Prestige.
The selection was small and its the Prestige Mineral makeup collection. I took some super sleuth shots while my partner in crime distracted the SA 😛
Here is the information I found online. I took a couple of swipes of the testers. The Sun Baked Mineral Blush is about RM65 and looks pretty good. However, it reminded me of the Revlon Mineral blushes – except the Prestige ones look a bit prettier. A bit too pricey for my liking though.
I was very impressed with the Mineral Single Eyeshadow which I cannot remember the price of. Told you the ol' memory is going 😛 I swiped a silvery taupe which looked a dead ringer for Stila Diamond 'Lil. It was tres gorgeous. In fact, all the single eyeshadows that had testers looked amazing. Fine texture, shimmery and strongly pigmented. I might take a look at it again next time I find the guts to step into a Sasa store 😛
And finally, I took in a small haul because I wanted to go bananas 😀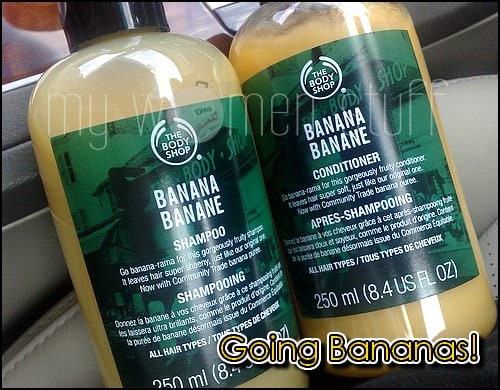 Yes after reading so many people raving about the Original The Body Shop Banana shampoo and conditioner, I got myself a set. Just in time. My Kiehl's Sunflower shampoo is on its way out. So I'm going from being all peachy to going bananas.
I wonder if that's a good thing 😛
I'm exhausted from driving so I hope to get off early from work today 🙂 I also found out that driving on cruise control is very dangerous. I tried it today and almost dozed off from the monotony. Never again! 😛
Paris B