Stila has their list of Stila bestseller items and I am surprised not to see one item on their list, that I particularly like – Stila eyeshadows.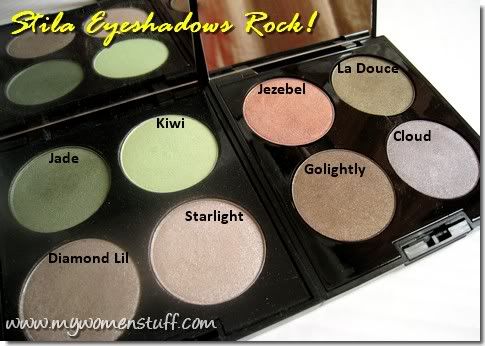 When I first got into makeup, it was natural for me to gravitate towards MAC Cosmetics. However, for some reason, unlike a majority of women, I soon realised that MAC Cosmetics was not really for me. So, I looked elsewhere and I was introduced to Stila. Stila was a great departure from MAC for a few main reasons:-
Stila's eyeshadow pans are larger
Stila's eyeshadow texture is softer
Stila's eyeshadow colour was less strong
And I decided I liked Stila shadows for all 3 reasons!
When I say that Stila eyeshadow colours aren't strong, I mean that I found that Stila eyeshadow colours weren't as bright as MAC. Stila shadows too tends towards having shimmer and the colours were of the lighter variety. That is not to say however, that Stila's eyeshadows are lacking in the pigment department. The eyeshadows are pigmented and perfectly blendable and last the whole day for me.
What I particularly like is the texture of Stila eyeshadows. They are soft to the touch and it is easy to pick up the colour whether with a brush or with fingers. Since I like using the latter, it is a boon for me. I have also found that although I use my fingers, Stila eyeshadows don't harden from the oils so the texture doesn't change.
Stila eyeshadows come in a veritable rainbow of colours but do tend towards having shimmer. This is something that some women may not like. I have tested one or two matte formulations and it just doesn't work. But if you like having shimmer (not glitter) then Stila's for you!
The other common complaint I've encountered is that Stila colours are very light. That is to an extent true. You will not find intense primary shades of colour in Stila. What you will find are colours tending towards the light although there are the odd dark colour. However, the Stila Smokey Eye quad will solve that problem. I'll review this separately later.
All that said, Stila eyeshadows work for me, and I'm happy to keep using them. Its near impossible to finish a whole Stila single eyeshadow pan which is huge. Well, maybe if you have only one colour and only use that one! This is the reason why I love Stila ready made palettes which come in smaller, more user-friendly sizes. I'm still thinking about that darned Kitten palette! 😛
Stila eyeshadows are sold in pan form, ready to be placed into a palette. If you don't want to use a palette, you can purchase the case which comes with a clear cover to make it easy to see the colour. Stila sells the 4 or 6 pan palettes but they are a little on the pricey side. For a cheaper option, look at Make Up For Ever. The 4 pan palette is about RM27 and fits Stila eyeshadows PERFECTLY! 😉 Ok, so they aren't metal and are a serious black, but hey, it does the job for less. My Stila shadows are all housed in Make Up For Ever palettes and I hope Stila never catches on 😛
A Stila eyeshadow pan retails at RM60 and the aluminium pot is RM14 (if you are buying a single shadow). Some of my favourite colours are Diamond Lil (dark silver grey with shimmer), Jade (Medium green with gold shimmer), Starlight (Light shimmer champagne) and of course, Kitten (Champagne pink with shimmer).
I'm not saying however that Stila is all awesomeness for me. I do wish Stila will have more eye catching colours and that they would stop putting the same or similar shades in all their palettes. If you are a fan of Stila, its hard to buy a palette knowing that you already own 2-3 shades from previous palettes or in singles. That's part of the reason I balked at buying the Kitten palette for Summer 2008. I would only be paying for 3 new shades! Also, some shadows are hit or miss. The shimmer ones tend to be softer while the matt ones tend to have less colour pay off. So, I'd stick to Stila's shimmer eyeshadows for now.
Pros: Soft texture, pigmented, good colour pay off, lasts all day

Cons: Expensive, Too many similar shades in palettes, Colour selection is hit or miss
[rating:4/5]