In my first Benefit Cosmetics online order, I picked up a Creaseless Cream Eyeshadow in Skinny Jeans because I was fascinated with the color. It did not help that my friend asked me to order it for her and thus made me look in that direction – bad you! heh…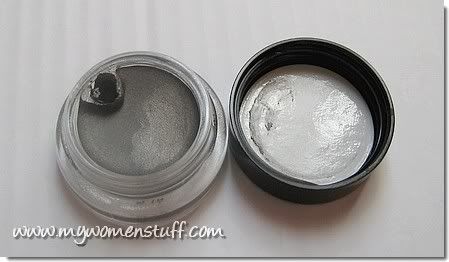 The Benefit Creaseless Cream Eyeshadow comes in a heavy glass pot which to me looks classier and less tacky than the rest of Benefit's colourful (and cardboard) packaging. The texture is very smooth to the touch and applies like a dream – like smoothing cream on the skin. My review here will be based on the colour I got, which is Skinny Jeans.
The colour of Skinny Jeans is a rather complex one, I'd say. It is by turns metallic grey with a hint of green and gray with a hint of gray and gray with a hint of brown. Shimmer is minimal and it is more metallic than shimmery or glittery. It seems opaque when I swipe it on my hand, but I find that when I apply it to my eyelids, it applies sheerer than what you see in the pot. However, that is good because it can be layered for more intensity. I find that patting it on as opposed to swiping it on makes the colour more intense on the eyes. I also use my fingers and not a brush although you can use a brush with firm synthetic bristles to apply.
I wore it a few days straight by itself and as a base. I rarely wear one colour on my lids because I like playing light with dark but for the sake of experimentation, I did. What I did was apply on Skinny Jeans by swiping it on sheerly, then patting a little more in the crease and the outer corners of the eyes. This helped to create a little depth because the colours were by turn light and dark. Worn by itself, I did not experience any creasing or fading throughout the day. Do bear in mind that I do not have oily lids.
A couple of times, I wore it as a base. I applied a sheer layer on my lids, then patted loose powder eyeshadow and normal eyeshadow over it. As it is a little dark, it deepened the intensity of the colours of the powder eyeshadows and brought out depths of colour I would not have imagined them to have! It was quite impressive. I particularly liked wearing Benefit Skinny Jeans as a base layered with Lancome Erika F over it. As Jojoba has pointed out in her detailed review of Skinny Jeans, the colour of Skinny Jeans is very similar to that of Lancome's Erika F eyeshadow. However, I did not quite think they are an exact match for each other.
Sparkles and shimmer aside, Erika F to me is gray with green tones whereas Skinny Jeans is gray with brown/grey tones. That for me, is a subtle difference which is not to say that both colours aren't lovely and like Jojoba, I love them both.
In this picture I tried to capture the greener tones of Erika F which I found lacking in Skinny Jeans.
Worn together, they are totally outstanding, especially for a night look. I even wear it (slightly toned down) in the day – truly exceptional! The 2 colours complement each other so beautifully and bring out the best in each.
Did it crease? Not for me. However, if you apply too thick a layer or have very oily lids, then you might experience some creasing.
Benefit says it can also be used as a liner – can it? Yes and no. Yes, it works as a liner because it is a cream and doesn't budge much. No because I found it a little too light to use as a liner. I prefer darker colours as eye liners.
Because this is a cream eyeshadow, you have to be very careful to close the cap tightly to prevent it from drying out. I have had other cream eyeshadows from PN before and although I'm not super careful with it, it hasn't dried out at all. As this Benefit one is new, I can't tell for sure how it will behave if I'm not careful but I'm not taking the risk to find out!
On an overall basis, I'd say that this has been a good experience with Benefit Creaseless Cream Eyeshadows. Personally, I would get other darker colours because of the fact that it applies sheer as I'm not sure how well a light shade will show up. Another friend got My Date's My Brother (light pink) and I will ask her to do a review here on that one so it helps anyone hoping to have an informed decision based on light and dark colours of the cream shadow.
Benefit Creaseless Cream Eyeshadows
retail for RM85 at the Benefit counters in Malaysia and US$19 (RM63) online so you do the math! 😉
Pros: Does not crease, Applies sheer, Lasts long, Lovely colour

Cons: Expensive in Malaysia, may dry up if not careful
[rating:4/5]
You may click on the banner below to be taken to Benefit's website.