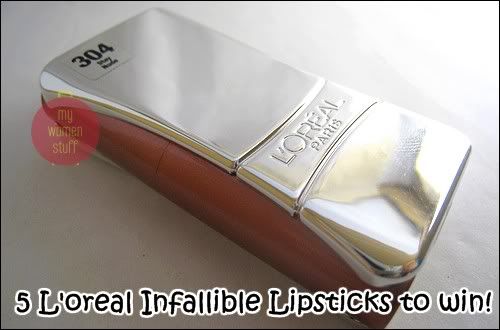 Do you want to be among the first in Malaysia to own the new limited edition L'oreal Infallible lipstick? 16 hours of no fail non kiss off formula – woot! Dare you put it to the test? 😉 Its only available in Malaysia for 3 months for now so here's your chance to get your mitts on it for free!
5 lucky readers will win themselves 1 L'oreal Infallible lipstick each courtesy of L'oreal Malaysia (big hand to the lovely sponsors!).
How to Enter
All you have to do is leave a comment below telling us:-
Name one person or one item that has never failed you


Mine is an item: one of my pen drives in the early days of 256k pen drives – remember those? It went into the washing machine… on spin cycle and worked beautifully after being dried. It never failed me but instead went missing. They don't make them like that anymore.
This contest is only open to those with a Malaysian mailing address and prizes will be sent by the sponsors. 5 winners will be picked at random after the closing date on 7 August 2009 (12 noon).
If you'd like to double your chances of winning, follow me on Twitter @paris_b and ReTweet this message
RT @paris_b : Win a L'oreal Infallible Lipstick! Comment and RT this message to double your chances http://bit.ly/29AQl4
Good luck everyone!
Paris B