L'Oreal's Infallible lipstick has been around a while but for us here in Malaysia, its new. And Limited Edition. Yes girls, Infallible though it may be, the Infallible Lipstick duo will only be available for 3 months from September 2009.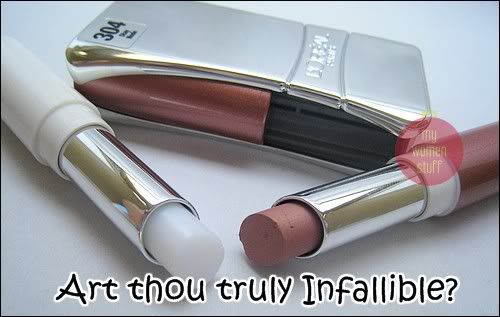 I was sent #304 Stay Nude to take for a test run. It was quite fun because its always exciting putting new products through their paces especially if its a product I'd heard of before and wanted to test their claims.
The L'Oreal Infallible lipstick comes in a shiny mirrored case with 2 tubes embedded in it. On the rear is marked #1 and #2 and on the back are the instructions. It pays to pay attention because its the only way to put the 16 hours no fail formula to the test!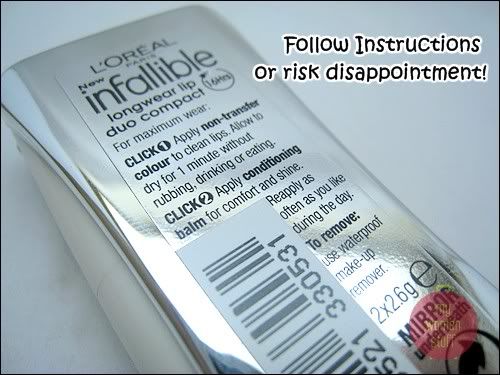 I know that longwearing lip formulas tend to be drying, so I was not expecting too much moisture from L'oreal Infallible. This is important! If you want something that moisturizes and lasts, I'm afraid you'd have to look elsewhere.
Now, "Infallible" means "never fail" and in this instance, it means that you won't be leaving your lipstick everywhere your lips touch e.g. coffee cups, paper cups, your partner's lips… 😉 There's more after the jump and I hope you are paying attention because you could win one! 😛

What you have to do is slick on the lip colour – only slick once or it'll be too thick – and wait 1 minute. After 1 minute, slick on the white tube which is a lip balm. It adds some glossiness to your lips so the colour doesn't look so flat.

If you paid attention to the instructions, you'll find that your lip blam will not be marked with the lip colour. This means you did it right. If your lip balm gets all smeary with colour, you were too impatient – go directly to jail, do not pass Go, do not collect $200 😛
I found I had to slick on lip balm throughout the day to keep my lips moisturized. You can use the lip balm provided or just any colorless lip balm. It makes no difference but it makes a great difference to your lips.
What DID make a difference was that I did not get goopy lipstick all over my coffee mug, water mug and.. erm… ok no kissing, but I pressed my lips to the back of my hand to test, and nope, no kiss off. 😛
Because the colour is Nude, it does not look that apparent but its still there at the end of the day. More or less. Like I said, your lips do feel a little drier than with other glossy or moisturizing lipstick formulas but nothing a touch of lipbalm can't fix.
Tip!! The trick to applying L'Oreal Infallible lipstick properly I've found is to ensure that your lips are smooth and flake free BEFORE you put on the lipstick so you have to prep your lips way before slicking it on. I might even venture to suggest ensuring you have clean dry flake free lips before even trying the no-fail properties of this lipstick or you will be disappointed. Do not apply anything on your lips BEFORE using the lip color or the colour won't stay on. Hence the importance for having smooth lips.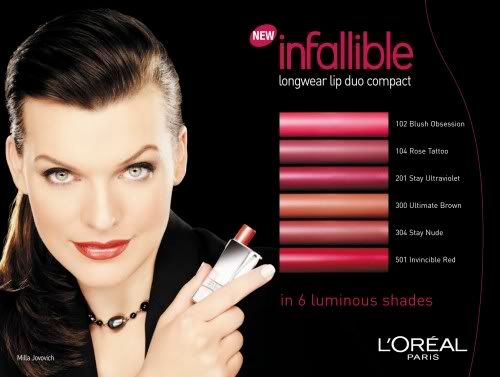 L'Oreal Infallible Lipstick will retail for RM55 and comes in 6 colours and will be available at L'Oreal counters from September 2009 for a limited time of 3 months only. I tested a couple of colours in Singapore – Invincible Red is VERY RED and might show fading faster and Rose Tattoo is quite pretty although it too might show fading a little. But if you get the Nude shade, it holds up pretty well 🙂
If you'd like to be among the first in Malaysia to get hold of the L'Oreal Infallible lipstick, think of the most infallible item you own or most infallible person you know and come back later today. 😉
Stay beautiful,
Paris B