A while ago, I was contacted by Julea of Asiatic Beauty, a Malaysian cosmetics company, to help test a couple of her products. Being Malaysian, I am always supportive of local ventures, so I agreed and Julea sent me the Asiatic Beauty Antea Age anti-aging cream.
I was quite surprised to see the tube the cream came in. It was slim and only contained 20g of product so I was a little puzzled as to whether it was a treatment serum, in which case I'd use it sparingly; or cream for the face in which case I tend to be more liberal. There was no information on the box on how to use it, which I felt would be useful information to include in future.
Anti Oxidant rich White Tea Extract
According to the site, the Antea Age cream is specially formulated to help combat the effects of premature aging for all skin types. The cream contains anti oxidant rich White Tea extract that helps to neutralize the effect of free radicals & stress on your skin to minimize the look of lines & wrinkles. I ran into a slight snag at that point. I don't have noticable lines and wrinkles on my face, so I wondered how I'd see if it was working. Some reviews on the site stated that they noticed firming up of their skin so I decided to be a mad scientist and try it anyway to see how I fared with it.

Fresh floral Scent and light texture
The Antea Age cream has a slightly watery texture. Again, it puzzled me until I tried shaking the tube. Then, it squirted out a light gel-like cream with a faint fragrance. The texture of the cream is light and absorbed into my skin quickly. I again saw on the website later, that you were recommended to shake the tube before squirting it out and again, I felt this information would be useful on the box or in an instruction sheet included with the product.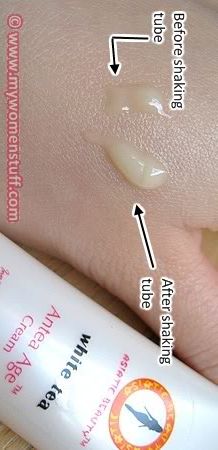 The scent is floral but quite refreshing not cloying. As I said, I can't tell if its a serum or cream, so I used it as a cream and only at night. After about 3 weeks using the cream I did not find any adverse reactions to the cream. There were no unexpected breakouts and my skin was as normal. Due to my not having very noticable lines and wrinkles, I could not say if there was any smoothening or firming up of the skin.
Antea Age anti-aging cream contains Jojoba oil and may cause breakouts
As the formula is light and spreads well, you don't really have to use much for your whole face. So 20g does go quite a long way. However, a point to note would be that the Antea Age cream contains jojoba oil as one of the active ingredients.
Fellow blogger Jojoba has tried this same product and although she finds it helpful for erasing lines, it also broke her out due to the jojoba oil. So, you would be advised to be careful if you are sensitive to any of the ingredients used. Another negative review came from a friend I got to try this cream for some fine lines on the face. 2 days after testing the cream, I got distress signals of a sudden breakout! So, the cream promptly got returned to me. I guess that's the same reaction Jojoba had. You would be wise to be warned.
I guess I'm not sensitive to the ingredients so I found the cream worked well for me. I did however find that it was not moisturizing enough as I sleep in an air-conditioned room and by the morning, my face felt a little dry. I don't feel this way when using my regular Eucein Hydro-Balance cream. That said, if this cream is a serum, then another layer of moisturizer ought to be layered over it. I tried using the cream in the day under my regular sunscreen, but it was a tad too oily for the day. I did use up the tube in 2 months + using it only at night so it does last quite a while. The Antea Age cream retails for US$29.95 or RM92 and is available online.
Pros: Light texture, absorbs quickly

Cons: May break some people out, packaging has too little information on how to use

[rating:3/5]
Ingredients: Acetyl Hexapeptide-3, Simmondsia Chinensis (Jojoba) seed oil, Pentaerythriftyl Tetraisostearate, Silica Dimithyl Silylate, Sodium Chondroitin Sulfate, Atelocollagen, Hydrolyzed Hibiscus Esculentus extract, Dextrin, Tocopheryl Acetate & Camellia Sinensis (White Tea) extract.