My Olay Total Effects cream was on its last legs (its only 20g after all) and I know I said I was going to try the Olay Total Effects Night Cream, but when I was checking it out at Guardian pharmacy, I got distracted by Eucerin. I've not tried many Eucerin products even though the Eucerin White Solution Fluid sunscreen works wonders for me so I decided to get a night moisturiser from Eucerin instead.
I ended up with the Eucerin Hydro Balance Refreshing Hydrating Cream. Yet another mouthful from Eucerin which I'll call Hydro Balance Cream throughout this review.
The Eucerin Hydro Balance cream comes in a light blue glass tub which is more luxurious than the price belies. What I like is that the tub is sealed under the cover with a foil cover so you know that its fresh and not tampered with. I've seen people open up creams and lotions in pharmacies to test them when there are no testers around so I'm always leary of products that aren't sealed for protection.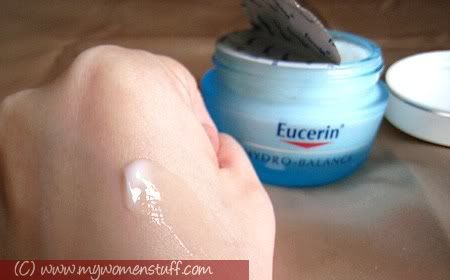 The Hydro Balance cream itself is very light, almost a gel-like texture that is white in colour. So, calling it a cream is a little misleading because its not creamy the way we would expect it. According to the Eucerin website the attributes and benefits of the Hydro Balance cream are:-
Attributes:
* With water-binding Isomerine
* Non-comedogenic
* Fragrance-free
* Alcohol-free
* Colorant-free
Benefits:
* Instant moisturization lasting for 24 hours especially designed for normal to combination skin.
According to the box, Isomerine is the key ingredient that attracts and binds moisture to the skin to keep it hydrated and refreshed. This cream is also oil free and not sticky.
I only use this cream at night not for any reason other than the fact I already have a cream for the day that works well. Further, I sleep in an air-conditioned room most nights so I'm afraid of my skin drying out. I'm happy to report that the Eucerin Hydro Balance cream fits all my needs perfectly.
When applied, the cream feels a little oily at first but once absorbed, it stops feeling sticky or oily and my skin feels hydrated even when I get up in the mornings. I have normal-combination skin and its working well for me without any breakouts or reactions. Eucerin states that the Hydro Balance Cream is formulated for sensitive skin and I think it would work well for those with dry skins too. People with oily skins may not like it as much even if its very light and is oil-free.
The Eucerin Hydro Balance Cream does not promise anything more than add moisture and keep your skin moisturised so I'd say this cream is good as a basic moisturiser. If you are looking for a night cream that promises more e.g. anti-aging, whitening etc then this will not be for you. For my part, I'm liking the Hydro Balance cream for my night regime because its just so simple and uncomplicated and sometimes, that's all your skin really needs 🙂
A 50ml tub of Eucerin Hydro Balance Refreshing Hydrating Cream retails at about RM54.90 at most Guardian or Watsons' or other pharmacies. It sometimes goes on sale so watch out for that. Because the cream is so light, only very little is needed for the whole face and neck so I can forsee one tub lasting quite a while.
Pros: Light, Not Oily, Keeps skin well moisturised, Inexpensive

Cons: Tub packaging can be unhygienic
[rating:4/5]