Since Majolica Majorca is now available in Malaysia, I thought it would be a good time to review the products I've tried and give everyone a nice boost to the start of the week with a Giveaway!!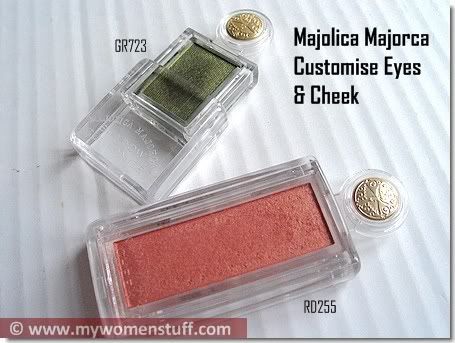 So far, I've not tried many products as I had to get them from Japan before this and getting makeup products sight unseen can have unexpected results. The 3 products I have tried are the single eyeshadows, blush and Majolook eyeshadow palettes. (Keep reading – There's a giveaway at the end of this post that's open to all readers WORLDWIDE! ;) )
Majolica Majorca Shadow Customize – Eyeshadow Singles
I used to have a whole bunch of Majolica Majorca eyeshadow singles in a selection of colours. However, I later gave them away because I discovered I was allergic to the eyeshadows! They made my eye lids feel heavy and irritated. This is similar to what I experienced with Shiseido eyeshadows so since Majolica Majorca comes under Shiseido it might be something to do with the ingredients. I only kept GR723 because I like the colour – a shimmery khaki green.
Allergies aside, I think the Majolica Majorca eyeshadow singles are very impressive for the price. Retailing at RM20.90 each here in Malaysia, I place them in the affordable category. The texture is silky and the colour very pigmented. Shimmer is minimal or eye catching depending on the texture you choose. If you are familiar with Japanese style makeup, you will be familiar with the soft touch texture of the eyeshadow.
The case itself is very cute too. Each rectangular eyeshadow pan comes in a cute transparent sliding drawer style packaging that is very unique. There is a hole at the back where you can push out the eyeshadow pan and place it in an empty palette you can purchase separately.
[rating:3/5] because of allergies but [rating:4/5] for product
Majolica Majorca Cheek Customize – Blush
The Blush comes in the same sort of packaging as the eyeshadow singles. However I feel this places the size at a bit of an advantage because it is rather narrow. This makes the pan a little narrow for your blush brush and you will end up with a stripe of colour on the brush rather than having it diffused.
Colour wise, the blush I have in RD255 is a pink-peach tone that I have compared to Nars Orgasm. The texture is smooth and the colour is pigmented. Fortunately, I am not allergic to the blush as I am with the eyeshadow :) I wouldn't mind picking up a couple more and at RM29.90 each its not exactly breaking my bank. Colour selection is a little small though with only 4 colours at the counter if I recall correctly.
[rating:4/5]
I've heard a lot of good things about the Majolica Majorca mascara so some day I might try them. At about RM45.90 they are slightly more expensive than Maybelline or L'oreal but if it is good, its better than having to pay RM90+ at a department store.
Despite the good reviews in general about this brand and its affordable prices, I have never personally been drawn to it. The Majolica Majorca line has a girly princessy feel and very lovely packaging, but partly due to this, I am less attracted to the brand. I just feel its a brand that too "young" for me which unfortunately makes me feel old :P I place it in the same category as Kate (as the prices are rather similar) and I can see it giving Kate a run for its money.
GIVEAWAY!!!
Here's the deal. Next month, October is my birthday month! Yay! :)
But I'm feeling generous… So, with Majolica Majorca's recent introduction here in Malaysia and so much buzz about this brand, I've decided that I will give away 2 sets of Majolica Majorca products (1 Shadow Customize and 1 Honey Pump Gloss) to 2 lucky readers!! Just to be clear, I'm not affiliated to Majolica Majorca at this time and I'm doing this because I want to thank all you loyal readers for your support :)
The reason there are 2 sets of prizes is this:-
one set is reserved for residents of Malaysia because nothing beats home ground support – yay!; and
one set is for readers from the the rest of the world! Yes, for the first time, I've decided to include all my international readers in this giveaway so you aren't left out of the fun! :D
Participation is easy. Just sign up as an email subscriber if you have not already done so (the form is on the sidebar or just below this post) and remember to ACTIVATE your subscription. No activation, no entry. The email you use to sign up will be the one I contact you at for your particulars if you win.
Subscribing has its advantages. Future giveaways may have clues hidden inside the email updates you receive or may only be open to subscribers (I haven't quite decided). I have a major giveaway planned for the end of the year so you don't want to miss out. You are welcome to spread the word to your friends and family – the more the merrier :)
When you are done, come back here and leave a comment using the same email you subscribed at (but don't include your email in the body of your comment), saying:-
you have subscribed by email and where you are from; and
tell me which Watsons store I visited to see this collection (Tip: Answer in my previous Majolica Majorca in Malaysia post ;) )
any comment you may have about the brand or its products (optional).
e.g.
Hi, I've subscribed by email and I'm from Antartica. The Watsons store you went to was (I'm not telling you am I?!) and Majolica Majorca is so cute even the penguins love it!

The winners will be chosen at random after the closing date and I will be in touch after that. See… easy peasy!
Aren't you thrilled? I am :)
Some simple basic terms:
As with previous giveaways, each person is entitled to only 1 entry so please only subscribe one time.
Everyone can enter regardless of whether you won anything before!
Please keep it clean and wholesome fun.
Contest will run until 12 noon

10 October 2008 (Friday)

(Malaysian Time) because of the festive period here in Malaysia and comments will be closed after that.
Feel free to spread the news and you can link to me at the Majolica Majorca Giveaway.
Have fun!!