When it rains it pours! Hot on the heels of Majolica Majorca's appearance on the shelves of Malaysia comes Rimmel London! The display was spotted in Watson's KLCC and quite a substantial display it is too, right at the entrance with 3 display units.
I saw that there was a pretty comprehensive display of foundation powder, mascara, liners, lipsticks, lip glosses but only a teeny tiny display of eyeshadow and blush. I wonder why? Anyway, I'm happy Rimmel is also now available in Kuala Lumpur, because I like their lipsticks!
I did a quick search online and apparently, we are getting the Rimmel London Japan products. I know this because I purchased a lipstick in the Gloss Maxx formula which isn't available on the UK site, but is available on the Japan site.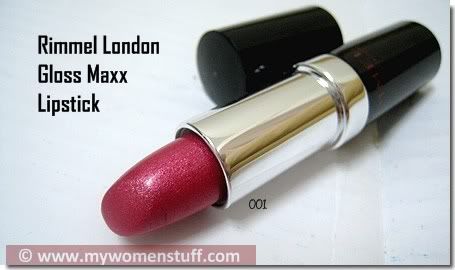 The Rimmel Gloss Maxx lipstick in 001 costs RM19.90 which shocked me. It is actually cheaper than buying in London! I remember seeing Rimmel lipsticks in a Boots store in London for GBP3.99 (RM25). If I recall correctly, all the lipsticks available in Malaysia are RM19.90. I chose the Gloss Maxx lipstick because it is sheer and shimmery and so gorgeous on. Its not as scary red on as you see in the picture. Also, it is fragrance free! A review will come soon.
I previously owned 2 Rimmel Long Lasting Finish lipsticks purchased from London – A Drop of Sherry and Sugar Plum. I loved A Drop of Sherry so much I used it nearly everyday. It is the perfect sheer shimmery red on me that isn't drama-mama!
Unfortunately whilst I love the colour and texture, the scent got to me. There is a strong sweet scent that I dislike but some girls I know like. Its a case of personal taste.
Just very quickly, here are an idea of prices of the products in Malaysia based on memory:-
Renew & Lift Pressed Powder – RM33.90
Cool Matte 16 hour Mousse Foundation – RM41.90
Various mascara – RM27.90
Colour Rush Eyeshadow Duo – RM18.90
I think Rimmel is going to be available at the major Watson's stores in Kuala Lumpur. I'm not sure about the rest of the country. If the Watsons store carries Majolica Majorca, I can safely say it should carry Rimmel.
Even better, at present (as part of their Raya promotion), Watsons is having a 15% discount on the retail prices so that means even lower prices on Rimmel! Eeks! 😛 I was good. I kept to ONE lipstick. Just ONE 😛
Go wild girls! 😀