I was in Watsons KLCC this afternoon when a little display counter caught my eye. I was surprised to note that it was a selection of makeup products by Majolica Majorca – a low end sub-brand of Shiseido.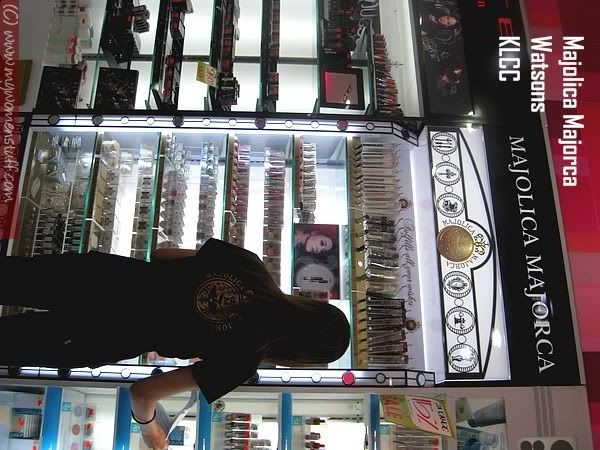 When Majolica Majorca was first launched it was only available in Japan. Then, it was reported to be found in Taiwan and in selected stores in Hong Kong. I myself only saw it in one Sasa the whole time I was in Hong Kong. But now, we have our own Majolica Majorca display in Malaysia!
I can see how some girls may be very pleased about it. Majolica Majorca is very popular because of 3 things:-
Its got super cute packaging
The quality of their colour cosmetics are quite good
Its cheap
Ok, maybe I should add a 4th reason – it was inaccessible. Previously, to get Majolica Majorca, one had to get it from Japan or Taiwan or buy it online at marked up rates.
I have had my own experiences with this brand a little while after it was launched. I had the eyeshadows and the Majolook palettes all of which are super cute. I still have the powder blush which is a knock off of Nars Orgasm blush; and I recently acquired the loose powder blush which I have not reviewed.
I highly recommend their powder eyeshadow singles for pigment and colour selection (RM20.90 each). The eyeshadows are awesome quality for the price and unlike brands like Kate or Za the texture of Majolica Majorca eyeshadows are soft and super pigmented equal to any high end brand. I have a reason I never reviewed them – I am allergic to Majolica Majorca eyeshadows! As they are a sub-brand of Shiseido and since I too can't wear Shiseido eyeshadows I reckon its in the ingredients. Boohoo! I may review what I still have though just to give you an idea.
I've heard good things about Majolica Majorca's mascara. Now that we actually have the brand here and I can see and touch the products, I will actually be able to test for myself if it works or not before buying.
It will also probably mean that I won't be buying much from Majolica Majorca now that its available in Malaysia! See how reverse psychology works? 😉 Still, if you have heard a lot about Majolica Majorca and have not had a chance to try it, look out for it in major Watsons pharmacies in Suria KLCC, Cheras Leisure Mall, Sungai Wang Plaza, Pavilion, Sunway Pyramid, Alamanda, Mid Valley, Penang (Prangin Mall and Queensbay Mall) and Jusco Seremban 2 as they progressively release the line from now until October 2008 or read about their products at their website.
Here's a short little price list of Majolica Majorca products based on the brochure I have:-
Lash Bone Mascara Base – RM45.90
Lash Enamel Glamour Neo – RM45.90
Majolook Trick On Eyeshadow palette – RM53.90
Majolook (Luminoustic) palette – RM49.90
Neo Automatic Liner – RM42.90
Jeweling Pencil – RM26.90
Rouge Majex – RM33.90
Honey Pump Gloss – RM17.90
Shadow Customize – RM20.90
Frozen Splash Eyes – RM29.90
Cheek Customize – RM29.90
Customize Case (for eyeshadows or cheek) – RM20.90
Skin Remaker Foundation refill – RM55.90 Case – RM24.90
Skin Lingerie (OD Control) makeup base – RM39.90
Pressed Fantasia 24H Face Powder refill – RM35.90 case – RM24.90
UPDATE: Here's a list of stores it can be found at and their opening dates.