When I saw pictures of the upcoming Stila Precious Pearl palette, I found my interest in Stila rekindled. Then, I got wind of the Barbie loves Stila collection and my first thought was "WHY STILA WHY?!"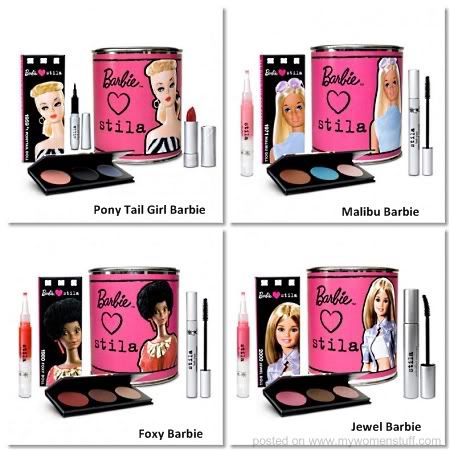 I don't think much of the colour combinations for the eye and face palettes although Pony Tail Girl Barbie's palette looks like a workable combo; and I guess I don't like dolls or cartoons on my makeup.
First MAC partnered with Barbie and now Stila! Right when MAC is launching the MAC-Hello Kitty collection too. Is there like some cuteness overload competition going on, or is the target market for MAC and Stila getting younger and younger… way into the Barbie set??
You know those tin cans? Stila used to make them for their counters with the old Stila girl drawings on them, and they were never for sale. It was a feather in your cap if you managed to score one or if you spent enough at a Stila counter to persuade the sales person to give you one 😛 They were going on ebay for hundreds at one point! Those however were whimsical and sweet. I don't like these nor the new ones – the Stila girl is just not the same anymore.
Stila is selling each combination as a set for US$40 commencing February 2009. The sets specially sold on Sephora are already sold out so yes, there are people loving this a whole lot more than I am! There is also a Barbie talking palette ($40) in this collection. I don't know if we are getting these (we probably would) but expect it to cost RM200 and up. Oh and did I mention they are limited edition?
Now, tell me – what do you think of this Stila-Barbie collection? You already know my thoughts 😛
[poll id="13″]
Stay beautiful,
Paris B