First MAC had Barbie, then Hello Kitty. Stila, not to be outdone, roped in the doll of every girls' dreams and made Barbie love Stila.
Too Faced cosmetics, running out of cartoon icons (probably), has roped in the blue wonder girl that was created to cause friction in the company of 99 little blue men – Smurfette! She is one female living in a village of 99 males – go figure 😉
I thought my eyes were deceiving me when I saw the Too Faced So Smurfy collection. They had to be kidding right? Right?! I mean Smurfette is BLUE! She's a SMURF! If you don't remember the Smurfs, you are way too young LOL…
This is the Too Faced So Smurfy Illumination Face Powder ($26) with a pretty good likeness of Smurfette on it.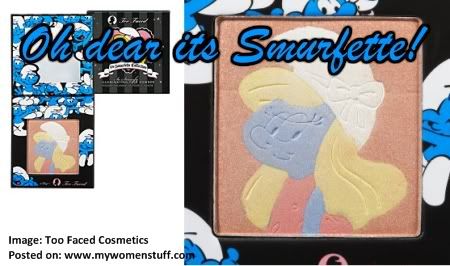 And there's even an eyeshadow quad too ($32.50). Barbie, Hello Kitty, Smurfs… can someone tell me if makeup is just for kids now?
Happy weekend and stay beautiful everyone!
Paris B