When I was last at a loose end, my itchy fingers picked up the Givenchy Prisme Again! blush quartet in Crazy Pink. Its my first ever Givenchy purchase and I was not quite sure what to expect. I only picked it up because it looked pretty 😛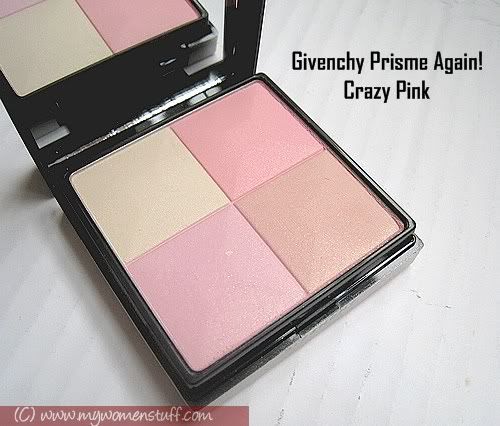 I got it a couple of days later and quite eagerly delved into the package to see how it fared. Following a reader's comment that the Prisme Again! blush quartet is too shimmery, I was a little apprehensive to try it on. What if I ended up a big disco shimmer ball!?
Ah, but I'm happy to note that this is not so! 🙂
That is not to say that the Prisme Again! blush quartet in Crazy Pink isn't shimmery. It is. I opened it and took a picture under a warm light to show the shimmer, so the colour is not as accurate as in the daylight picture above. But you get the idea. Look at all that gold shimmer!
Scary to think all that will be on my face. Definitely crazy disco ball alert!
But knowing that many companies tend to spray on the shimmer only the surface of the product for aesthetics more than functionality, I industriously rubbed away a corner of the blush to see what was underneath. And I am happy to report that the high shimmer in the Givenchy Prisme Again! blush is just spray on as I suspected!
Under all that shimmer, the blush is more matte with only a hint of shimmer which is perfect for a highlighter blush. Disliking all that shimmer, I used a brush and brushed off all the shimmer from the top of the blush leaving what you see in the first picture above – a slightly more matte powder and definitely more usable product.
The Givenchy Prisme Again! Crazy Pink is a blush quartet that is an interesting concept as far as blushes go. You get 4 different colours in one compact that you can use the best way you know how. Brushed together, you get a very light pink colour that works for a blush. Brush on more of the yellow and light pink shades and you get a highlighter that evens out colour of your skin.
Crazy Pink is one for the fairer skinned ladies if you are using it as a blush. If you have darker skin, you might want to try one of the other colours if you want to use it as a blush (see Sephora). I am pretty fair skinned and even then it look a bit for this blush to show up on me. It does however make my skin look flawless which was a surprising side effect.
When it does show up, what you get is a lovely light barely there pink on the cheeks that is very flattering. Its almost like you are barely blushing which suits a sweet young look. I do use more of the darker shades to achieve this effect. It is about as light as Benefit Dandelion blush, but has less purplish tones and is pinker. I personally prefer the Givenchy blush for a light pink blush. If Dandelion did not show on you, skip the Givenchy Crazy Pink.
The texture of this blush is very fine. It is hard to the touch but when you use a brush it picks up the colour well enough and does not have that dusty flyaway effect some blushes have. I was quite surprised honestly because Givenchy is one brand that never attracted me. But now I might give it a second look. I love it when a brand I never give the time of day to surprises me with a lovely gem of a product.
There is a brush packaged in the compact located under the blush. A point to note is that this compact is refillable so once you finish your blush (if you ever do!) you can just buy the refill. The compact is sturdy and very pretty. On the cover is a metallic pink and black Givenchy logo under clear lucite. Very elegant, very compact and very luxurious looking.
I bought my Givenchy Prisme Again! blush on StrawberryNET.com
for US$25 during their promotion offer. It usually retails at US$40 and if anyone can contribute the price for Malaysia, I'll thank you very much! 🙂
Pros: Light blush, Cute packaging, Lasts whole day on my skin
Cons: Lots of shimmer initially, Shimmer dusts off, Pricey
[rating:4/5]