Together with the Cheek Bloom in Dune Pink, I also purchased the eyeshadow duo from the Deadly Desires collection at The Body Shop. There are 2 duo eyeshadows – Khaki and Grey and I went for the grey one because I found the Khaki duo looking a little "dirty" on my skin.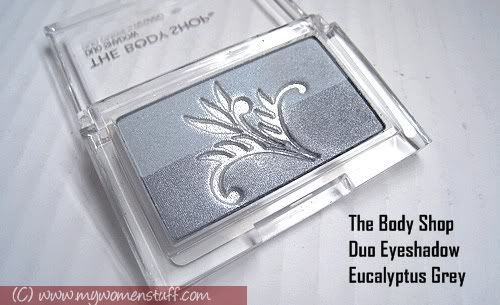 The Deadly Desires duo eyeshadow is a limited edition eyeshadow duo that comes in one single pan. The size is rather larger than normal eyeshadows and have that signature Deadly Desires shimmer embossed pattern on it. I got Eucalyptus Grey. How did I like it?
Unlike my love for the Cheek Bloom blush in Dune Pink, I am not in love with the eyeshadow duo. Despite it looking pretty in the pan, I found the colour a little too sheer on the skin. When swatched on the back of my hand, I thought it was nice and pigmented but on the eyes, the darker grey shade hardly shows up enough to define the eye. The eyeshadow itself is already slightly shimmery. So, the silver shimmer in the pattern adds even more shimmer. Nice, if you like it, but not nice if you don't like too much shimmer in products.
As the shimmer pattern is embossed on the eyeshadow unlike the blush where it is raised, I cannot tell if the shimmer goes all the way through. However, ifs its anything like the blush then the answer should be no, it goes part of the way but not all the way though. I'm open to suggestions otherwise if anyone has found out.
I purchased Eucalyptus Grey hoping to get a daily smokey eye look out of it, but all I can squeeze out of it is a rather serene grey eyed look that isn't unpleasent but is a look I can easily duplicate with other existing colours I own. However, it does travel well and is useful for use when you want to smudge and go so all is not lost! It does fade though. At the end of the day I don't have much colour left on my lids and since most eyeshadows don't fade on me (except MAC) its worth mentioning.
Should I have gotten Khaki instead? I don't think so. Like I said, the colour in that one looked dirty on my skintone so it would have been worse on my eyes.
The Deadly Desires eyeshadow duo is limited edition and retails for RM59.
Pros:Useful for daily use and travel
Cons: Sheer, Dark shade is light, May be too shimmery for some, May be pricey for some, fades on me
[rating:2.5/5]