I was first enamoured by Roototes when I saw them on Karen Cheng. Then Tine wrote about how much she loved her Roototes and I knew I had to check them out.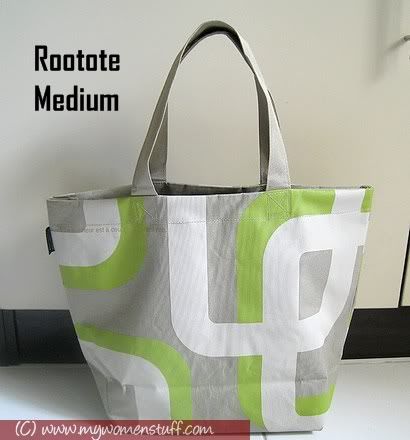 Both Karen and Tine gave links to the Rootote store in Australia which ships to Malaysia for a flat rate of AU$12. Not too expensive if you can find a few friends to combine your order. I was doing just this, when I discovered that Roototes can be purchased right here in Malaysia too!
Local online store Tiny Tapir has brought a selection of Roototes in the Medium and Tall sizes. You don't see it on their website yet, but contact them and they should be able to hook you up with one. (UPDATE: They are now available on the Tiny Tapir Rootote page) The designs are quite selected for now, I guess until they are sure of the demand. The best part is that the prices on Tiny Tapir are in Malaysian Ringgit and my Medium Rootote in the Corners design was only RM38 (Yen 1050)! Compare that with AU$22.73 + AU$12 shipping and you get the idea just how much savings you get buying locally. 🙂 (UPDATE: Due to currency fluctuations, newer stocks are priced slightly higher)
The only thing as I said, is that the selection in Tiny Tapir is quite small for now with a lot of cutesy designs which I was a bit leery of. Cartoons on tote bags just don't do it for me unfortunately, but they might appeal to you. I would prefer if they brought in some of the more user-friendly designs like those in stripes or simpler designs or plain bags. I think many would prefer that too.
Looking around online for a bit, I found out that Rootote is actually not an Australian brand as I originally thought, but hails from Japan under a company called Super Planning. The Roo in the name Rootote comes from the zippered pocket on the outside that is modeled after a kangaroo pouch. The designs on the Japanese site are so much more varied and they even have collaborative designs with other artists and designers.
I like the Rootote Medium shape because it fits better on my frame. The Medium size is not too large for a tote and although it has no zip or closure, it stays closed because the straps are not that long. Once slung over your shoulder, the bag is automatically kept closed. It turned out also that my design in Corners was a polyester material. This makes is rather waterproof but also makes it rather stiff. Perhaps its new so I'll have to wear it in a bit. I am interested in one of the cotton canvas ones though. I think those would not be as stiff and may be nicer to carry.
On the inside of the bag is a plastic insert to keep the bottom of the bag flat and 3 inner pockets to keep your cards, keys, mobile phone etc. There is no lining on the inside of the bag. Another thing I did not quite like, but the seams are all well finished so it doesn't look too bad. On the outside is a zippered pocket along the side seam where I keep my house keys. The design of this bag is on the flatter side. There is another design where the bottom is more circular. I thought it might be harder to carry that one flat and close to the body so I skipped it.
I was not expecting much from the Rootote to be honest. Its just a tote after all one might argue. But I was pleasantly surprised by how useful it is. Because it is polyester, it is not heavy so it doesn't weigh down your shoulders. I took it to the movies and it fit a scarf to keep the chills away, a large bag of crisps and a bottle of water. Best of all, it did not even look filled. The bag was stiff enough to stand up without flopping over which I liked and it sat nicely on my shoulder without dragging it down. I'm so used to carrying heavy bags on my shoulder that carrying a light bag suddenly felt like carrying nothing at all! The Rootote also feels very sturdy which I liked. I could probably fit a ton of bricks in there and it'll still be fine. Not that I would…
I can see me using my Rootote for weekend shopping trips or for a day trip out of town. The design is fun yet serious enough that I could pass it off for work if I had to. If I really wanted something for work, I might have to pick up another in a more serious looking design. Its big enough to fit A4 files and a laptop and is light enough so I won't end up looking like the hunchback of Notre Dame.
I tipped off Beetrice and she picked up the same one I did so maybe she'll be reviewing it soon too. 🙂 I may be keen to check out some in the Luxe or Cotton designs. Just look at the choices available! Ah, temptations! It may be time to get in touch with Tiny Tapir again! 😉