A while ago, I itched to get something from Benefit Cosmetics, but I balked at paying the high prices we pay here in Malaysia. Yet, I did not have enough in my shopping cart to warrant the free international shipping with purchases of $100 and above. So, I contacted a few friends to share in a bulk order, and 2 weeks ago, our order was placed.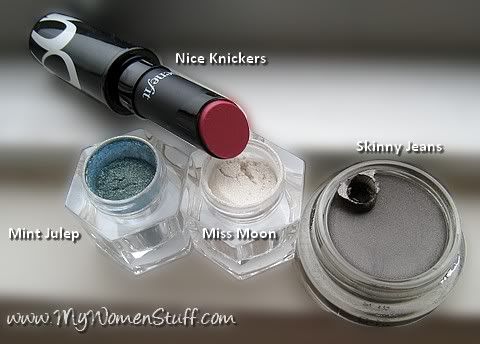 Here are my goodies from Benefit Cosmetics which I received a couple of days ago. Shipping from the USA took just about 2 weeks to Malaysia from the date of the order which I found speedy enough. Also, I was entitled to free shipping since the total purchase exceeded $100. I was glad because the shipping would have cost me $27+ otherwise!
The Benefit Cosmetics package came in a largish box which was nice, because there weren't that many products inside. The products are cushioned with air bags (plastic bags filled with air) but aren't bubbled wrapped. I was a little worried about the powder products, but I checked and they all held up well.
All the products came in excellent condition except my 2 orders of Skinny Jeans Creaseless Cream eyeshadow. Both products were defective. One had a hole in it (as you can see in my picture above) and the other had a piece of hard plastic sitting on the top of it. Don't ask me how or why it happened but the box did not look like it was tampered with and the issues did not look like they were man-made. I consulted with my friend who was having the other Skinny Jeans and we decided not to return for a refund, because it would be just too much hassle and costly to have to send the products back to the USA.
I did however, contact Benefit Cosmetics' Customer Service to tell them about this problem and I attached photos I had taken of the products. Within 24 hours I received a response from Customer Service telling me that they would offer me a 20% discount if I decided to keep both products and it would be credited back into my credit card if I agreed! I was impressed at their efficiency and prompt response. So, we got an additional discount off the eyeshadow!
I had been wanting to try a Silky Finish lipstick so I got one in Nice Knickers
purely due to the name. No, I'm serious. 😛 It helped of course that when it arrived it looked like a colour I'd like.
I also had been wanting to get the Benefit Show Offs loose powder eyeshadow, but I did not quite want to pay RM65 for the little pots of colour. So, when I saw that they were on sale under the Buh-Buy's section for US$12 (RM39) I decided to cave in. I got Miss Moon
and Mint Julep
– 2 colours I knew would work for me. They are still on sale under the
Buh-Buys sale section
and there are other colours available so do check them out.
Because my friend told me to get her the Creaseless cream eyeshadow in Skinny Jeans
, I knew I'd want one too when I saw the colour – a shimmery dark grey that would make a lovely base or lovely enough on its own. I'm into grey eyeshadow looks lately so this was right up my alley.
All in all, I had a good experience shopping on Benefit Cosmetics
online. The shipping was quick, the customer service was good, and I'm happy about the free international shipping for purchases $100 and above. If you get a few friends together, it won't be difficult to hit $100 and you get to save a ton! Now, look out for my reviews of these products coming up in the next couple of weeks!
Have a good weekend everyone!