I was out trawling the malls over the weekend which is something I haven't had the time to do for a long while. I also wanted to check out something from the pharmacies when my eye was caught by some new stuff at the Silkygirl counter.
Silkygirl Perfect Cover Concealer
A new creamy stick concealer from Silkygirl. The Perfect Cover concealer comes in 2 shades – Light 01 and Medium 02. I found that Light 01 was light, but a little yellow. It was very creamy though – so creamy that it felt like it was melting! It was slightly thick and I reckon it might conceal marks and discolouration better than dark eye circles. At RM14.90 I might try it one day especially since there's a promotional price of RM12.90 now.
Skin Perfect Liquid Foundation
This Skin Perfect Liquid Foundation comes in small little tubes which I thought very handy and cute. There are 4 colours available – Light, Natural, Medium and Tan. I tested Light 01 on my hand which seemed a close enough match although it had a slightly yellow base. It felt light, and blended well. It also contains SPF30. However, I'm a little concerned over the use of nano-technology and deep penetration into the skin. Some research have stated that nano technology in skincare or cosmetics might not be a very good thing but I'm no expert so do correct me if I'm wrong. A tube of this new liquid foundation retails for RM21.90 and is now selling for a promotional price of RM19.90.
Shimmer Duo Blush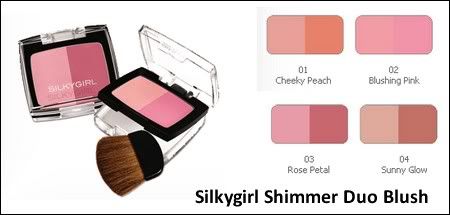 Ah! The product that first caught my eye! The new Shimmer Duo Blush. The blush comes in a slightly thick case because there is a brush hidden underneath. I did not see the brush at the tester counter so could not feel its texture. The blush itself is quite a large pan which is nice.
The blush is split into 2 – a shimmery side and a matte side. The colours can be swirled together for a nice shimmery look or used separately. Nice to have a 2 in 1 blush set! I tested all on my hand and found that the blush was slightly sheer and the shimmer was light and not over the top. That is nice because you don't want to look like a disco ball. However, I felt that the 3 shades – Cheeky Peach, Blushing Pink and Rose Petal were all just a little too pink. Swiped on the hand, they all looked quite similar. Whilst I know that Silkygirl targets the young, bright pink is not a colour that everyone can handle, irrespective of age, and blushes don't necessarily have to be a bubblegum pink. The tone was rather on the cool side too. 04 Sunny Glow looked quite nice though. Not too brown but a neutral, beige colour on the skin, which can look very natural and the shimmer will give a light glow.
The blush duos retail for RM24.90 but are now on a promotional offer of RM19.90 each.
I've always maintained that Silkygirl is one of the cheap brands available locally with quality that's above average, and I'm glad they are doing something to increase their product range. However, it would be nice if they tone down the "young girl" image a little and take it up a notch to "young woman" instead to appeal to a wider demographic. I preferred their image when they were using Paula Malai Ali (when she was younger) before they went all teenybopper and schoolgirl on me 😛 They might also want to consider making colours that are less bubblegum coloured and have more depth, in particular their eyeshadows. I reckon that if Milani and NYX can do it, so can Silkygirl… if they try.
I'd be keen to see what else comes out of the Silkygirl stable in future.