Not many skincare products from The Body Shop thrill me. I used to use their Vitamin E cream but it did not work out for me after a while. So, when I first read about how effective The Body Shop Vitamin C Skin Boost was, I was quite sceptical. So sceptical in fact that I only checked it out in the store and put it back because I wasn't sure the silicone feel would work for me.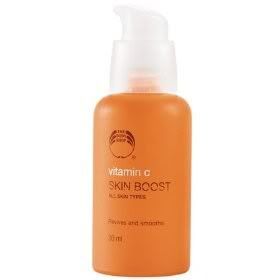 A couple of years later, I came across this glowing review on the Vitamin C Skin Boost on Beetrice's Reviews and something in me snapped. I had to try it!
What this Vitamin C Skin Boost does is to give a boost to the skin of your face. It promises to brighten the face, improve elasticity, neutralise free radicals and soften skin and restore suppleness and strengthens the skin's natural defence system. All very lofty claims indeed. But what is it really?
I treat the Skin Boost as a treatment serum. The bottle doesn't really have much information on it and it doesn't even tell you the order in which it should be applied on your face or what it even is. I'd have liked information that says whether it should go on before moisturiser or if it is in itself a moisturiser. Online, it says it can be either.
I treat it as a serum so I apply it straight onto cleansed and toned skin day and night and then apply my moisturiser on top of it. By itself, I don't think it offers enough moisture for the skin. It doesn't feel any oilier with moisturiser on top of it which is nice.
The bottle is really quite small. 30ml in a glass bottle with a pump. The serum is a clear light gel texture with a strong citrus smell. The prevailing smell is that of oranges which is very rejuvenating and uplifting for me especially in the morning, and again in the evening after a long day. It doesn't last though if you are sensitive to fragrances.
Only very little is really needed to cover the whole face as I find the serum very easy to spread. I've found that when I apply it on my skin, it leaves the skin looking quite matte and feeling very smooth. I find that there is a cool feeling on the skin too, rather minty and if I happen to get some Skin Boost on my lips or around my lips area it tingles a little.
I did wonder if the "boost" factor was due to the glycerin based gel which made the skin feel so smooth and nice. If so, the effects would be only temporary.
Only having introduced this one new item into my daily routine, I noticed after 3 weeks that my skin seems to be looking better. I was not having a lot of skin problems before, but my skin colouring did tend to be quite uneven, with redness on the cheeks and nose area. Just before I started with Skin Boost, I was also having some upheaval with my skin where it was breaking out in parts.
After 3 weeks, I found that my skin was feeling substantially smoother and looked clear and more even toned. I have some old acne scars and some uneven skin texture around my cheeks but in the 3 weeks I was using Skin Boost, the skin had cleared up. There was even a bit of a glow which was definitely not attributed to oiliness! Because my skin was now more radiant and felt more supple, my acne scars and pores actually looked less prominent than before! My skin tone was clearly more even – I did not have to use as much concealer or foundation in the day – and my skin was just generally looking so much better than before.
The clincher was when I went for my monthly facial and had my facialist tell me that my skin was looking very good and better than when she saw me last.
I knew I was onto something good!
Some information on Vitamin C
Vitamin C by itself is supposed to be a good antioxidant and has anti aging effects due to it fighting free radicals. In terms of skincare, I have been aware for a long time about the benefits of Vitamin C for the skin – healthier stronger more radiant skin and better collagen production resulting in more supple skin. In fact, due to its antioxidant properties, I've read recommendations for the Vitamin C serum to be applied on the skin before sunscreen to boost the protection of the skin. I'm no expert though so I cannot confirm this.
However, I also know that Vitamin C is sensitive to light and oxidises very quickly in the air and turns yellowish when it does. So, when you buy a product which says it contains Vitamin C this is something to note. I would guess that this is why this Vitamin C Skin Boost from The Body Shop comes in a glass bottle that is covered completely by the orange plastic label to protect it from the light. This has its down sides because you can't really tell how much is left. I did unscrew the top of the pump to check and even after 3 weeks of daily use it still looked pretty full.
I honestly do not know stable the Vitamin C in Skin Boost is but as the gel pumps out everyday in a clear form, and my skin continues with its upward trend of radiance, I'm fine with it. 🙂
A bottle of Vitamin C Skin Boost retails for RM79.00 for 30ml at all The Body Shop stores. It can seem quite pricey, but I can see that this one serum will remain in my skincare regime for a long time to come. I don't have a before and after picture but you can check out Beetrice's Reviews for her picture testimonial on this product that sold me on it. I recommended it to my sister and she too has experienced a marked effect after just 1 week. She has sensitive skin and has not experienced any problems using Skin Boost so I reckon its alright for sensitive skins too. For those interested in ingredients, the key ingredients are Lanolin, Vitamin C and Orange Flower Water.
Pros: Light texture, Evens out skin tone, Skin is more radiant and clearer, lovely citrus scent

Cons: Not enough information on how to use on the product label, can seem pricey to some
[rating:4.5/5]
Update 2011: This was a good product while I was using it. I no longer use this because I have found it contains too much silicone for my preferences. I now use other serums. Reviews can be found here.