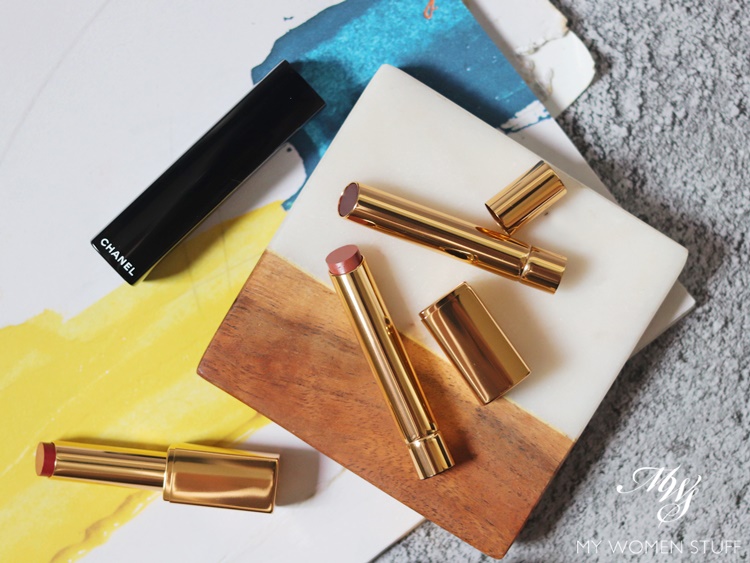 Malaysia has finally joined many other countries in allowing us to remove our masks in public (with exceptions), after 2.5 years of mandatory mask-wearing. I can't say I'm terribly excited about the news, as I intend to continue masking for the near future, but I understand how that appeals to the sense of normalcy that many people crave.
But the mask-off policy means that we can go back to wearing lipstick!
What better time then, to tell you about the new Chanel Rouge Allure L'Extrait refillable lipsticks.
Chanel calls this the Rouge Allure l'Extrait High Intensity Lip Colour, and I did not appreciate that description until I swatched them.
I was quite blown away! Now, THIS is a warm welcome to the return of lipstick! 😀
Chanel Rouge Allure l'Extrait High Intensity Lip Colour – Refillable lipstick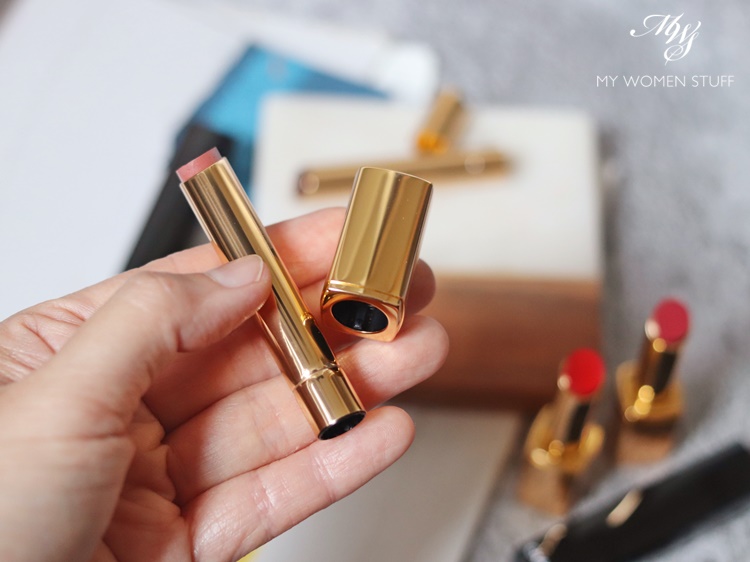 What makes the Rouge Allure l'Extrait lipsticks special is that they come in refillable cases. As you can see in the photo above, the lipsticks can be removed and taken apart, once you are finished with a tube of colour, or if you want to swap it out for a different shade.
This reduces waste, in that you don't have a buy a new lipstick each time you want a new colour or you finish your old one. You just need to buy a refill, because the case will last you far longer than your lipstick will (or should!) 😀
But what is really impressive about these lipsticks are the texture and the intensity of colour. It's a POW! In your face colour, with a depth and opacity that is truly awe-inspiring!
Refillable packaging – 1 case, 20 colours
The new Chanel Rouge Allure l'Extrait lipsticks come in 20 colours, but you will only ever need 1 case for them.
The case comes with the sleek lacquered black cover, that is slimmer, and a golden base in which you can affix the refillable lipstick tube. Like all lipsticks in the Rouge Allure line, the base lies flush in the case, with a pop-up touch mechanism. The refill tubes lock securely into the base and do not feel wobbly or flimsy. It does feel just like a brand new tube of lipstick.
Each slim refill comes with a light, golden cover. The whole package is kept elegant and sleek, in keeping with the brand's ethos.
However, if you thought you could just buy the refills without having to splurge a little extra for the case, Chanel has thought about that too LOL! 😛
The Rouge Allure l'Extrait refillable tubes can only be twisted up once they're fixed into the base of the case. The mechanism to twist up is embedded inside the base of the refill tube. So, unlike most brands with refillable lipsticks, you cannot just twist the bottom of the refill tube to use the lipstick, and forgo the case. Yes, they thought of the sneaky details! 😛
Personally I find it a little gimmicky, simply because I don't really go for these sorts of packaging. While I can understand that some people may like this, because it costs less to own more colours, it still isn't that affordable.
The quantity per tube too seems less than the regular Rouge Allure lipsticks. The Rouge Allure l'Extrait are 2g each, while the others are 3.5g. That's a pretty substantial difference in a tube of lipstick.
High-intensity, full pigment colour
When I read the description, where it said 'high intensity lip colour', I didn't think too much about it. I am familiar with most of Chanel lipsticks, and when it says 'high intensity colour', I tend to take it with a pinch of salt.
Well, not this time!
These swatches of the Rouge Allure l'Extrait lipsticks were made with just 1 pass of the tube on my hand. There was absolutely no tugging, no dryness, and it went on pigmented, bold and intense.
What a way to celebrate the return to wearing lipstick! 😀
The only exception for me was 812 Beige Brut, which looks like a dull nude colour in the tube, but swatches on skin with a pink-brown hue that is natural and quite flattering. There is just enough pink in it to keep things interesting, so you don't look like a corpse. No one needs to look like a corpse these days!
However, I found that 812 Beige Brut is a little more sheer and less intense than the name implies. It is a little transparent, which allows for your natural lip colour to come through, which I think helps with the wearability of a colour like this one.
The other colours I have are bright and bold and intense – wow!
Smooth, Lightweight, Creamy Satin texture
The Rouge Allure l'Extrait lipsticks have a beautiful smooth, creamy satin texture with a slight shine to the colour. It will transfer, so if you prefer something that lasts and lasts, then this isn't the one to look for.
What I like about it is the lightweight texture, and how comfortable it is on lips despite the bold colours. Traditionally, lipsticks with satin textures do tend to sit a little more heavily on lips. But these do not.
I do find that the longevity is quite good. That said, while they promise incomparable intensity for up to 8 hours, 12 hours of hydration and 10 hours of protection for lips, I don't wear lipstick that long anymore so I'm unable to vouch for it.
I do find however, that the bold colour does 'stain' a little, so even if the shine is gone, the colour will still remain. Removal with a makeup remover or oil cleanser is recommended, to make sure you get it all off.
If, like me, you're easing back into the world of wearing makeup and not wearing a surgical mask out in public, the Chanel Rouge Allure l'Extrait lipsticks would be a great reintroduction to colour and face-painting 🙂
IN A NUTSHELL

The Chanel Rouge Allure l'Extrait refillable lipstick comes with a creamy-satin texture and bold, high-intensity colour. The refill mechanism is very sturdy but proprietary, so you can't use it with any other lipstick tube. You can't use the refill on its own, without the base and case, because the mechanism to twist the lipstick up and down only works with the base. This means you have to buy 1 full package lipstick first, then buy the refills. The colours are beautiful. Bold, intense and swipe on like melting butter. They don't travel, but will transfer, and do last long. Like all Chanel lipsticks, there is no discernible scent or fragrance, so that's something I like. If you enjoy bold colour lipsticks, then this would be a good one to look at.

PROS:
Bold, high-intensity colour
Opaque, creamy-satin texture
Lightweight on lips
Not-drying

CONS:
Refill system is a bit gimmicky
Pricey
Will transfer
Only 2g a tube vs 3.5g for regular Rouge Allure lipsticks

WHO WILL LIKE THIS: Anyone who likes creamy textured, bold coloured lipsticks

PRICE: RM198 | US$55 for full size, RM145 | US$40 for refills

WHERE TO BUY: Chanel beauty boutiques and counters, Chanel e-store, Nordstrom
Are you interested in these Rouge Allure l'Extrait refillable lipsticks? Do you like the idea of refillable lipstick tubes?
For me personally, it doesn't matter if lipsticks are refillable or not. When I carry multiple lip colours in my bag, I carry different tubes and it doesn't bother me. Perhaps, if I had just 1 or 2 lipsticks, it might make more sense to own refills 🙂
Paris B
Disclosure: Featured service was a media trial by the brand for consideration. Our commitment is to honesty and fairness. For review guidelines please read the disclaimer.