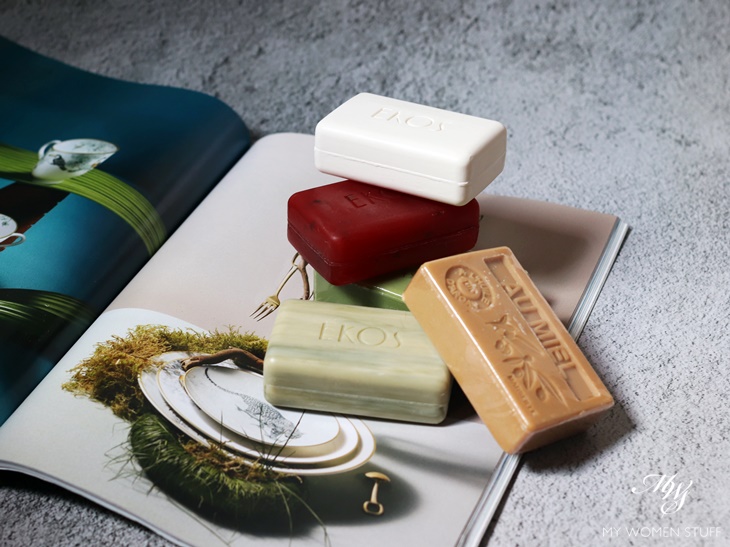 It's a little funny topic I know, but for the longest time, I'd been a fan of shower gels or liquid body washes. I love trying new ones, and all the lovely scents they come in. In the past, liquid soaps formed a part of my souvenirs from holidays and trips overseas, where I had access to different brands and scents.
We used bar soaps growing up, and I hated them because they'd get mushy quickly, and were awfully drying on skin. They also were heavily scented, and were so strongly scented that people would use them to scent their wardrobes!
I also found using liquid body washes easier. They are less messy, and you don't find yourself bending over to pick up a slippery bar of soap every now and then LOL! 😀 They also come in scents that are more fun.
But while in lockdown, I found some bar soaps in my cupboard, and instead of wasting them, decided to have a go. I must say that I have been pleasantly surprised by how useful they are, and it's changed my mind about using bar soaps! 🙂
The 2 brands of soaps I tried are from Natura and La Maison du Savon de Marseille. I know you can make your own, and I'm given to understand that it isn't that hard to make your own soaps. But I am not the sort to DIY things like this, so I'd rather leave it to someone else to formulate and produce 🙂
Natura bar soap
Natura bar soaps are sold singly (150g bars) or in packs of 4 (100g bars). On the Natura website, they often have promotions and gifts with purchase that are very generous, and I received a box of their bar soaps during one such promotion. It pays to sign up for their promotion notices! 😛
Natura bar soaps are made from 100% vegetable oils, and are vegan. They can also last an impressively long time! I used 1 bar for over 3 months, and we're not even done with it yet! I must admit that it stunned me, just how much I was saving using a soap bar instead of liquid soap.
I love their scents, which are very natural, and not overly perfumed. The soap bars lather up nicely to a soft foam, and are good at cleaning off dirt and sweat. It isn't drying on my skin at all, which is great!
Best of all, they don't melt into a mush! Granted, I do make sure that it's allowed to dry between showers, but it's been 3 months and I have not had to deal with it disintegrating into a mush even though it's in the shower.
I must say that I'm a convert to bar soaps thanks to Natura, and will be happy to continue using their bar soaps. It isn't all that pricey either, when you consider just how long 1 bar lasts.
I highly recommend Natura bar soaps, if you too struggle with the notion of using bar soaps as opposed to liquid soaps. It might just change your mind as it did mine! 😀
PRICE: RM29 | US$10 for 150g bar / RM45 | US$25 for pack of 4 x 100g bars

WHERE TO BUY: Natura website or store (Mid Valley Megamall)
Marseille Soap from La Maison du Savon de Marseille
Marseille soap is a traditional hard soap made from vegetable oils, that hails from Marseille, France. It is a traditional formula made from minimum 72% vegetable oils, 100% natural ingredients, made with marine ash and natural sea salt water, and traditionally cured.
Fun Fact: Only soaps made in the traditional method in the city of Marseille can carry the Savon de Marseille mark!
What is special about Marseille soaps is that it is gentle on skin (even for sensitive and irritated skin), non-drying, provides gentle exfoliation, is chemical-free and can be used for showering or even for handwashing laundry.
I had tried a Marseille soap in the past, that did not leave much of an impression on me. This time, I paid a little more attention, and I'm not sure if it's the product, but I had a much better experience!
As with the Natura bar soap, I found that the La Maison du Savon de Marseille soaps last an incredibly long time and do not melt. You do have to ensure that it dries out between uses, but you get much better value from using these soaps than from using liquid soaps.
I like how it isn't drying on the skin, yet leaves skin feeling very nice and clean. I shower 2-3 times a day, depending on the weather and how long a walk the pup and I have had, and I like how my skin doesn't feel dry, yet is clean from sweat and grime.
I do notice however, that as you get toward the core of the soap, it does get a little softer, so you do have to be careful not to let it soak in water, and to drain properly, to avoid it melting. It does smell lovely, in a natural perfumed way. Nothing too irritating to the nose, and it fills the bathroom with a nice smell.
I also notice that it lathers up well with soft foam, and you really do not need very much to get clean. If you like, you can shave off bits of it to wash your delicates, or to spot clean clothes. That makes it great to use for travel! It is strong, but gentle, and it's gone a long way towards changing my mind about using bar soaps in the shower.
PRICE: RM22-39 depending on type and weight

WHERE TO BUY: La Maison du Savon de Marseille website
Why I would switch to bar soap
The primary reason is switch is simply for the cost-saving. I'd been so used to soaps going mushy quickly that I didn't think they might actually last longer than liquid soaps.
Depending on the type of bar soap, I do find they clean as well, if not better without drying. I do have rather sensitive hands that are prone to contact dermatitis if they come into contact with certain ingredients. I find this risk reduced with bar soaps.
Considering that I'm not the world's biggest fan of bar soaps, I have to say that I've changed my mind about using them. I still will not use the ones I find in pharmacies/supermarkets etc, but I am happy to use and to continue using these 2 brands.
Help your bar soap last longer
The trick to helping your bar soap last longer, and to avoid it going mushy, is to ensure that it isn't left soaking in water after each use. This means allowing it to drain between uses.
You can use a draining rack or soap dish, or anything that elevates your soap and allows it to drain and breathe. Allowing some proper air to circulate around the soap will help it dry more quickly, and avoid it going mushy.
You can also get a soap net bag that allows you to hang up your soap so it dries out, and helps it lather up better. I haven't used one of them, so I can't say for certain how well it works 🙂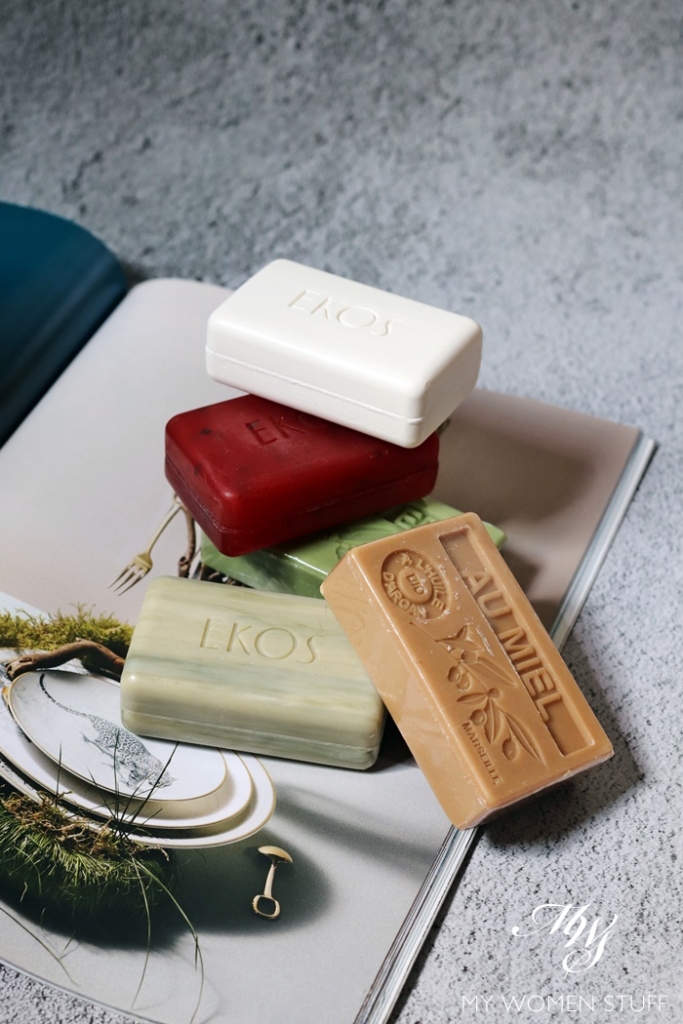 I must say however, that this is my experience with the 2 types of soaps I've mentioned here. In the past, I have used handmade soaps from indie soapmakers, that have gone mushy quickly even with proper care. It might be to do with the ingredients used and the curing process. I can't say for sure which. It did turn me off trying bar soaps for a bit, I have to admit.
But I can also say that I'm a lot more open to trying new brands of bar soaps made of natural ingredients, moving forward. I might even be cured of my obsession with body washes and liquid soaps! 😀
Are you a fan of bar soaps or liquid soaps? Any brands of bar soaps I should look at?
Now that the global borders are opening up again, and travel seems more imminent, I've realised just how more practical using bar soap will be when you travel. Not only can it serve as a little perfume for your luggage, it won't be flagged as a liquid in your cosmetics case, and you only need a little piece to last your whole trip! 😀
Paris B