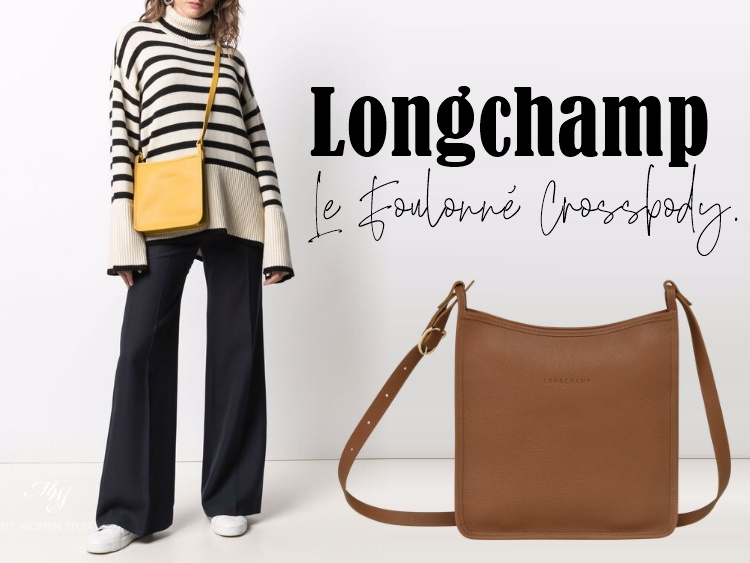 In one of my social media profiles, I described myself as a "Bagaholic (ret.)". I have been retired for quite many years and in fact, have been quite busy clearing closets and rehoming some of them.
Interestingly, I've recently had more than a handful of people ask if I could share a little more about bags, or what I have my eye on. I'm no fashionista, but I guess we all enjoy a little eye-candy once in a while, and window-shopping is free after all 🙂
My lifestyle has changed a lot in recent years, and it has become a lot more casual than it used to be. Instead of elegant (but fiddly) hand-held totes or shoulder bags, I now prefer something I can sling crossbody. Instead of rigid shapes, I prefer something softer and more malleable. Instead of larger, more office-friendly bags, I opt for smaller ones.
I even prefer using lightweight nylon totes from lesportsac, as opposed to some of my fancier (but heftier) bags 😛
Recently however, I came across a bag that has me going back more than once to look at it – the Longchamp Le Foulonné Crossbody. You could say I'm a little smitten 😛
Longchamp leather bags have beautiful leather
Most of us are familiar with Longchamp through their popular nylon le Pliage bags. It's one of their most popular bags and within reason, for they're durable, light, practical and convenient. They are great for work or shopping weekends. It's a nice all-rounder bag.
What is often overlooked in Longchamp is their leather bags.
I own a couple of Longchamp leather pieces which I purchased during their sales. This was waaaay back in the day, and I haven't kept in touch with the prices and sales since. But they do go on sale in the boutique, and now that I notice they have a website, I believe there are seasonal sales available online too.
What I can attest to is the quality of Longchamp leather. The ones I own are supple, soft and long-wearing. Aside from some worn edges, the colours are bright and vibrant, and the leather is still in very good condition. I do care for my bags although I do not baby them, so you do have to account for that.
But I have no hesitation recommending anyone to have a look at Longchamp when considering a good quality, affordable leather luxury bag.
The main problem with Longchamp is that their designs for their leather bags have always been a little too safe and, I dare say, boring.
But I just relooked at their website, and goodness me! They're quite impressive now! Designs look more updated, and colours are bright and vibrant. I love it! 😀
Longchamp Le Foulonné Crossbody
At my current stage of life, the Le Foulonné Crossbody is what my eye was irresistably drawn to.
I love the simple, minimalist design of a bag that has no embellishments, and no loud logos. The sleek design is timeless and casual.
It is a bag designed to be worn across the body, or if you shorten the strap, on the shoulder, leaving your hands free. The leather is supple, pebble-grained and buttery soft. If I were living in a country where I could walk everywhere I go, this would be the bag I'd go out to the shops in, leaving my hands free to keep my dog in check. As I don't, this would be a bag I'd take out everywhere I go, and especially if or when I do take my pup on a little cafe jaunt 😀
It comes in 2 sizes, S (20x20x5cm) and L (27x28x4cm). I've seen the S being compared to the Hermes Evelyne TPM, as it's just a little larger, while the L size is a little smaller than the Hermes Evelyne PM.
I went to the store to test it out and my personal preference lies with the S size. It's small and cute and also quite roomy. I found the L size a little larger and more bulky looking on my frame but if you are the sort to carry a lot of things around, that would be a better choice.
Which brings us to what the Longchamp Le Foulonné Crossbody reminds many of – the Hermes Evelyne.
An alternative to the Hermes Evelyn?
When I realised how familiar the design of the Le Foulonné Crossbody was, I realised why I was immediately drawn to it. I am personally a fan of the Hermes Evelyne design, and this one looks so familiar.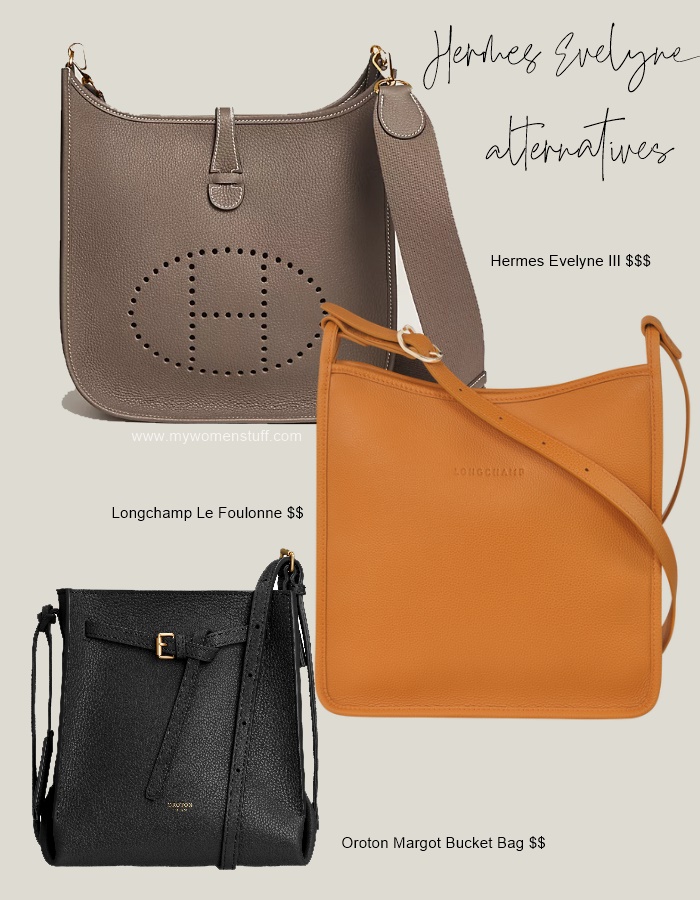 In terms of design, the Longchamp Le Foulonné Crossbody is more simple and minimal. Aside from the plain, embossed logo, there is no other embellishment on the bag.
Unlike the Hermes Evelyne, the Longchamp Le Foulonné Crossbody has a zip, which prevents your items from falling out, and keeps them safe. The Evelyne is open topped, held together with a little leather band across the top.
The strap on the Longchamp Le Foulonné Crossbody is of full leather, and non removable. On the Evelyne, the strap is cotton canvas (which can stain) and removable. I do also note that the Le Foulonné Crossbody strap is thinner, and I will hazard a guess that it makes it a wee bit easier to carry than the thick strap of the Evelyne. If you have broad shoulders, the Evelyne might stay on better. On thinner shoulders, I do notice it slips off more easily.
There is also a slip pocket behind the Evelyne, which isn't available on the Longchamp Le Foulonné Crossbody. However, there are some simple separators inside of the Longchamp to help you organize the contents, as opposed to the Evelyne, which is a black hole.
A big consideration of course is the price. The Hermes Evelyne is one of the more affordable bags within Hermes' range of bags, and even then, it costs a pretty penny. It is also impossible to get hold of in the boutiques. For some reason, Hermes boutiques claim to not have any bags on offer, which in my mind, is quite ridiculous and creates a false demand to justify their high prices.
If I were keen to buy the Longchamp Le Foulonné Crossbody, I could just pop into the store or place an order online, and have it delivered, with no fuss. While not cheap, it won't cost me a kidney, and it will serve a similar function to an Hermes bag 😛
Another bag I found online recently with a similar design is the Oroton Margot Bucket Bag. You can buy Oroton at their stores here, or you can also buy it online. They ship from Australia to Malaysia at no cost 🙂
Did the Longchamp Le Foulonné Crossbody catch your eye too?
While I'm not currently in the market for a new bag, I can't say I'd feel the same if I stumble on one of their sales, and if the Le Foulonné Crossbody is available for a good price 😉 Never say never! 😀
Paris B