I'd been very good for a long while, resisting temptation from most new makeup releases. Money saved, I'd tell myself. I already have similar shades; I'd console myself. Till one day, my eyes fell on pictures for the NARS Summer Lights Face Palette.
And I felt my heart beat a little faster.
And my palms felt that prickle of sweat.
I had to have it. I just had to! Even though I need YET another neutral palette, like I do a third nipple <- this is an on-going joke, for everyone who's just checking in, and premiered here.
NARS Summer Lights Face Palette – Limited Edition
NARS released 2 palettes for their 2019 Summer collection – Summer Lights and Hot Nights. Both palettes feature 4 eyeshadow colours and 2 cheek colours.
Hot Nights boasts deeper shades, with the eye colours featuring pink and deep purple shades. The cheek bronzer and highlight too appear a little deeper. I wasn't too interested, because I don't wear pink and purple eyeshadows well.
Summer Lights on the other hand, had me from the get-go for some strange reason. It was like a siren song, leading me inevitably to the rocky shores of irrational want.
4 eyeshadows, 1 bronzer, 1 highlighter
The palette contains 4 good-sized eyeshadows in very neutral tones, 1 light bronzer and 1 highlighter.
To be honest, I found the eyeshadow combination a little awkward. It seemed to be a combination of warm and cool-toned browns. I bought it online, before it became available in store, so I wasn't aware just how warm-toned it was.
And I don't wear warm-toned shades very well LOL! 😀
However, what sold me was the texture. The texture of the eyeshadows are, for want of a better word, like butter! I kid you not. 3 of the shades are smooth, fine-milled and so pigmented, they deliver colour with just one swipe, and go on like a silken caress.
I haven't bought nor used many recent NARS eyeshadows, so I am not familiar as to whether they have reformulated their eyeshadows.
But the eyeshadows in the Summer Lights Palette are sublime! There is an undulating wave pattern on the surface, and it is incredibly easy to pick up colour whether with a brush or your fingers.
I'd suggest using a brush, however, as the colours are fairly pigmented, and you'd want to diffuse them nicely on the skin.
Here are the swatches of the colours in the Summer Lights Face Palette. All the colours are named, and I believe they may be exclusive to this palette.
Rainwater (warm shimmering beige) – I found Rainwater to pull a little cool which is great for my skin tone. It is however, quite a pigmented shade, with a nice shimmer that isn't garish nor chunky. This is easily my favourite shade of the 4, and I like wearing it on its own.
Hibiscus (yellow bronze pearl) – This shade is definitely warm-toned, with an earthy bronze effect. A shade I find hard to wear, if I'm to be honest. I do find that blending it with Rainwater helps cool it down enough, so it doesn't clash as much with my skin tone.
Papeete (matte terracotta brown) – Of the 4 eyeshadow colours, Papeete has the driest texture. Unsurprising, as it is a matte colour. It is a red-based brown that I struggle with, but again, I tone it down with Rainwater, or in a pinch, the highlighter shade, Paper Flower.
Hei (deep shimmering brown) – Hei is an interesting shade. I find that it isn't as deep as it looks in the swatch. It is ostensibly the shade you'd use to deepen the shadows around the edges, for definition. But it isn't very dark when layered over the other shades. However, I can imagine that if you wanted to do a sultry eye for the night, this would be a lovely colour to work with, highlighted with Rainwater.
Paper Flower Highlighter (warm champagne pearl) – It is exactly as the name implies, a warm champagne colour that is very fine, isn't chunky nor glittery, and gives skin a soft highlight. I use it for eyes as well.
Destination Unknown Bronzer (matte neutral bronze) – This is a fairly light bronzer, which suits me fine. If you have medium to deep skintone, you might have to apply more for it to show up. On my skin, it is fairly neutral. It does not come off as a dirty colour, nor is it too stark. I am light-handed so it just shows up as just a hint of warmth, but for me, that's all I'm looking for. It's a good shade, and I know I'll get use out of it.
NARS Summer Lights – Well-constructed face palette
I think what really attracted me to the NARS Summer Lights palette is also its construction.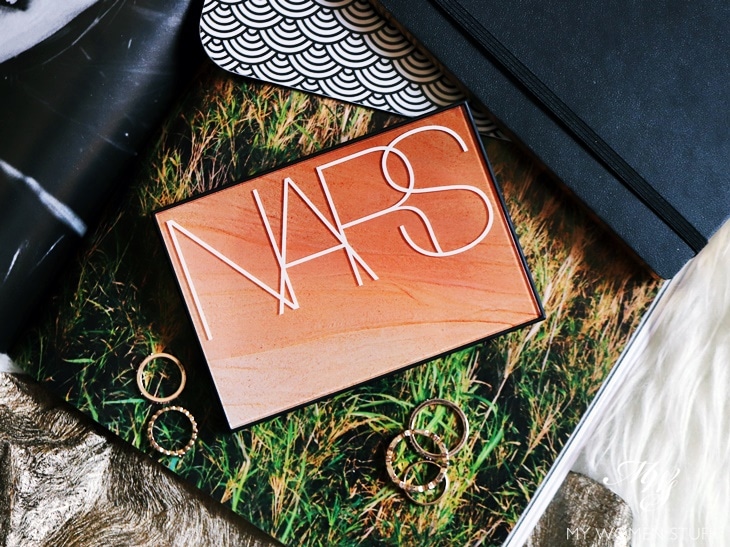 Instead of the usual, AWFUL black rubbery palette that NARS is so infamous for, this comes housed in a very sturdy, compact palette with an acrylic glazed cover. It is very portable and sturdy and is similar in construction to the NARS Wanted Vol. 1 Narsissist Cheek Palette, if you remember that one.
Basically, it isn't the awful rubbery palette, or I'd never have bought it 😛
For an idea of how I'd wear the Summer Lights palette, here is a quick look I did.
The shades in the NARS Summer Lights palette are all a little warm toned. Against my more neutral-cool toned skin, it can be a little jarring. So I'd be a little more careful to ensure that all the colours I'm wearing, including my clothes and accessories, are warm toned, for a more cohesive colour tone.
I do find that Rainwater and Paper Flower make for a good transition shade for me. It helps bridge and cool down the warmer toned eye colours like Hibiscus and Papeete, and makes it easier for me to wear.
You can be far more adventurous with the looks of course. I am not very good at using eyeshadow, so my looks are very rudimentary LOL 😀 But hey, as long as I'm getting some use out of my makeup, I'm not complaining!
IN A NUTSHELL

The NARS Summer Lights Face Palette is a neutral coloured, warm-toned palette with 4 eyeshadow shades and 2 cheek shades. The cheek shades are quite light which may trouble those of a medium to deep skin tone. The eyeshadows are lovely, with a buttery smooth texture, fine-milled shimmer that doesn't look chunky or glittery, and are pigmented. The palette is well constructed, even a little heavy, and each colour is generously sized. I do think this to be a good palette. A little pricey, but a good quality face palette.

PROS:
Buttery smooth and pigmented eyeshadows
Eyeshadows can be easily used on their own
Bronzer shade is not too dark and orange
Colours are easy to blend and to use
Shimmer colours are not too chunky or glittery

CONS:
Pricey
Warm tones may not suit those with cooler skin tones
Some may find the colours not deep enough

LIMITED EDITION: Yes, Summer 2019

WHO WILL LIKE THIS: Anyone who wants a neutral toned face palette

PRICE: RM245 | £56 | US$59

WHERE TO BUY: NARS stores, SpaceNK, Cult Beauty
Did you check out the NARS Summer Lights Face Palette?
I'm not even sure why I was so taken by the palette. It is a little warm, and the browns are a little red-toned, which are shades and colours I don't go for. But for some reason, it appeals, and the quality is really impressive, so I guess it was quite a winner in the end 🙂
Paris B