I have to admit to feeling a little beauty fatigue. There are only so many new makeup or skincare releases I can handle, before it begins to overwhelm. And before they start looking the same.
Yet, there is always one collection I look forward to every year – Chanel Les Beiges makeup collection.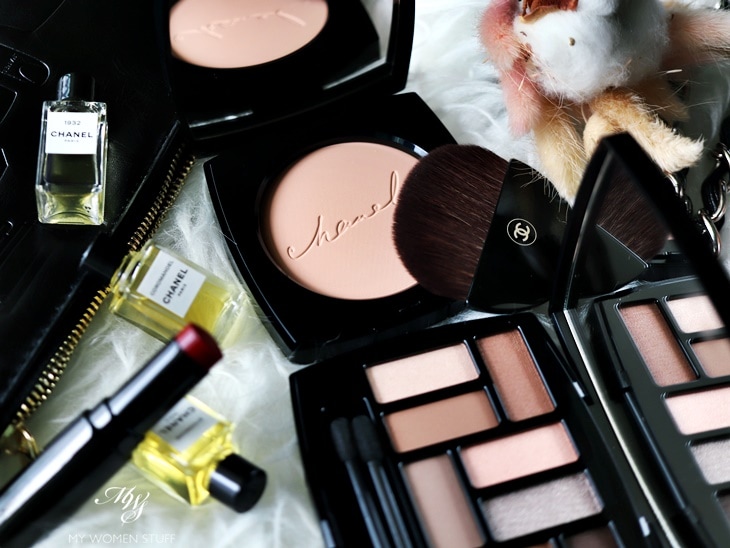 The Chanel Les Beiges collection is always like a breath of fresh air, with its predictability and basic, neutral hues. It is, in many ways, almost dull in its predictability.
But it is that predictability that I look forward to. When we are bombarded with bright colours and imagery in each different makeup collection, with polished, airbrushed and defined, almost cookie-cutter precision looks that accompany it; I feel the need to ground myself.
The Chanel Les Beiges collection, with its splash of neutral beige, and celebration of all that is natural and basic and neutral, is just that!
Chanel Les Beiges 2019 – The New Neutral
What attracts me most to the Les Beiges collection is its simplicity. You don't get 15 different new colours and products. You get the basics – a base, a healthy glow powder, a simple eyeshadow palette, and a tinted lip colour. In previous years, you get a blush as well. Simple, easy to use products.
Everything for the woman who embraces her natural beauty, and wants something light to enhance her healthy glow.
Perfect for the woman who is struggling to escape from the makeup world of larger than life false lashes, overdrawn lips, inch-thick foundation and blinding shine on cheekbones. Few of us live the stage life. Not all of us want to look that way.
Chanel Les Beiges is therefore, a breath of fresh air.
For this reason, Chanel's Les Beiges Water-Fresh Tint was, and remains for me, the most innovative makeup product released this year.
RELATED READING: Les Beiges Water-Fresh Tint gives skin the most beautiful, natural, transparent glow and must be tried to be believed! READ HERE
I have already reviewed the Water-Fresh Tint in great depth so will not repeat it here. Suffice to say, if you want just one item from this collection, that is likely it! 🙂 I use it very often myself.
But there are a few other products in the Les Beiges 2019 line that I feel are noteworthy. One of it is something I'd been eyeing the moment I saw the visuals for the collection.
Chanel Les Beiges Les Indispensables Eyeshadow Palette – RM363 | US$70 (Limited Edition)
The minute I laid eyes on the visuals for the Les Indispensables eyeshadow palette, I wanted it. It was irrational. I needed another neutral palette, like I needed a third nipple.
Yet, irrational is what we can be as humans.
Discarding the usual Healthy Glow Natural 5 colour eyeshadow palette that usually accompanies the Chanel Les Beiges collection (you can see the previous one here), Chanel went instead with their new 9-colour palettes.
The 9-colour eyeshadow palettes were first released as part of the Spring collection in 2018. They feature 9 pressed shadows of different textures – matte, satin and shimmer – and the quality has, thus far, been impressive to me.
The Chanel Les Indispensables Eyeshadow Palette boasts 9 shades of neutral. How original LOL! 😀
They are grouped into 3 distinct groups, so you can quite easily use it to do a simple, barely there eye makeup look, or pile it on for intense colour.
There are no swatches, for which I apologise. I could not get it to swatch properly, and felt I was doing it a disservice. You can check out the swatches online from other sites.
However, I will caution you that the colours do feel hard to the touch, and fingers do not pick up the lighter shades as easily as the deeper ones. However, they are easily picked up and blended with a brush. I did not experience too much of a problem using these, and I actually enjoy the convenience of having these simple, usable colours, in one compact palette.
The Chanel Les Indispensables eyeshadow palette reminds me of the Charlotte Tilbury Instant eyeshadow palette in this regard. But the quality is better than Charlotte Tilbury, and it is far more portable.
I thoroughly enjoy having it, and it has been useful for me, and for anyone who enjoys using neutral eyeshadow colours. It is, as the name implies, indispensable as a good quality neutral eyeshadow palette 🙂
Whether it is something you'd enjoy however, will depend on how many neutral eyeshadow palettes you already own, your budget and how irrationally you need a third nipple 😛
Chanel Exclusive Creation Healthy Glow Sheer Powder – RM223 | US$58 (Limited Edition)
The Chanel Exclusive Creation Healthy Glow Sheer Powder is one that I predict many will buy, because it is 1) limited edition and 2) unique in the packaging.
If you look at the 2nd picture above, you will see that the cover of the powder does not boast the signature interlocking CC of Chanel, but a stylized signature instead.
This same signature is etched on the surface of the powder, and makes for a very beautiful Instagram prop 😛
However, I will tell you that the etching is quick to disappear. I brushed my brush over the surface of the powder a few times, and already the edges are blunted. Use it a few more times, and it will eventually fade.
If you are buying it for this purpose, then save your pennies 😛
If you'd prefer instead to not have to deal with the stress of preserving the etching, then buy the regular Healthy Glow Sheer Powder (permanent). The surface of that powder is not etched, but you get the regular CC logo on the beige cover. Still, better than dealing with the stress of keeping your makeup looking pristine 😛 Use it or lose it! If I'm not mistaken, the permanent version is also a touch cheaper.
The powder I have is in shade No. 20 and available locally in 2 shades – No. 10 and No. 20. While I usually opt for No. 10 in Chanel bases, for this it doesn't matter that it's a touch deeper.
On skin, it is so sheer, you can barely tell. I use it as an all over powder, and it doesn't impart very much colour to my skin. It just looks a tiny touch warmed, which is helpful for when a base leaves me looking too pale. It is very subtle, the powder is very fine, and it is an all-round lovely product.
Chanel Les Beiges Lip Balm – Intense – RM138 | US$25
It appears that the Les Beiges Lip Balm is an addition to the existing shade range. It started out with Light, Medium and Deep over the past years, and is now labelled Intense.
As the name implies, it is a deep, almost berry shade. This is less like a tinted lip balm, and more like a balmy lipstick, because the colour is quite strong.
I expect that those with deeper skin tone, or more pigmented lips may appreciate this better as a tinted lip balm.
The texture is lovely and balmy, it keeps lips moisturised and chap-free, and it adds a lovely tint of colour. I have thoroughly enjoyed using the Les Beiges Healthy Glow Lip Balm over the years and this is no exception. I just treat the Intense shade as a lipstick instead, due to the depth of colour.
RELATED READING: Some other tinted lip balms I enjoy using and how the Les Beiges Healthy Glow Lip Balm compares READ HERE
I noticed this year, that there isn't a Healthy Glow Sheer Colour stick (the stick blush) in the Les Beiges collection. I love the Healthy Glow Sheer Colour sticks, and use them very often.
That said, I do like how this capsule collection is kept quite small and compact. I think every single item in the Les Beiges 2019 collection is absolutely worth a look at and is well made, well thought out and well executed.
Les Beiges is a very underrated capsule collection, that I absolutely adore, simply because it isn't out there, shouting about itself from the rooftops. It is quiet in its elegance, a hidden jewel to be discovered by the discerning 😉
This is just to give you an idea of how the products in the Les Beiges 2019 collection look when I wear them. Do note I am not a makeup artist, nor any good at it, just your regular consumer. And if I can make it work, so can you! 😀
Base: Les Beiges Water-Fresh Tint in Light, topped with some concealer, and no powder. I have applied the Exclusive Creation Healthy Glow Powder No. 20 all over.
Cheeks: Blush is Chanel Tweed Blush in Pink Paradise
Eyes: On eyes is the Les Indispensables eyeshadow palette, over the Chanel Signature Liquid Eyeliner (that I absolutely adore!)
Lips: On lips is the Les Beiges Healthy Glow Lip Balm in Intense
The eyeshadow blends very easily (for me), and looks cohesive, which I like. It is quite easily to mix and match the shades, as they are quite neutral. Some shades are a touch warmer, but nothing too obviously so.
What to buy from the Chanel Les Beiges 2019 collection?
Assuming therefore, that you have the budget and are interested in picking up something from this collection. Which should you pick?
My first pick would be the Les Beiges Water-Fresh Tint. It is unique, innovative and flattering when applied on skin.
Perhaps budget extends further to getting one more item?
I'd pick the Les Indispensables Eyeshadow Palette. It is a beautifully curated and executed neutral eyeshadow palette. The colours go well together, no matter how you want to combine it. There are enough light, medium and deep colours to allow for a myriad of looks, and different textures to allow you to do your makeup to suit any occasion.
I personally feel the Exclusive Creation Healthy Glow Sheer Powder can be passed on, because it's purely cosmetic. Buy instead the regular version as it is permanent, and you have time to save up for it, instead of splurging everything at one go.
The Healthy Glow Lip Balm can also be skipped, because I think you can easily get a similar colour or product elsewhere for less. It is less unique that way.
I hope you found this helpful! 🙂 I know I'm a little behind on it, but well, better late than never 😉
Did you pick up anything from Les Beiges 2019? Which item caught your eye most?
I love what Chanel is doing with this capsule collection over the years. I love seeing the different ways in which they can interpret neutrals and beige, earthy tones, and each year, they manage to surprise me! This year however, has been incredible – Water-Fresh Tint has to be the best base product I've used this year till now 😀
Paris B
Disclosure: Featured service was a media trial by the brand for consideration. Our commitment is to honesty and fairness. For review guidelines please read the disclaimer.