Sometimes, all it takes is a little prod from someone for you to discover something transformational. I'd owned and used the Alpha-H Beauty Sleep Power Peel for a while, but didn't have much of an opinion on it. Then, reader Maja left me a comment reminding me of it a few months back. So, I dug it back out and used it a little more diligently.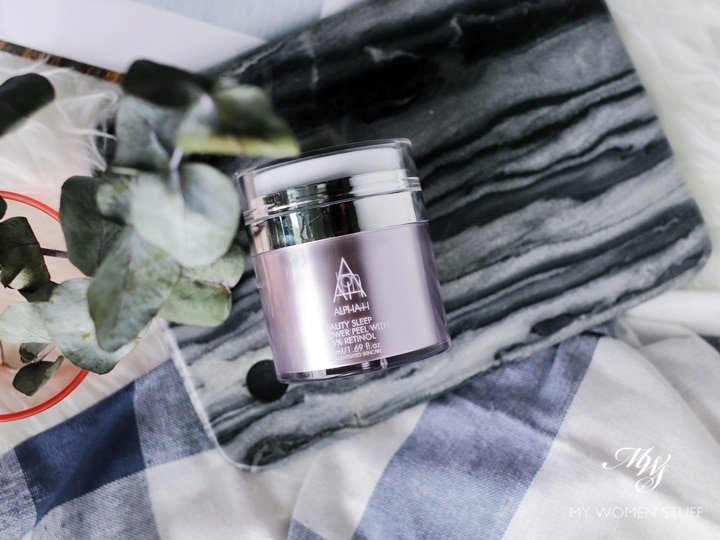 And then, I was quite quite blown away! 😀
If your skin can tolerate glycolic acid and retinol, then this product is one I recommend you try for a few reasons. The primary reason of course, being that it truly does transform the skin to softer, smoother, brighter skin with a more radiant complexion. But you must be diligent – as with everything 🙂
You may recall that I am a big fan of the Alpha-H Liquid Gold treatment. I still am. It functions as my lazy night routine, and it keeps my skin clear and bright. But I've also been in the market for a retinol-based treatment product for a while, without resorting to anything too strong or prescription based.
What is the Alpha-H Beauty Sleep Power Peel?
It was then I came across the Alpha-H Beauty Sleep Power Peel with 0.5% Retinol. It boasts 14% glycolic acid and 0.5% retinol, alongside fruit enzymes and other key ingredients. But what caught my eye was the glycolic acid and the retinol.
Glycolic acid functions as an exfoliator. So, it will exfoliate your dead skin cells, and then the retinol will help stimulate production of new skin cells and collagen. In a nutshell, it's all good!
What is worth noting is that the Alpha-H Beauty Sleep Power Peel is meant to be used when you sleep. It makes sense. Retinol can make your skin sun-sensitive, so should only be used at night. By putting it in a "sleep" product, it therefore solves the problem of people accidentally using it in the day.
Do note however, that as with all retinol products, high SPF sunscreen in the day time is absolutely essential to protect your new skin!
I must say that I like the packaging. It comes in an airless tub, where the product is dispensed when you depress the top. The cream is tinted a light yellow, which seems consistent with other photos I see online. There is a slight fragrance, but nothing unpleasant.
The directions call for you to apply it all over your skin as your last step of skincare before bed. I think of the Alpha-H Beauty Sleep Power Peel as a sleeping mask on steroids. Better than any other sleeping mask I own, which usually offer hydrating properties, this goes to work overnight, to quite literally transform my skin.
Why I like the Alpha-H Beauty Sleep Power Peel
Despite the presence of retinol and glycolic acid, both of which can be drying (especially on dry skin – like mine) the rich creamy base makes this feel comfortable on my skin. It feels just like a slightly thick, rich cream going on, and absorbs quickly with no residue.
Initially, it would tingle a little when applied over my skin. That is normal. What is not normal is if it irritates the skin, in which case you should stop using it. For me, it was just a little tingle all over that goes away quickly. These days, I don't really experience that tingle anymore which makes me kind of miss it LOL! 😛
I am quite generous with use, applying a good amount all over (1 to 1.5 pumps), but not quite as thick as I would a hydrating sleeping mask like the Sulwhasoo Overnight Revitalizing Mask. I use it after cleansing my face, and a quick spritz of facial mist. That forms my skincare for that night, without anything underneath or over.
I will tell you however, that I did not notice any effects immediately. When I was using it just off and on, before Maja drew my attention to it again, I barely saw much results. It was only after about a month of regular 2-3 uses a week, that I realised that my skin was starting to look and feel different. My skin was feeling softer and smoother. Maybe even firmer. This was tactile and perceptible each time I washed my face.
It is by no means anywhere near a baby's skin, but this is about as smooth and soft as it has been in a while. Considering I have spent a lot of this time taking care of my skin, such a perceptible improvement came as quite a surprise.
I don't have very prominent facial lines and wrinkles (for which I count myself lucky at my age!) so I could not quite notice if lines had softened. Perhaps they had, around my naso-labial lines.
But what I noticed most significantly, was how much brighter and clearer my skin looked. I occasionally battle dull skin, and I have a hyperpigmentation problem on my cheeks that I am content to live with. But I noticed that while the pigmentation was not going away, it was not as prominent as it was before.
My skin had an overall look of luminosity and clarity that I had not experienced in a while. This, considering also that I use a Vitamin C serum in the day, which I believe contributes as well. But I had been using Vitamin C serums for months before this, and had hit a bit of a plateau.
I notice this clarity most when I put on my makeup. I now barely use foundation, preferring to use just a very light base of BB or CC Cream, or even a cushion foundation that I lightly apply all over. I still use some concealer to conceal dark circles and dark spots, but I notice I'm using far less than before, and it's become easier to conceal dark spots. The upshot is that I'm allowing more and more of my natural skin to come through.
I often even eschew base altogether, applying just some powder and concealer where I need it. While I had done this before, I was not happy enough with my skin clarity to do it often. But now, I have to say that my skin clarity is at a stage where I am very happy with it, and I attribute it to the Alpha-H Beauty Sleep Power Peel (alongside Sunday Riley Luna Sleeping Oil which I unfortunately love, despite my unfortunate history with it)
It's been about 3 months of diligent Alpha-H Beauty Sleep Power Peel use at least twice a week, and I know I can never be without it now. In fact, the last time I spotted a deal on it (it came with a free bottle of Liquid Gold) I pounced and bought a back-up! That's how much I'm invested in this one. It beats every sleeping mask flat.
IN A NUTSHELL

The Alpha-H Beauty Sleep Power Peel is a leave-on overnight treatment. Its key ingredients are 14% glycolic acid and 0.5% retinol with other enzymes and ingredients, in a rich cream base. It is very comfortable on skin, and not drying at all (I have dry skin). I noticed results with regular use 2-3 times a week, after about a month or so. My skin was noticeably softer, smoother and firmer. It was also brighter and clearer with a luminosity of healthy skin. It is almost as if it helps renew the skin overnight and with diligent, regular use, transforms the skin from drab to fab. And truly, that is all we ever want!

PROS:

Not drying
With regular and diligent use will make skin softer, smoother, firmer, clearer, brighter and more luminous
Lines may be softened and pigmentation appears lightened
Lightweight cream texture sinks into skin without leaving any residue
No peeling of skin

CONS:

WHO WILL LIKE THIS:

Anyone who can tolerate glycolic acid and retinol
Anyone who wants an easy to use product that delivers noticeable results

PRICE: £54 | AU$129 | US$129 for 50ml

WHERE TO BUY: Cult Beauty, Lookfantastic, Beauty Bay, Adorebeauty
Here's the ingredient list for the Alpha-h Beauty Sleep Power Peel.
Aqua, Glycolic Acid, Caprylic/Capric Triglyceride, Dimethicone, Glycerin, Cetearyl Alcohol, Glyceryl Stearate, PEG 100 Stearate, Euglena Gracilis Extract, Potassium Hydroxide, Ceteath-20, Cyclopentasiloxane, Dimethicone Crosspolymer, Stearic Acid, Hydrolyzed Wheat Flour, Phenoxyethanol, Sodium Carrageenan, Simmondsia Chinensis (Jojoba) Oil, Butyrospermum Parkii (Shea) Butter, Mangifera Indica (Mango) Seed Butter, Parfum, Polysorbate 20, Prunus Amygdalus Dulcis (Sweet Almond) Oil, Retinol, Tocopheryl Acetate, Vitis Vinifera (Grape) Seed Oil, Panthanol, Gluconolactone, Allantoin, Sodium Benzoate, Disodium EDTA, Sodium Hyaluronate, Maltodextrin, Aloe Barbadensis Leaf, Calcium Pantothenate, Xanthan Gum, Tanacetum Annuum Flower Oil, Caprylyl Glycol, Urea, Magnesium Lactate, Papain, Ethylhexylglycerin, Calcium Gluconate, Alanine, Magnesium Chloride, Proline, Serine, Sodium Citrate, Limonene, Linalool
Have you tried this Alpha-H Beauty Sleep Power Peel? Do you use any similar peel products?
I've always been a little afraid of home peels because I'm afraid of over-exfoliating my skin. But this one feels fairly gentle (for me) and non-irritating. Also, the results have me hooked for life! 😀 I don't know of others, so if you know of something similar, let me know!
Paris B