When asked what my favourite skincare brands are, I often list Antipodes amongst the Top 3. I am unashamedly partial towards them, primarily because so many of their products work very well for me. But I've had a go at some of their makeup, in particular the Aroha natural lipstick, and like many mineral or natural makeup brands, there's something about it that falls a little short.
So, I was a little surprised when the good folk at Antipodes contacted me out of the blue one day, and asked if I might be interested to have a go at the new Antipodes Moisture Boost Natural Lipstick. I believe this replaces their previous formula, because I can't find the previous version anymore on their site.
Would I like to try it? Would I? Is the sky blue? Is Hobbiton in New Zealand?
It's lipstick! I'm ALWAYS up to trying a new lipstick! 😀
Antipodes calls these their "Healthy Lipsticks" – a range of 12 shades ranging from neutrals to reds, made with natural and organic ingredients, and with strong, pigmented colour. They are called Moisture Boost Natural Lipsticks, because they are infused with oils (evening primrose oil, argan oil and avocado oil) that keep your lips soft and conditioned, even while you sport brilliant colour.
Well, I like my moisture and creamy lipsticks. Not one for the matte lips am I, so I took these for a spin, with rather high hopes.
I won't say I'm disappointed, but I do feel a little conflicted about these Antipodes Moisture Boost Natural Lipsticks. First off, one very good thing – they are pigmented. Oh boy, are they pigmented! Unlike many moisture lipsticks in the market, these are NOT your balmy, sheer lipsticks. Oh no.
These are so pigmented, all you need is one swipe from the bullet, and you're ready to go. No faffing about, trying to build up colour. The colours apply more vibrant than they look in the tube, and they are opaque on lips.
The lipstick tube is rather smaller than I'm used to, and the rounder bullets did surprise me at first. But I soon realised that this shape lends itself to quite a precise lipstick application. Use the broad side to apply colour (the slightly sharper tip adds definition) and the sharper edges to define. It was actually rather clever.
The 3 colours I was sent were the following (left to right based on the picture at top):-
Forest Berry Red – This is described as a wild and warm based true red inspired by the bright red forest berries upon which New Zealand's songbirds feast. The description is fairly true, except that it wasn't as warm as I thought it would be, based on the description. It is however, a true, bright red and it's a complexion lifter!
Oriental Bay Plum – This one's described as a colour that you can wear from day to night and it's actually a much deeper colour in tube, than in the photo above. It's very dark and I was a little uncertain about it. But on lips, it's a reddened plum, that is very wearable, and actually very flattering. If you enjoy wearing burgundy and plum or wine coloured lipstick, you will particularly enjoy this one.
South Pacific Coral – This one's described as a sweet coral shade and there's a lot of truth in that as well. It looks rather pale and dare I say, boring in the tube. I dismissed it out of hand as a colour I'd probably not wear. As it turns out, I was wrong, for I had misjudged how pigmented it was. The colour isn't a strong coral, being a rather sweeter pink with a hint of coral in it.
And here are how they look when I wear them.
South Pacific Coral looks like a pale pink in the tube, but applies as a more flattering, lighter shade of my natural lip colour. I liked how this looked, which underlines just how pigmented the Antipodes Moisture Boost Natural Lipsticks are.
Forest Berry Red is as you can see, a true red. It is bright, it lifts the complexion and it's one that I know many people won't pick up, because they're afraid of it. Don't be, because it's beautiful! If the opacity scares you, then just dab a little colour, use your finger to spread and then apply a lipbalm or gloss over, for a sheerer colour. If red lipstick is your crack, you'd love this one.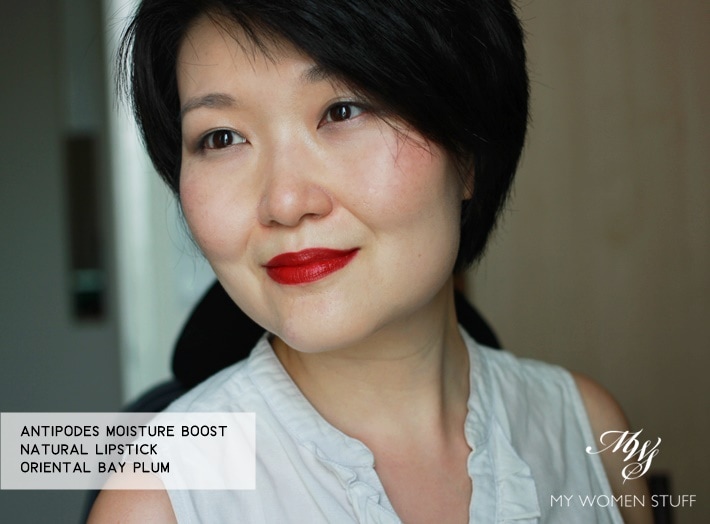 Oriental Bay Plum isn't the deep wine colour you see in the tube, which I realise can prove upsetting to those who want something deep and gothic. For me however, I liked how it turned out, because it was a more wearable daily red. Less of a va-va-voom shade than Forest Berry Red, but with a lot of depth and character.
Each application was done with just 1 swipe, straight from the tube. The opacity is very impressive, and you can see that there is a bit of shine to the lipstick. Yet, these aren't exactly glossy nor shiny. If you prefer matte lipstick, these may not be something you'd go for, but if you prefer a hint of shine on the lips (like I do, it's more flattering IMO) then you'd enjoy these.
While they are natural (so natural you could almost eat them, Antipodes claims – although they also tell you not to LOL!) and so pigmented and creamy, I didn't find them particularly moisturising. In that sense, I felt rather conflicted.
Because the name was Moisture Boost Natural Lipstick, I expected it to be moisturising, almost balmy, melting on the lips. But it isn't. There is a little bit of drag on the skin upon application, and if your lips are dry and flaky, this isn't something that'll help, and you won't like it. However, once worn, they are not drying, and while you will feel them on your lips (very much like a traditional lipstick in that sense) they do not feel uncomfortable. Longevity is quite impressive as it lasts me comfortably through a minimum of 4 hours with no trouble.
From the close up photos above, you may notice some oil sheen on the surface of the lipstick bullet. I live in Malaysia and it's hot and tropical here. Summer all year round. I believe the oil is due to the composition of the lipstick, and the heat here. It doesn't melt the lipstick and the texture is good. After I've had mine a while, the sheen is gone.
I think what the Antipodes Moisture Boost Natural Lipstick has going for it, is mainly the ingredients and the vibrancy of colour, the latter of which I have found lacking in many natural lipsticks. It does otherwise feel a little heavier and a little less elegantly formulated than a regular lipstick so I think this is really, more for those into green beauty, and a more natural lifestyle. Beautiful colours though!
IN A NUTSHELL

The Antipodes Moisture Boost Natural Lipstick is a new range of lipstick from certified organic and natural brand, Antipodes that hails from New Zealand. There are 12 shades, and from what I've tested, the colours are beautifully pigmented, opaque and vibrant when applied. There is a hint of shine, and it's supposed to contain ingredients that keep your lips moisturised and conditioned through the day. However, it isn't balmy nor slippery, and in fact, does tug a little on the skin as you apply. I find the formula a little heavy on lips, but not uncomfortable. It is however, a significant improvement on the quality of natural lipsticks I've encountered.

PROS: Creamy and opaque in one swipe, Strongly pigmented, Does not stain lips, Longlasting, Not drying, Does not travel, Vibrant colours with a hint of shine that is flattering on lips, No scent

CONS: Rather pricey, Feels a little heavy on lips, Not exactly moisturising but it is not drying

WHO WILL LIKE THIS: Anyone who uses natural and/or organic makeup, Anyone who wants a strongly pigmented lip colour that isn't drying and has natural ingredients

PRICE: NZ$37 | US$27 | AU$29 each

WHERE TO BUY: Antipodes website, David Jones (AU) Selected pharmacies or stores in New Zealand where Antipodes is sold, Antipodes is sold at TNS Skinlabs in Malaysia and the Moisture Boost lipsticks will be available from July 2017
The Ingredient List for anyone interested:
Ricinus Communis (Castor) Oil, Caprylic/Capric Triglyceride (Coconut Derived), Euphorbia Cerifera (Candelilla) Wax, Cera Alba (Beeswax), Copernicia Cerifera (Carnauba) Wax, Persea Gratissima (Avocado) Oil, Oenothera Biennis (Evening Primrose) Oil, Argania Spinosa (Argan) Kernel Oil, Butyrospermum Parkii (Shea) Butter, Simmondsia Chinensis (Jojoba) Seed Oil, Squalane, Tocopheryl Acetate (Vitamin E), Glycine Soja (Soybean) Oil. CONTAINS: Mica, CI 77891 (Titanium Dioxide), CI 77491 (Iron Oxides), CI 19140 (Yellow 5 Lake), CI 15850 (Red 7 Lake).
My favourite shades are surprisingly South Pacific Coral and Oriental Bay Plum. South Pacific Coral in particular, allows me to wear a lighter lip, without looking too washed out, and that sits well with me. That it contains natural ingredients is a bonus 🙂 I'd be interested to have a look at some of the more neutral colours, because it's incredibly hard for me to find a natural lip colour that won't wash me out, and from what I can tell so far, these might set me on that path to finding one. Well, who knows! 🙂
Do you use natural or organic makeup? Would this lipstick interest you if you didn't?
I'm not particular, that's a fact. There may be some ingredients I don't like as much, but I'm not otherwise into natural makeup because I haven't really found any that are as elegant as I'd like, compared to my normal brands I use.
Paris B