You know, beauty trends have a cyclical nature that you never really notice till you're "in the scene" as it were. When I started blogging back in 2007 the IT product was mineral makeup. Then over the years, interest waned but it seems like it's never really gone away. Now, Antipodes hopes to bring it back with their version of mineral makeup foundation and powder.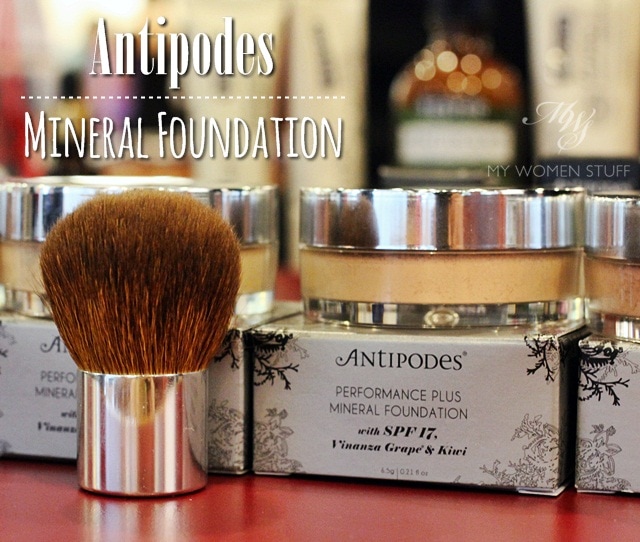 Antipodes, if you didn't already realise, has quickly become my favourite organic/natural skincare brand for the simple reason that almost every product I've tried from them has worked for me. I have this love-hate relationship with organic/natural skincare because for the most part, my skin rarely takes well to them. Antipodes was different and I was happy to have been introduced to it.
But mineral makeup? I'll be the first to tell you that I'm not the biggest fan of mineral makeup or mineral foundation. I just find them too fiddly, and the colour match for foundation is usually a problem for me. But Antipodes has recently launched their Performance Plus Mineral Foundation and I've got a quick overview on what's new in their makeup line, plus a quick thought on the mineral foundation that I tested a little at the launch.
The Antipodes mineral foundation (RM149), like most mineral makeup, comes in a loose powder form, in a large tub. The big plus point about the packaging came in the very clever and very simple idea of having a resealable sifter top. A genius design that makes all the difference! No more makeup spilling everywhere. Ideally of course.
When you want to use it, twist the top to open, tap out some of the powder onto the cover, then use a kabuki brush to swirl, tap and buff. Swirl, tap and buff is what every mineral makeup fan knows to be the best way to apply mineral foundation.
You basically swirl your kabuki brush in the powder that's in your cover, tap off the excess so not too much is left on the brush, then you buff it into your skin. If done properly, I have to say that mineral foundation gives a very natural finish to skin – almost as if you weren't wearing any makeup at all. It helps cover redness but it never really conceals anything. Just sort of blurs it.
We were shown at the launch that the Antipodes Mineral Foundation suits even medium-tan skintones which is a good thing. The texture of the powder is light and fine and feels comfortable on the skin.
The Antipodes Mineral Foundation comes in 4 shades – 01 Pale Pink, 02 Light Yellow, 03 Medium Beige and 04 Tan. I couldn't find a colour match. Which brings me to my problem when using mineral foundation. I have a fairly neutral skintone that is neither too pink nor too yellow. Yellow based foundations make me look sallow. Pink based ones are better but can look too bright. If Antipodes had a neutral toned foundation, that might work, but as it stands now, I can't give any of them a go, because I just can't find a colour to suit me. Pity.
However, there is another product that might work – the Antipodes Translucent Skin Brightening Mineral Finishing Powder (RM149).
What this powder claims to do is to give your skin an even, matte finish, while helping makeup stay on better and brightening your skin. They say it can even hide flaws! It all sounds terribly interesting and promising, because you should never underestimate the powder of a good finishing powder. It makes the difference between good makeup and great makeup and I've always been all about the Guerlain Meteorites before this, so I'm curious to see how this one matches up, or if I'm just barking up the wrong tree and comparing apples to oranges.
The lipstick that you see above is one of 3 new Antipodes lipsticks, in April Sun in Cuba. It looks like a bright warm orange-red that isn't a colour I'd usually pick for myself but hey, never say no to a challenge, my friends. It's just makeup 🙂
The new Antipodes lipstick colours (RM99) are the 3 on the right – Hit Me With Your Best Shot, April Sun in Cuba and Hungry Like The Wolf. Props to you if you identified their 80's song title references 😀 Of the new lipsticks, Hungry Like The Wolf caught my eye, naturally being the only red in there. I'd shown you Remarkably Red before this but Hungry Like The Wolf is a deeper red.
If mineral makeup or natural makeup is your thing then I do believe this is a range to check out. It's small but I'm sure will grow in time to come. I like the brand, but if I'm to be honest, mineral makeup just isn't my thing. I haven't found much to love because colours are bit too muted and textures too touch-and-go for my liking.
Prices of the Antipodes makeup are also a little high for my liking. Granted, a tub of mineral foundation can last you forever and a day because you only need very little product unlike conventional makeup, but it's still a big outlay up front that might not sit well with many pockets.
Do you wear mineral foundation? Is mineral makeup or natural makeup something you consciously look out for?
I must admit that I like how mineral foundation looks on me when I get it right. It's natural and light and behaves well especially in warm humid weather, without melting off or looking cakey. But for me, it's always been so hard to get right. Would be interested to know what you think!
Paris B
Antipodes Performance Plus Mineral Foundation Price: RM149 and all Antipodes Makeup are available at TNS Skinlabs stores or at their online store.