Not long ago, I came across a new product from one of my favourite brands, Antipodes. It is a fairly new brand in the market and new to me, but thus far, most of the products I've used have been a positive experience. However, they aren't moved to churn out new products so often, so a brand new product in their range made me take notice.
It was the Antipodes Manuka Honey Skin-Brightening Light Day Cream, which is quite a mouthful, so I'll just refer to it as the Manuka Honey Light Day Cream. What interested me, aside from the Manuka Honey (their Aura manuka honey mask is a gem!) is the inclusion of bee venom alongside their signature ingredient of Vinanza grape and kiwi fruit. The last is fitting, since it hails from New Zealand.
But bee venom! I knew bee venom, as a skincare ingredient, was a thing for a while, after snail slime. But I'd never tried anything with bee venom. Not because I'm squeamish about it, but simply because I just never got around to it. Apparently, bee venom is supposed to give skin a mild stimulating effect, to give a tightening and firming feeling to the skin. Personally, I can't say I'm sold on the ingredient, although the cream itself is quite nice.
I received a tester product, as you can see from the pictures, and the first thing I'd note is the scent. Antipodes says the fragrance is from the manuka flower and manuka honey, but truth be told, I found it too strong and sweet. If you favour gourmand scents, you may like it. I personally am not into the scent, which does linger a little on skin. It isn't unpleasant nor artificial in any way. It just smells sweet, like a honey cake covered with frosted cream and I'm just not into that – whether to eat or to smell 😛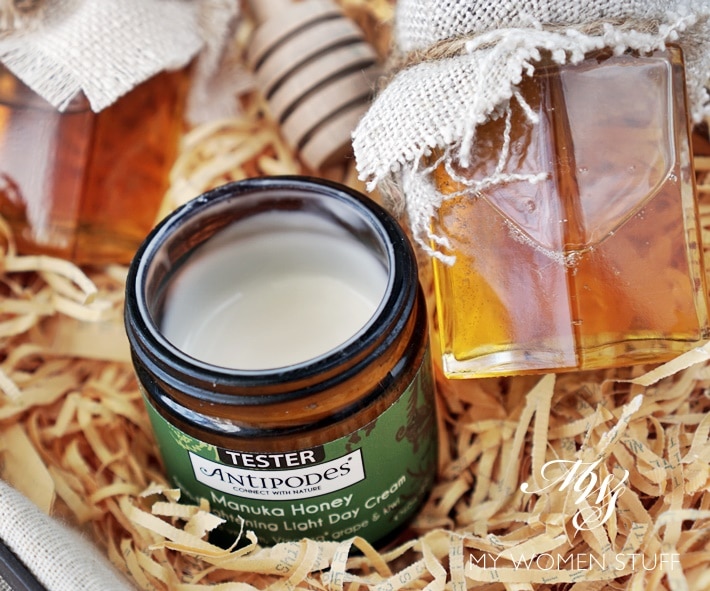 The cream itself however, is very nice. The texture is quite runny, just a little thicker than honey. So, it will drip, and you can't really scoop up product very easily. It actually feels rather more like a lotion than a cream, so it is a bit of a misnomer.
However, the texture is very nice, without the heaviness of silicone, and it spreads very easily on skin, like spreading honey on toast. I usually just scoop out a little with my finger, warm it up between my palms and then apply to skin. It sinks in nicely without leaving a residue, and does not feel heavy or greasy at all.
While this is sold as a day cream, the texture is a little heavier than most day creams, so if you have oily-combination skin, you may find it a little uncomfortable for day, if you live here in Malaysia. You may want to then use this in the evening. If you live where it's cold and dry, it may be able to work there. If you have drier skin like I do, then this is nice in the day.
It seems to just coat your skin with an enveloping veil of moisture that is very comfortable and although it is heavier than most day creams, does not make skin turn oily, nor does it mess with your makeup. I like how it keeps my skin feeling comfortable all day, although I do use hydrating serums underneath.
However, despite the name, I did not notice any skin lightening benefits. It was a concern of mine when I took this cream for a spin, because I'm not into skin whitening products. While Antipodes says that their Vinanza grape extract and kiwi provide antioxidants to make skin look brighter, I did not personally notice much of a difference. My skin was comfortable, without sensitivity or redness, but nothing much else that was noticeable. What I did appreciate was the comfort as a day cream for drier skin.
The other thing was the bee venom, which would have offered some skin firming properties, I'm guessing. I didn't notice anything particularly drastic either. Perhaps it helped, perhaps it didn't. I can't tell, because I can't and will not depend on a cream alone to do that job. That's what serums are for 😛
A point to note is that this is supposed to contain Manuka Honey with a Active 20+ rating, that helps not only sooth skin, but also reduce or sooth away any blemishes you may have. I must say that during this time that I've been using this Manuka Honey Day Cream, I haven't been experiencing much, if any, breakouts, and even when I do get the odd one, it disappears quite quickly. I didn't quite make the connection till now LOL! 😀 But it could well be to do with this cream. After all, I used to use the Aura mask whenever my skin felt off or if I had a spot. Gets rid of it in no time at all!
You don't need very much, and even if you were to use this twice a day, I'm confident that a jar will last at least 3 months. I've been at this for about 2 months at least, and I'm about halfway through, using it just once a day in the day.
While I think it to be a very nice cream, especially if you have drier skin, and it's a very nicely formulated product overall (scent aside, but that's personal) it is rather pricey. The Vanilla Pod Day Cream is also nice and a wee bit more affordable. I think this will appeal if you love the brand, like I do, or if organic skincare is your thing.
IN A NUTSHELL

The Antipodes Manuka Honey Light Day Cream is a new product from the brand in the Manuka Honey range. It contains Manuka Honey (Active 20+) to soothe skin and help heal blemishes, bee venom for firming and Vinanza grape and kiwi extracts for antioxidant properties and skin brightening. The texture is a little runny, which does take some getting used to, and it can move around in the jar. The cream however, is easy to spread on skin and sinks in beautifully and comfortably, enveloping the skin with a veil of moisture. In hot, humid climates, it might be more suited for those with drier skin, unless you use less and feel it's comfortable. The only bee in my bonnet is the scent, which I find too sweet and strong. While it isn't artificial, it does smell too gourmand for my tastes. But it is otherwise a cream I enjoy using.

PROS: Absorbs easily into skin, Skin feels comfortable and moisturised all day, May help heal and prevent blemishes, Very comfortable to use

CONS: Scent is too strong and sweet, A little pricey, Runny texture can move around in the jar so it may not be travel friendly, I didn't notice brightening of my skin

WHO WILL LIKE THIS: Anyone who feels like their skin could do with some added moisture, Anyone who favours organic skincare and who has blemish-prone skin

PRICE: RM259 | NZD76 | £39.99 for 60ml

WHERE TO BUY: TNS Skinlabs stores and online (MY), Antipodes website, Priceline (Australia)
For those interested as to what's in the Antipodes Manuka Honey Day Cream, here's the ingredient list.
It is worth noting that if you are allergic to bee stings, you may want to avoid this cream due to the bee venom ingredient. I'm not sure if it's that potent, but it always pays to be careful!
Have you tried this new day cream from Antipodes? Do you use Manuka Honey at home?
I've tried a few skincare products thus far that contain honey or its extracts, as an ingredient and I must say that it usually works quite well on blemishes. In fact, if you have manuka honey on hand (the sort you eat), you can apply some to a spot or blemish or even a wound on skin, and it'll help it heal. Honey is quite magical, and it's delicious too! I always have a jar of manuka honey at home – helps stave away cough and scratchy throats 😀
Paris B