As much as I enjoy my masking nights, when I indulge in layers upon layers of face masks to treat my skin, there is something to be said about the quick and easy sheet mask. I dare you to disagree!
For many of us, sheet masks are what got us into the habit of using a mask often, or at least, weekly. It's easy to just lay on the skin and there's usually no need to wash off, which makes the routine even more simple. But I haven't really come across a sheet mask that is certified organic, have you? Better yet, how about a certified organic AND halal product?
Naveen is a new brand in the market that hails from Taiwan. I was introduced to it some time last year, and was told that not only did they obtain their organic certification from Cosmos Organic via the Soil Association, they went a step further, and got their products certified halal by the Taiwan Muslim authorities (you can read about it on their site).
Both certification bodies have very stringent criteria as to what constitutes organic and likewise, for what constitutes halal which is an important consideration for Muslims. While neither certification affects me personally, I was curious because the award-winning Naveen Hydrating Mask is made of organic cotton. No, not paper, not some bio-cellulose, but cotton! I had to take a closer look.
A box contains 6 sheet masks and truth be told, I found them rather pricey. This is especially so, as you can quite easily find very affordable sheet masks in the market. There was a little scare recently about the questionable sanitation (i.e. none) of Korean sheet masks, and if you've read it, you'd likely never put another sheet mask on your face again LOL 😛 You can read it here. Thank me later. So, having a product that is certified (factories, processes, ingredients etc are checked and evaluated before any certification can be given) does give me better peace of mind.
The Naveen Hydrating Mask comes folded in a compact package, sealed in a foil pack. There are no additional plastic sheets in between, so unfolding the mask can be a rather delicate task. But I'm guessing the lack of the plastic sheeting is because that isn't an organic or green practice, and excess packaging is frowned upon.
The material of the mask is organic cotton, which feels like a thick paper, but very soft and fine. It is well saturated with product targeted at hydration, and adheres well to the face. I do find that it has a slightly oval shape, so the sides stretch further back than I like. But it does cover most of my face (I have a fairly big face) and the holes for your eyes, nose and mouth do sort-of align.
The essence or serum it is soaked in is rather thin in texture, not heavy and sticky like some masks. So I do find that the mask does dry out a little more quickly. 20 minutes is fairly comfortable. Any more and you will find it'd have dried out a little too much.
However, what I appreciate is not getting that chemical scent you sometimes get when using sheet masks, and also the slippery feeling on skin of essence/serum. The product seems to absorb a little better into the skin and leaves it with a refreshing boost of hydration.
Like most sheet masks, I'd use this when you want something quick and soothing, and cooling to your skin. I keep a pack in the fridge, and on hot days, it's very comfortable to put one on, and just relax. On hot days, you don't really want to do anything except lie down anyway 😛 I'd also use this for a quick pick-me-up. Perhaps, when you travel. I'd use this when I arrive at my destination, not on the plane because I prefer something stronger in the plane. It allows you to relax for about half an hour while you get your bearings and breath back, and before you delve into your activity of the day, wherever you are.
If organic skincare is your thing, and you've been stumped at the lack of options for effective certified organic sheet masks out there, then this fills that hole in your skincare routine. For me personally, I don't mind this, but my preference with masks are with wash-off masks, so this is like fast food – quick, hits the spot, but not necessarily gives me everything I need in a proper meal 😛
IN A NUTSHELL

The Naveen Hydrating Mask is a certified organic and halal based sheet mask made from organic cotton. The mask is soaked with an essence/serum targeted at giving skin an quick and intensive boost of hydration while cooling it down. It is quite comfortable and easy to handle (not slippery) and fits decently well on the face. I do find that it dries out a little quickly, and the essence/serum is a little thin in texture. But it absorbs well into skin and makes skin feel soft and cool and hydrated. Nice for a quick boost and pick-me-up, but a little too pricey for regular use, which is a pity because masks should be used often to see any effect at all.

PROS: Certified Organic sheet mask made from organic cotton, Halal certified skincare, Cotton texture is fine and soft and comfortable, Does not tear easily, A decent fit on skin, The essence offers skin a quick and intensive boost of hydration, Cools and calms skin down quickly and comfortably

CONS: Pricey, which makes it less sustainable in the long run

WHO WILL LIKE THIS: Anyone who wants an organic sheet mask in their organic skincare routine, Anyone who is particular about their skincare being organic and/or halal certified

PRICE: RM35 each or RM189 for a pack of 6 pieces

WHERE TO BUY: Isetan KLCC, M+ Natural Remedies stores and online at the Naveen website (ships internationally)
If you're interested in the ingredients, here's the ingredient list for the Naveen Hydrating Mask.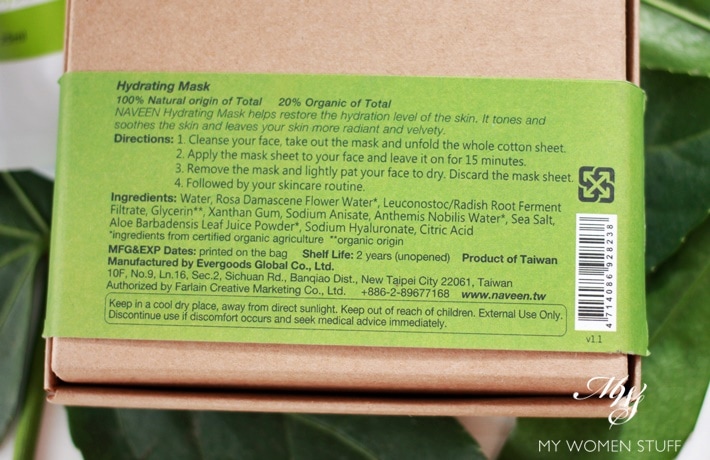 A brief glance at the ingredients indicate mostly hydrating ingredients – Rosa Damascene flower water, sodium hyaluronate, glycerin, aloe barbadensis leaf juice. A fairly simple make up. I'm not sure why the halal certification is not displayed on the packaging on my box, but the website tells you what you need to know. Perhaps the new packaging does, if that matters to anyone 🙂
Naveen also does a full range of organic and halal certified skincare for adults and babies, so if this combination is something that appeals to you, then it might be worth taking a look. I certainly haven't come across this combination yet, and I live in a country where halal certification means something!
Have you come across Naveen skincare before? Does it appeal to you?
While Naveen hails from Taiwan (the Taiwanese are quite something when it comes to sheet masks and skincare!) those of us in Malaysia can have a proper look at the products at selected outlets. Is it something you might check out? 🙂
Paris B