I recently bought myself, as a treat, a beautiful fuchsia lace dress. It was on sale and a friend had something similar, so I was assured that the quality was top notch. When it arrived, I donned it and was thrilled that it was just the right size (online shopping can be such a gamble). It fit everywhere it was supposed to fit, the dress fell beautifully, clinging to the right places and forgiving the wrong ones. It was a perfect formal dress I could grow old(er) in.
And then disaster struck.
Apparently the label means Dry Clean only with special treatment with any solvent except Trichloroethylene – damn!
I got careless when the time came to clean it. For some reason, I wasn't thinking when I gathered up my clothing to be washed. I did put the dress into a net laundry bag, but I failed to appreciate that a dress this delicate, and of this material might not be suitable to be put into the washing machine.
By the time I did realise it, the wash was over. With great trepidation, I removed the dress from the machine, gratified to see it wasn't shredded to bits, but quite upset when I also realised that it had shrunk 🙁 What could I do?
Pay attention to clothes wash care labels
If you own a nice piece of clothing, particularly if it's made of silk or satin or lace, do take a few seconds to look at the wash care label. Quite often, delicate material like this requires dry cleaning. Sometimes, instead of dry cleaning (which can be costly) you can handwash them gently in cold water with mild detergent, squeeze out the water between towels, and then air dry.
If your item is wool, skip the washing machine unless your machine has a special gentle cycle, or wool cycle. Wool often shrinks in the wash. Experience has taught me that, so I'm very glad to not have to contend with it here in the tropics.
The care labels will also tell you what you can or can't do e.g. iron, water temperature of your wash, whether you can tumble dry etc. The few seconds peeping at the label could save you lots of grief. Most clothes from regular retail stores will have a care label attached, often on the inner part of the garment. But I bought an item of clothing from a local online store recently, that bore no such care labels. I wasn't impressed.
Here is a quick and easy to follow guide to the symbols you see on your labels, that I extracted from here.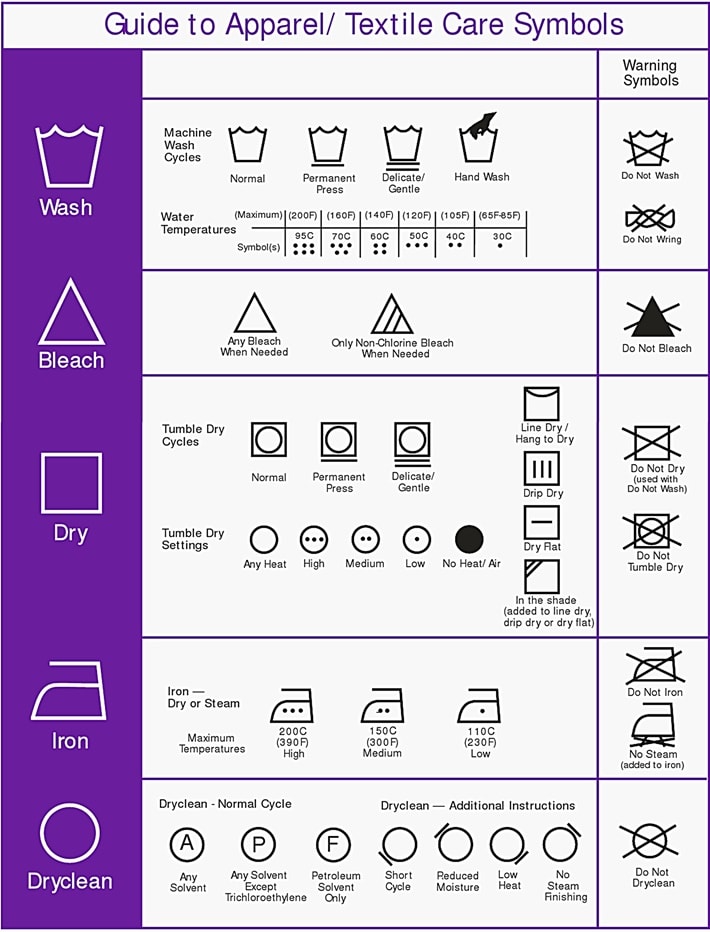 Wash clothes in cold water
One of the saving graces of my little tragedy, was that I wash my clothes only in cold water. If I had done a hot water wash, I could have just bid goodbye to my dress, because hot water will shrink clothes. In fact, I need to shrink a dress soon, and I may just plop it into a hot water wash, to see if it will shrink a little. Ironic I know, but I learn from my mistakes and try to turn it to my benefit! 😀
Also, a cold water wash will protect your clothes better as colours won't fade as quickly, and it also consumes less electricity, as the machine doesn't have to heat up the water for your wash. I don't do a warm wash, primarily because I'm always in energy-saving mode, but it was a saving grace.
Do not use a dryer for delicate clothes
Where possible, I don't use a dryer to dry my clothes, air-drying them on a line. From experience I can tell you that air-drying clothes is a challenge in winter, especially if you don't have a garden you can line-dry in. Even if you do, clothes come in feeling damp anyway. As a poor student, I dried my clothes on the radiators LOL We all did it, so my housemates and I had to take turns to do our laundry and the house was always filled with drying clothes at any one time. Ah, memories 😛
Putting clothes in a dryer can almost guarantee that you'll shrink them. My Mom once put my Dad's t-shirt in the dryer. It was her first time using one. It came out the size of a child's tee. I kid you not. We had a good laugh over it! 😀 But since then, we've never put clothes in a dryer for fear of creating a new clothing line for Barbie dolls.
Hand-wash delicate clothes where possible
I don't have many delicate pieces of clothing, so hand-washing totally slipped my mind. Most of my clothes can be machine washed. While the dress I bought wasn't quite suited to handwashing either (it was the reaction of the water on the material that stiffened it, and made it shrink as it dried, that caused the shrinkage) most delicate pieces can usually be handwashed.
Do not wring the item. Just use a mild detergent in a pail of cold water, swish the item around a bit, squeeze dry and hang up to air dry, pulling it back into shape. Unless your item of clothing is very dirty (which I doubt it would be if it was a delicate piece) this is usually sufficient.
How did I stretch a lace dress that had shrunk in the wash?
Now, I panicked when my dress had dried, and I tried it on again. While it still fit, it was now more snug than it was before. By my gauge, it had shrunk about 1 size. It also did not fall as well, the outer lace had shrunk so it was shorter than the inner lining (don't you hate that?!) and the lace felt stiff. I was quite upset, as can be expected. I looked around online for advice and put a few different pieces of advice together.
Here's how I got my dress back to almost normal. You need a large towel, and a clothes steamer machine.
First, I wet the whole dress again, so the fibres would be easier to work with. Make sure it is wet all the way through.
Then, I squeezed out the water. Do not wring. Just gently squeeze with both hands to get rid of as much water as possible.
Take a large towel and lay flat on a table or floor. Place the item flat on the towel, and roll it up, squeezing gently as you go. Repeat as necessary, to leave it damp but not dripping wet.
Place the item on a hanger and here's where it gets tricky. You will need a clothes steamer machine. I've had one for a few years and it makes ironing of delicates and synthetics a breeze as compared to an iron.
Using the clothes steamer, steam the item of clothing, pulling it gently into shape, stretching it a little as you go. The heat from the steam will help the fibres relax a little, and you can get it into shape. The heat will also ensure it stays where you want it to go.
Repeat for as long as it takes for you to get the item back to a condition you are satisfied with (I was persistent and took about half an hour with careful ministrations), then leave to air-dry.
Using this method, I actually managed to get the lace overlay back to its original length, so the inner lining was no longer peeping out. I also managed to get the inner lining to an even length. When I tried the dress on after it dried, not without a lot of hesitation, I was very relieved that it went on comfortably. It was a wee bit more snug than it was when it first arrived, but it no longer clung to every bit of my body, accentuating bits I didn't want accentuated 😛 It was comfortable, the length was right and the only bit that wasn't quite back to normal was the hem, that remains a wee bit uneven. Not so that it's noticeable, but noticeable enough to me.
I don't know how helpful this is to anyone else, but in view of the party season and upcoming festive seasons (Christmas, New Year's, Chinese New Year arriving in quick succession) I'm sure many of you will have your party dresses out, and party dresses are usually quite delicate. So if something goes wrong, don't panic. Know that you could quite likely fix it one way or another 🙂
Do you pay attention to clothes care labels? Have you successfully rescued a piece of clothing that shrunk in the wash?
You bet I'll be paying closer attention to wash care labels from now on! Oh and my dress? I'm springing for the dry cleaners next time. Lesson learnt! 😛
Paris B