I feel a wee bit bad about putting the Dior Splendor Christmas 2016 collection up only just now, because from what I hear, some items are already sold out. In my defence, I only just got them so I did the best I could with the time I had. Better late than never!
That said, if you are persistent and call around for the items you want, you will be able to get them. I know, because someone on Instagram did, and she got hold of the palette she wanted despite being told it was sold out!
Now isn't this a Christmas wreath to fulfill all makeup lovers' dreams?! LOL! I was gifted with some of the items from the collection and I'm going to share with you some pictures and importantly, the swatches from the products you see here. I'll keep my waffling short, but I will also tell you what I think are the standouts for me.
Oh, and you can actually get your gift ribbon personalised in store, if you purchase from the Dior boutiques. Just tell them what you want it to say, and they'll print it on the festive red ribbons 😀 Now, onto the swatches! 😀
For Christmas this year, Dior has taken on the theme "Splendor" which has been translated into a sequinned theme print for their holiday products. Incidentally, this isn't the first time I've seen this sequin print. It was used by Chanel many years ago (2006) and it sent goosebumps up my spine then. It still does now 😛 Dior also went with a safe golden theme, as they do every year. While makeup collectors and longtime followers may roll their eyes at the repetitive packaging and theme, you can't deny that gold is a very festive colour, and there are always new makeup fans to entice.
The goosebumpy sequinned print and the repetitiveness of colours aside, I'm going to say that I think Dior has done something to their powders, because the Splendor Illuminating Pressed Powder and the 5 Couleurs Splendor eyeshadow palettes are SUBLIME! Their texture is smooth, and the pigment pretty stunning. What have you been up to Dior? Either way, I like it! 😀
Dior 5 Couleurs Splendor eyeshadow palette (Limited Edition) – RM265 | US$63
Dior releases 2 eyeshadow palettes every Christmas Holiday season, and in keeping with their usual style, you get one warmer toned palette and one cooler toned palette.
The warmer toned palette this year is Precious Embroidery 776, a maroon-themed eyeshadow palette.
To be honest, at first sight, I wasn't too sold on it. It looks a bit tricky for me, because I don't work very well with warm, red-based eyeshadow colours. However, swatching it changed my mind. It's no wonder that Precious Embroidery has sold out so quickly, because it is beautiful on skin!
The colours are easy to pick up, and while shimmery, as is per normal by Dior eyeshadow standards, not glittery nor chunky. I thought Dior did well with their Fairy Golds palette from Christmas past (2012) which is one of my favourite palettes, but the texture of this one is beautiful. I swear Dior will launch a revamped eyeshadow palette collection next year. No insider info, just guessing, cos this new texture is mind-blowing and will change the mind of anyone who used to scoff at the poor pigmentation of Dior eyeshadow palettes. One to watch!
The other palette is a cooler, deeper toned palette aptly named Smoky Sequins 066.
4 of the shades are decidedly cool, being varying shades of grey and black. The colour in the centre is a bronzed gold, that offers an interesting juxtaposition of warmth in the midst of the cool tones. It's not hard to wear, but definitely a little more challenging in terms of everyday, not party, wear.
Incidentally, you may notice how both palettes have a white highlighter shade in the top right corner. I thought they were both the same colour, but they aren't. In Smoky Sequins, it swatches white. In Precious Embroidery, it has a pink iridescence.
Like Precious Embroidery, Smoky Sequins too boasts a smooth, pigmented texture of eyeshadows. The only shade that might be a little more challenging is the matte black. It is deep, but you have to build it up a little.
Here are the swatches for both the palettes above. They were done with my fingers, with just 1 swipe over the product and onto my skin. The texture is beautiful, and I'm very pleasantly surprised!
If you can get hold of them still, call around and get Precious Embroidery. It'll stand you in good stead for party season and for everyday neutral wear. You could dupe it of course (everything can be duped!) but it's still nice to own, if budget permits 🙂
DiorBlush Splendor 671 (Limited Edition) – RM189 | £32.50
I can't find information on this Dior Splendor 671 blush for the USA so I don't know if it's not sold there, or if it's just available elsewhere in the world (It's available in UK, Europe, Asia and Australia).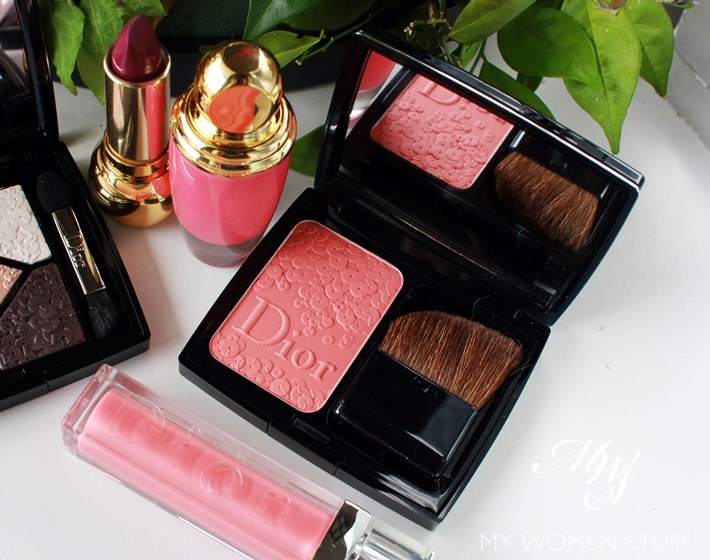 The blush is pretty much like the other Dior blushes (revamped versions with similar packaging as you see in the picture) and it has a very fairly universally appealing peach shade. I have a soft spot for Dior blushes, having amassed a significant collection over the years, and this is one of those safe colours. It looks like it has shimmer, but it doesn't, going on my skin matte. Perfect, because you'd probably want to layer some highlighter over it for party season 😉
Personally speaking, other than the print, I'm not sold on this shade, because I think it's fairly generic and you could possibly find a similar shade in the permanent selection,that is pretty large. Get it if it catches your fancy, but it isn't a must-have.
Diorific Mat Lipstick (Limited Edition) – RM135 | US$38
There are 4 shades available, but the one I have, which you can see in the picture above, is Fascination 880. A limited edition shade, it is a matte plum that is very fall/winter friendly.
I found that unlike other versions of Diorific lipstick I've used before this, Fascination wasn't as pigmented. You can build colour up with a few swipes, but I never had to before. Despite the name however, it doesn't look like a flat matte on lips. There is a hint of a shine, which will piss off purists, but which makes it more appealing to me.
I however, am not a fan of the Diorific range of lipsticks, because of the strong powdery perfume in it. It bugs my nose and it's just been that way since Day 1 from Diorific lipsticks of yore (they aren't new, but a relaunch of an old classic) so I'm just being consistent 😛 The colour is pretty, but easily found in other ranges (Rouge Dior, despite the reformulation is still a winning formula for me so look there).
Diorific Matte Fluid (Limited Edition) – RM155 | US$38
These Diorific Matte Fluids are new, but limited edition items. I'm never sure if they're testing the market for a permanent collection. Part of the Diorific line, they have a more opulent design, with the signature golden accents and round bottles. This one in fact looks like the Diorific nail polishes, but in a taller bottle.
It comes with a sponge tip applicator and the shade I have here is 001 Pleasure, a soft pink. To be honest, this reminds me a lot of the Dior Addict Fluid Sticks (which I'm not sure if they are still around). I think that if you like the Fluid Sticks, you may enjoy this, as a softer, more muted version of a similar product. This isn't like the many matte liquid lipsticks you can get in the market. I find the colour applies a little more transparent (fitting, as it is supposed to be usable on cheeks as well) and it doesn't dry down very matte.
To get full coverage on lips, you have to layer it on, and it lends well to layering. But directly from the tube, as you'll see below, it's a little thin on colour. To use on cheeks, dot on your cheeks and quickly blend out with fingers. Personally I'm not a big fan. It's interesting, have no doubt about that. But I'm just not a fan of the product itself 🙂
Here are the swatches of some of the products described here. Incidentally the Dior Addict Ultra-gloss in Prism (RM155) is a lovely shade of peachy pink. I'm a big fan of the Dior Addict glosses, and this doesn't disappoint, being glossy, but not sparkly. It is pretty worn on its own, or used as a topper over a lipstick.
Diorific Splendor Illuminating Pressed Powder – RM350
Again, I have no US information on this, so I don't have the price comparison. I'm not sure why it's not showing up – is it not available in the USA? I doubt it!
This year, Dior has only released 1 shade 001 which is a golden illuminating powder. In previous years, they had a pink counterpart. This is a collector's item, as you can tell from the pricetag, and from the product itself.
The surface is embossed with sequins, in keeping with the theme, and while you may be loathe to actually use it for fear of disturbing the pattern, know that makeup is only really beautiful when you use it. Incidentally, you may be interested to know that ALL the photos of the products I've shown you here are post swatching. Yes, I kid you not! 😀
So the pattern is pretty hardy, and will survive light handed use for quite a while. There's no excuse not to use a lovely product like this! The Splendor Illuminating Pressed Powder is a very fine-milled golden powder, that you'd use as a highlight and you can use it on face and body, if you prefer.
I'd be very light-handed about this, but then I'm not one to really be obsessive about wearing a lot of shine and highlighter. A light tap with your brush, picks up just enough powder for you to apply to where you want to emphasize your features. So, be lighthanded, and know that the pattern will survive use, and you'd be bathed in a lovely, fine, golden powder that isn't chunky nor glittery. Just fine, golden illumination on your skin. In the swatch above, I actually piled it on to get it to show. In reality, it's much finer and in my view, more flattering on skin 🙂
So that my friends, is a quick round up on the Dior Splendor Christmas 2016 collection. I didn't have time to show you how it looks when I wear it, but I gave you the swatches so you have an idea what it'll look like on skin. How you wear it, is really up to you! 😀
Did you check out anything from the Dior Splendor collection? Which item would you have picked?
Here's what I suggest you take a look at – the Precious Embroidery and Smoky Sequins eyeshadow palette, the Splendor Illuminating Pressed Powder and the Diorific lipstick (if the scent doesn't bug you). If you want something a little more unique, look also at the Diorific Matte Fluids. You could pass on the others 🙂 So, tell me – what did you get? 😀
Paris B