If there's one thing I've stopped paying attention to, it's new seasonal makeup releases. Sure, there'll be that odd collection or item that tugs at my heart-strings, but for the most part, I'm now immune. Which isn't a bad thing as far as my wallet is concerned!
A part of my apathy is also due to my slight disenchantment with the releases from a couple of my favourite brands. I'm just not seeing the flair and quality that's come out in previous years and if I might say so, Dior has been near the top of my disappointment list. That Tie Dye Summer collection? I refused to touch it with a 10 foot pole!
But during the weekend, I met up with my friend, Romana and a new friend, Fatima and we stopped by the Dior beauty boutique at Mid Valley to take a peep at the Dior Cosmopolite Fall 2015 collection. I'd seen some pictures come out over the past few weeks, and I wasn't that keen on it, as much as I enjoy Fall/Autumn makeup collections. I was surprised that we'd received it here so soon – I'm so used to collections arriving 2 months late that any early release never fails to surprise me.
Part of the reason I wasn't keen on this collection, was the crazy layout of the logo. I suppose Dior is adopting a bit of a younger, more playful vibe, but I just can't get behind it. For me, a brand like Dior should embody elegance and chic. Let MAC or Urban Decay or Stila do the fun, funky designs. The people who'd buy Dior want something "normal". It's the same reason I boycotted the Guerlain Crazy Paris Meteorites pearls – the packaging drove me crazy!
But I had taken these pictures in my phone (hence the photo quality) and I was asked what I thought of the Cosmopolite collection, so I decided to do a short overview, and show you the 1 item I picked up. Yeah, as much as I turned my nose up at this collection, there was still 1 item that suckered me in LOL! 😀
But first, let me share some thoughts on some of the items.
Dior Diorblush Cheek Stick – RM140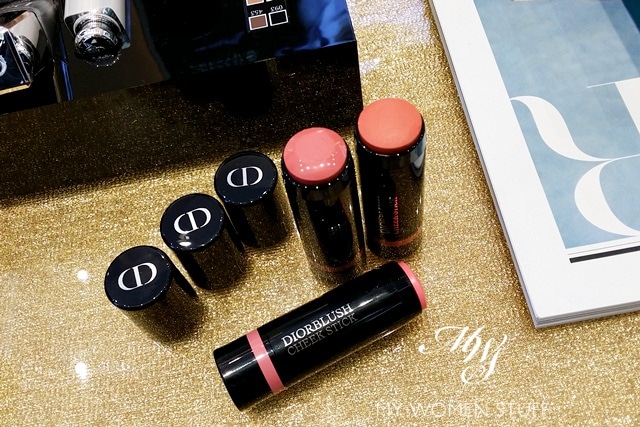 This was the 1 item I was most excited about when I saw the pictures of the release. Dior was doing stick blushes too! I told myself I'd get one, but the moment I tested them, I knew I'd pass.
The Diorblush Cheek Stick are limited edition and come in 3 shades – 875 Cosmopolite Pink, 765 Cosmopolite Rosewood and 675 Cosmopolite Coral. They are thick and chubby with a twist up mechanism. I was hoping they'd be as lovely as the Chanel stick blush that I love, but unfortunately, I was let down.
You might be able to see from the swatches on the back of my hand, that the colour is quite pigmented. I find the texture of these stick blushes too opaque, too creamy and the colours too bold for a blush.
Cosmopolite Coral in particular, is so soft and creamy that it swatches like a lipstick. It's crazy! It's also orange. I think this will sit best on someone with a deeper skintone, and even then, only used very sparingly.
Cosmopolite Rosewood had a slightly drier texture, and is a rosy shade, which I think suits the medium-deep skintones better. It does look quite pretty, but is quite opaque and pigmented, so again, a light hand is recommended. However, I think this would be the most flattering of the 3 shades available.
Cosmopolite Pink had the driest texture of the 3 that I tried, and is a barbie pink which not even I find very appealing.
Recommended use : Dot (do not swipe) these on your cheeks, and blend out with your fingers or a blush for a softer, sheerer wash of colour.
If you're the sort who doesn't have a lot of time or room for makeup errors, then I think you can safely skip these (and get the Chanel one if it's still available) I find the potential for error too high to justify getting these, so I was happy to pass.
Dior Addict Fluid Shadows – RM119
If you thought these were lipglosses (and they do look like lip glosses!) they aren't. They're what Dior calls Fluid Shadow, which is essentially liquid-cream eyeshadow packaged in the Addict lipgloss tube. You know, many years ago, Dior actually had Addict lipglosses with shades very much like these. I owned a few of them!
But these are liquid eyeshadows. They even come with the same brush applicator that comes in the Addict Lipgloss tubes! Honestly, it does feel repackaged.
The texture of the Fluid Shadow is interesting though. It is highly metallic when applied, and chock-full of shimmer. When it touches your skin, it feels cooling and quite interesting. But it absolutely failed to appeal to me, unfortunately again.
Recommended use: Apply to lids, and use your fingers to pat to blend. The metallic colour sheers out, and you are left with a wash of shimmer and a hint of colour. The rose gold shade blended quite prettily, leaving a pretty wash of rose gold against the skin. Other shades like that Orchid Purple and deep red were patchy and didn't adhere well to the skin. You can use these on their own, or as a base for powder shadows.
Personally, I feel this isn't a product for the regular woman on the street. It's finicky and hard to get right, and it just doesn't sit very well on the skin. I'd pass on these unless you love shimmer, have time and patience for the steep learning curve, or like unusual makeup.
Dior Fix-it 2-1 Prime & Concealer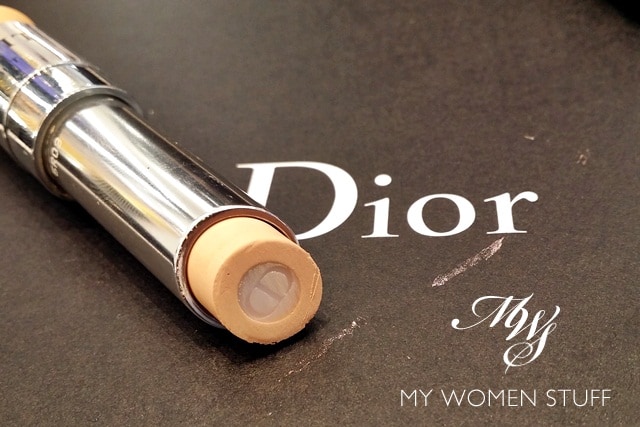 This one is, I believe, going to be made permanent. What it is, is a stick concealer, with an inner tube of primer. You can use it for blemishes and the primer core helps it stay in place longer. I do feel that the stick concealer feels a little dry when I swatched it, but I was assured that the primer core helps to neutralise that.
Personally, I'm not keen on this either, as I've already got concealers that I find easier to use and fool proof so again, it was a pass for me. Still, it's something to check out if you like stick concealers.
Dior Cosmopolite 5 Couleur Eyeshadow Palettes – Exuberante, Eclectic
There are 2 eyeshadow palettes in the Cosmopolite collection and these are the haphazard logo placements that I dislike. The shades too, weren't shades I'd wear so I overlooked them. I thought the shade selection looked a little similar to other palettes Dior has released in the past so didn't find them unique.
The texture of the shadows were a little dry, although it was actually quite easy to pick up colour. I liked that green but I felt that the Eclectic palette had a potential to end up looking muddy on smaller lids, or in more inexpert hands like mine. The blue in Exuberante was pretty decently pigmented but I felt it to be quite uninspired and uninspiring.
Unlike most people, I do quite enjoy using Dior eyeshadow palettes. I like the sheer but buildable shades (I work well with sheerer eyeshadow colours) and I don't usually have a problem with longevity or fall out. But these just didn't do much, if anything, for me.
Edit to add: Here's a look using the Eclectic palette that I found from the Dior website. From what I can see, they just slapped on the purple shades, in a very defined, but distinctly unblended eye look. While edgy and … eclectic… for the runway, I'm not sure I see this translating into everyday wear.
I mean, here we are, learning all we can to blend, blend, blend our eyeshadow to avoid hard edges etc and bam! We're told this is the new look to sport! LOL Easy isn't it? Just slap it on 😛 Would you sport this?
There were also a selection of nail polishes, Rouge Dior lipsticks and Fluid Sticks, but I dislike the Dior Fluid Sticks so I passed on looking at them, and I don't wear nail polish.
The lipsticks, which I didn't take a picture of, are worth taking a look. They are creamy and pigmented and I have always personally preferred Rouge Dior over Rouge Coco in terms of pigment and texture and hydration 🙂 The shades 753 Continental and 968 (I can't remember the name sorry!) are lovely! Continental is a lovely rose-red and 968 looks uninspiring and plum in the tube, but swatches on my hand a lovely red. It reminds me of a lighter version of Black Tie. Incidentally, when Fatima, who has a deeper skintone than I do swatched it, I noticed how it looked a deeper red on her, than it did on me. It's interesting how the same shade can look different on different skintones! So don't knock it till you try it 🙂
Dior Diorblush Cosmopolite 001 Illuminating Powder – RM170
Ah, but what did I end up going home with? Something quite, quite unexpected!
The Diorblush Cosmopolite Illuminating highlighter! It looks very unassuming in the pan, and amongst the bright, colourful items, looked almost lost, and easy to overlook. But for some reason, my eye was drawn to it, and when I swatched it, I liked how it wasn't shimmery or sparkly, the way highlighters tend to be.
The texture is lovely and soft and it simply looks like a champagne gold wash of colour against the skin. I tried it on at the counter, under the expert hands of Senior Makeup Artist Zaidi, and it just wowed me because it didn't show up very much on my skin, yet imparted a very lovely glow.
It was what I'd imagine a "candlelit glow" to be, and I loved it! The only thing I didn't like about it was the print. Yes, there's that crazy Dior print again and I hated it! I was told that this was similar to another highlighter in Starlight, but I found that one more pink and more frosty.
Cosmopolite is a slightly warmed golden champagne shade with very very fine shimmer, that I thoroughly fell for. If you look at the swatch above, you may notice how it's almost not visible on the skin and this is so even when you wear it. Sometimes, makeup doesn't have to be seen to be appreciated and this is one of those times, giving you that "no-makeup" effect.
If you were to ask me what to look out for in the Dior Cosmopolite Fall 2015 collection, I'd recommend the Cosmopolite highlighter and perhaps one of the lip colours. The other items, I feel you can pass on unless of course, you love the shades and textures of them, in which case, don't let me stop you 🙂 I'm just offering my suggestion after all.
Did anything from this Cosmopolite Fall 2015 collection attract your attention? Are you planning to pick anything up?
Apologies for the less than stellar pictures of the collection. I'd taken most of them on my phone without thinking very much about them as I wasn't planning to actually post them here, which also explains why I don't have pictures of every item in the collection. But since I'd been asked a few times on Instagram, I figured a blog post would be the smart way to go about this, since it's so new! Hopefully, this will give you some time to figure out what you want, and to pace yourself accordingly 🙂 Let me know what catches your eye (or doesn't!) 😉
Paris B
Dior Cosmopolite Fall 2015 collection is available now at the Dior Beauty Boutiques at Mid Valley and Pavilion Kuala Lumpur and will be available at all Dior counters from August 2015.
Shop it!
[show_shopthepost_widget id="871802″]