Mmmm words deepfried and dipped into ketchup are delicious! Anything deepfried is – I dare you to disagree!
Many of you may be familiar with my wee obsession with Guerlain's Meteorites Perles. I have been collecting (and using) the last few limited edition ones that came out at Christmas. This year, I was looking forward to picking up the Champs Elysees Christmas balls when I saw the packaging and fell over myself running in the opposite direction. No matter my prejudices, ugly packaging turns me off, even if the contents appeal to me (Yes I find the Crazy Perles tin ugly – sue me). Fortunately also, I thought the Crazy Meteorites Perles looked rather like the Dragon pearls from last year so I'm safe! Anyway, I declared that Guerlain's Christmas offering was persona non grata for me.
But when I went shopping for a friend, I *ahem* did cave for a couple of other items that I'd initially overlooked. Oops!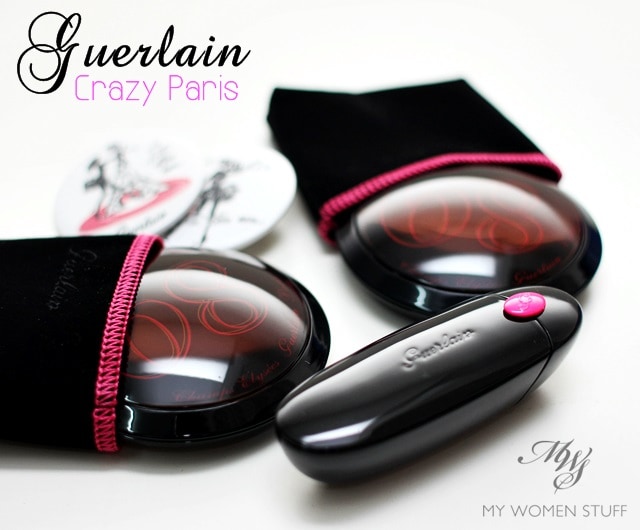 On the bright side, no other Christmas collection appealed to me, so wallet is now safe. On the even brighter side, I picked up a couple of items that I'd been eyeing for the longest time ever but was previously reluctant to shell out for.
The collection is only just available in stores here in Malaysia. I can show you pictures but no swatches nor full reviews because I need time to test it out and it's not going to happen in the next week or so. Yet, I didn't want you to miss out in case you were really eyeing something. So, here are pictures, quick thoughts and where to get them 🙂
Here are the items I chose from the Crazy Paris collection. On a side note, the name cracks me up. As a friend put it, I'm a little zany but not yet crazy. I hope. Although after this, I do feel a wee bit crazy LOL!
I love Rouge G lipsticks. The ones in a case so heavy you can use it as a weapon, yet delicate enough that a mirror pops up for quick and easy touch ups.
The limited edition offering comes in a black case, a departure from the silver cases, and a neon pink touch where the logo is. The shade I picked is 863 Provocative (RM161), a bright pink. I wasn't able to swatch it just yet so look around online for swatches. It's a beautiful face brightening colour and the Rouge G formula is unbeatable.
The second item I picked up is the Crazy Paris Pressed Meteorites powder (RM224). This one is the pressed version of the famed Meteorites perles and the colour scheme reminds me of Mythic in the Meteorites Voyage, which I've wanted to own for the longest time. The problem is that the Voyage Meteorites is double the price of this powder!
It is different from Mythic though. This has more pink in it although I believe it applies translucent. The purpose of this is as a finishing powder. These magic powders give you a diffused, luminous look similar to what you can get from the pearls, but in a compact, travel friendly form. I believe the pan can be popped out and refilled with the Mythic refills too so that's a bonus!
I'm really pleased with this because it's one of those things that I've wanted for the longest time, and to be able to get it for just about half the price (even if it is still very expensive) makes me happy.
The final item I picked up surprised me because it isn't something I'd usually look at.
I picked up the Crazy Paris Terracotta Healthy Glow powder (RM224) which is essentially a bronzer. Now you see, I don't usually buy or use bronzers. No matter how I try, I always look like I have dirt smudged on my face. But I was picking it up for a friend and I was curious. I dug around and Temptalia had me intrigued.
You see, despite looking rather dark and brown in the pan, apparently, this Terracotta powder applies more like a peachy blush. BLUSH! Hello blush! 😀
I wanted to swatch this at the counter, but the testers weren't there yet so I eventually decided to take a chance on this. I'm wearing it today and the reviews are accurate. This Crazy Paris Terracotta bronzer is pretty much a peachy blush on skin and looks very lovely on! The brown bits aren't very dark and I expect if you want to use it as a bronzer, just be sure to avoid the pink bits and you'll have your bronzer. Otherwise, swirl your brush all over and use it as a blush as I do.
Both the pressed Meteorites and the Terracotta powder come in the same compact packaging.
The 68 Champs Elysees address on the case commemorates the Guerlain flagship boutique in Paris. It looks like plastic, but is very solid in construction and has a good heft to it. Not the light plastic you usually get with these sort of compacts and definitely symbolic of the luxury I've come to expect from the brand.
I'm happy with what I got. They're items that I've been wanting to own and something that I took a chance on that worked out well 🙂 Here's a poorly lit shot of the Crazy Paris Neon Look eye palette (RM258) that I took using my mobile at the counter, just to show you what it looks like.
The colours don't appeal to me so I'm not in any way tempted. The packaging is similar to the Liu Eye and Lip calligraphy palette from last year which I love and still use often.
So these are just my quick thoughts after picking up the items yesterday. Here's where you can check them out and buy them if you want (and my recommended SAs)
Parkson KLCC – I got mine here. Look for Ishak, the male SA who is lovely and helpful and friendly. I think Parkson KLCC is doing some promotion (there's a pop up booth outside) so you'll get lots of GWPs including a set of brushes. Also ask for samples of anything you want to try.
Isetan KLCC – The SA to look for will be Irene, also friendly and helpful. She told me Isetan will get stock in after 9th November so you can check with her then. I would in normal circumstances get my items from Isetan because of the points I can collect, but this time I had to get it early.
There are other items in the collection and various perfume gift sets that I didn't have a chance to check out but if you do, I'd love to hear your thoughts on them 🙂 I'll have full reviews up in a couple of weeks (hopefully) so let me know which you want to see first!
So, are you planning to get anything from the Guerlain Crazy Paris collection? Or what did you end up getting?
I wasn't expecting to get anything but it was all too good for me to pass up. Love them all and if you're asking for a rec, I highly recommend the Terracotta Healthy Glow powder especially for anyone who is afraid of bronzer like I am. On light skintones, it's a lovely blush. On deeper skintones, it will act more like a contour or highlight but it's sublime either way 😀 If you do end up getting anything, I'd love to know what you got! 😀
Paris B
Guerlain Crazy Paris Collection prices are as set out above. Available at Guerlain counters – Isetan and Parkson KLCC, Sogo, Isetan The Gardens and Parkson Pavilion. Limited editon for Christmas 2013