I remember when the Hourglass Ambient Lighting Powders first hit the beauty scene. Gawd! Everyone and their mother was raving over them like they were the best invention since sliced bread! Ok, I don't think sliced bread is that great an invention, if I'm to be honest LOL!
But you know how it is right? When everyone is going on and on about how these powders give their skin that je ne sais quoi ethereal glow similar to that of Galadriel in the Lord of the Rings, man, I was champing at the bit to get my paws on them! Glow! Who doesn't want elven glow?!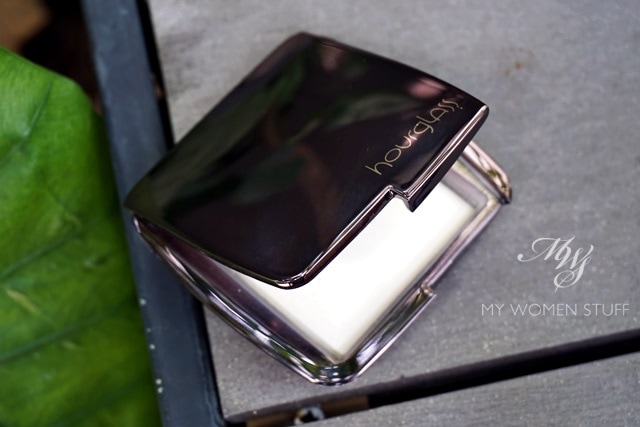 But I ran into a snag. 2 snags actually. First, Hourglass cosmetics is not sold here in Malaysia. Second, the powders come in different shades, that serve different purposes and you really have to get it right if you want to appreciate its effects best.
So, that lust for this product eventually died away. When I was down in Melbourne window shopping with Tine 2 years back, I managed to see these powders up close and in person. The conclusion? I was left feeling wanting. I mean, I know Tine enjoyed using her Mood Light, but I couldn't bring myself to buy it somehow. Perhaps the tanking RM vs AUD helped me in my decision. So I passed.
But as you can see, I did eventually end up with one which I purchased from SpaceNK a while ago. I shop a lot at SpaceNK as you can tell LOL! 😀 And while my choice of Diffused Light was a bit of a stab in the dark (erm… no pun intended!) it's turned out to be a product I thoroughly enjoy using and am happy to rave about. Yes, I've joined the 'gang' 😛
What these Hourglass Ambient Lighting Powders are, according to Hourglass, is a pressed finishing powder that recreates a flattering type of light on your skin. The fine-milled powders capture and diffuse and soften the light that hits your skin, to give the appearance of smooth, glowy skin. Who doesn't want that, tell me! 😛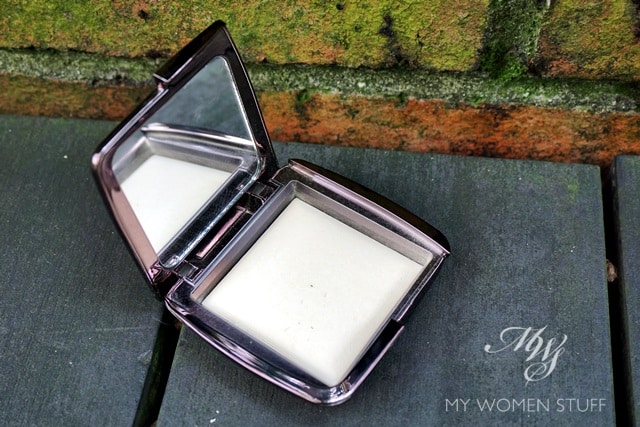 The problem however, is that there are 6 versions of this powder, that recreates different "moods" – Ethereal Light, Diffused Light, Dim Light, Mood Light, Luminous Light and Radiant Light. Each powder has varying intensities of colour and pigment, and based on what I see from online swatches, Radiant Light is the deepest, offering warmth to the skin and Ethereal Light the lightest, offering a cool tone to the skin.
However, apparently, it's not as easy as to say "I'm light skinned and so I'll go for the lightest shade". I've read from various online accounts that different powders operate differently on different people and that resulted in a bit of a conundrum for me.
After a lot of research, I opted for Diffused Light which Hourglass says, is a pale yellow powder that conceals redness and gives skin clarity, like a soft ray of morning light. "Soft ray of morning light" Yep, sold – hook, line and sinker! 😀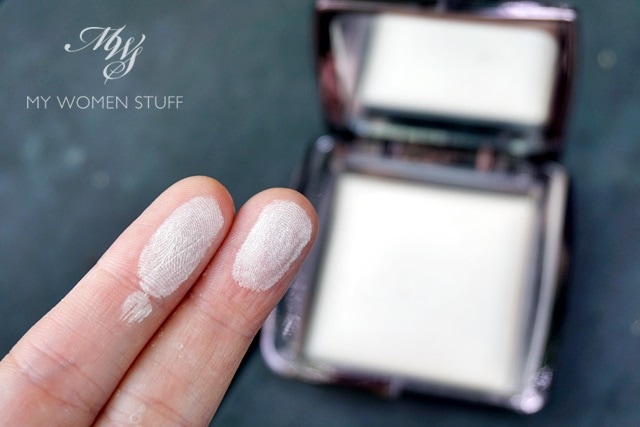 Fortunately, Diffused Light is a good match for me. The powder which you see in the pictures looks almost white. But in actual fact, it's a very pale yellow. If you have a lot of redness in your skin then this would be one that you might appreciate. My skintone leans naturally towards being a little pink which is why I feel this suits me.
Even when swatched with fingers, as you can see above, the fine powder looks white, but with a hint of yellow. It isn't too warm, nor it is too white. I don't detect any shimmer in the powder, but on skin, dusted on with a fluffy powder brush (I use the Lunasol Powder Brush), it seems to give my skin a hint of a radiant glow. It's not something I can capture in photos, so you will just have to take my word for it. In person, I see a difference.
Imagine if you will, you sitting by the beach waiting for the sun to rise, and when the first rays of the morning sun hit your skin, it is a soft, gentle, weak light that bathes your skin with a gentle glow, making it seem as if your skin is glowing from within. Now, imagine taking that light with you everywhere you go through the day. That is the effect of Diffused Light on me 🙂
However, you can also see from the swatch of Diffused Light above, that it does offer some coverage as it is rather opaque. So, I do recommend using a fluffy powder brush so it doesn't go on too thick on your skin.
While these Ambient Lighting Powders aren't supposed to have oil control, I find that when I use these, my base lasts longer. It's why I picked this for my beauty scenario instead of the Meteorites. I've found that when I want a glow and have my makeup last, this powder does it in our weather and that's enough for me.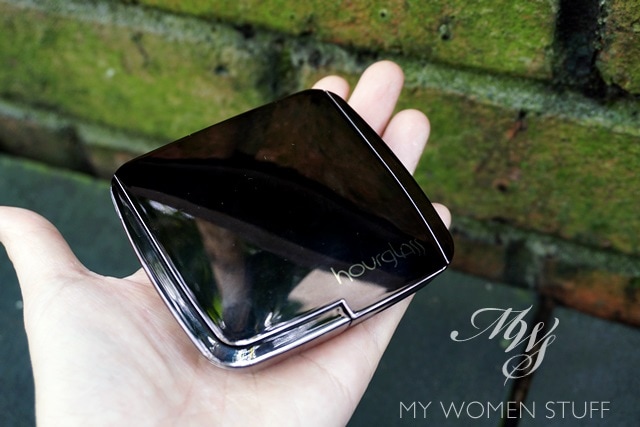 The compact is fairly large, and I haven't travelled with mine because when it arrived the powder pan had separated from the base. Nothing serious, and perhaps it was dislodged on its way here from the UK, but I'm a little more careful with it. I've owned this for months now (I can't even remember when I bought it) and have barely made a dent in it, because I use it quite sparingly.
However, while I thoroughly enjoy using Diffused Light, I have no plans to get another. From what I can tell from the texture and colours, the other shades may impart too much colour on my skin, which is something I do not want in a finishing powder. So, lovely as this is, it'll be my one and only 🙂
IN A NUTSHELL

The Hourglass Ambient Lighting Powders are a range of finishing powders that offer a diffused, softened glow to the skin. The trick however, is to get the right shade, which can be difficult if you don't have a counter nearby where you can test it. I got lucky with Diffused Light, which I find balances out and finishes off my makeup very well, giving skin a glow without shimmer and helps my base makeup stay on better. It is a fairly large pan and is fairly pricey, but I personally believe that once you find the shade suitable for you, you only really need 1 powder.

PROS: Fine milled powder feels smooth to the touch, Offers skin a gentle diffused glow without shimmer, Fairly decent oil control on my normal-dry skin, Finishes off my base and helps it stay on looking good for longer

CONS: Pricey, Hard to get the shade right especially if you don't have a counter nearby, If not careful, it can go on too thick

WHO WILL LIKE THIS: Anyone who wants an easy to use finishing powder that offers skin an imperceptible and flattering glow
Hourglass Ambient Lighting Powder vs Guerlain Meteorites
I've read of these Ambient Lighting Powders being compared to the Guerlain Meteorites and it has been said the effect is the same or similar. While I tend to agree on the point of them both giving skin an imperceptible but definite even-toned and diffused glow, I disagree on other accounts.
I find Meteorites more "fool-proof". You can buy any tub of Meteorites and get it right, right off the bat. You don't need to find a shade that suits you. Also, Meteorites, while offering a lovely glow, does it with more transparency and translucency that I find lacking in the Hourglass powders.
These powders offer some coverage and colour to the skin. Meteorites doesn't and therefore doesn't mess with your makeup. Even the compact version of Meteorites goes on transparent and translucent. Hourglass doesn't so you have to get your shade right or you won't appreciate it. I could go on, but it'll turn out to be an essay so if anyone's interested in my thoughts on the Hourglass powders vs Guerlain Meteorites, holler and I'll do a full post on them 🙂
Have you tried any of the Hourglass Ambient Lighting powders? Which shade are you using and do you like it?
I honestly wasn't sure I'd like this powder since I was already happy with using Meteorites, but I can definitely see the differences and appreciate them both for being different products. But I'd be the first to admit that choosing the right shade, sight unseen will be tricky! So if you have a shade you like, share! You might help someone else 🙂
Paris B
Hourglass Ambient Lighting Powders come in 6 shades – Ethereal Light, Diffused Light, Dim Light, Mood Light, Luminous Light and Radiant Light Price: £38 | US$45 | AU$65 Availability: SpaceNK and Net-a-porter ship internationally | Sephora (USA)
[show_shopthepost_widget id="820793″]