What happens when you're living under a rock (as I've been doing, figuratively speaking) for the past few months, is that the minute you are let loose in the beauty hall, you go nuts. And you are more susceptible to impulse buying, AND you are liable to make mistakes.
That's what happened to me not too long ago. Let loose in the beauty hall of Isetan KLCC, I found myself stealing a look at the sole Burberry Beauty counter here in Malaysia, wondering what was new and my eye fell on an interesting looking product – the Burberry Fresh Glow BB Cream – Luminous Skin Correcting Beauty Balm.
I was quite surprised to see it, because I didn't expect to see a BB Cream come out of the Burberry Beauty stable already. Locally, the line has been quite quiet in terms of marketing and PR so I honestly had no idea what has been going on with the brand. I'm told it's a a worldwide thing too, as there's some shake-ups going on internationally.
Long story short, the Burberry Fresh Glow BB Cream is a limited edition product launched under the Burberry Beauty Summer 2014 collection (of which I paid no attention to as the rest of the items didn't grab my attention) Locally, there are 2 shades available – 01 Nude Rose and 02 Nude Honey.
I later found out after looking up information online, that 01 Nude Rose (cool toned) and 02 Nude Honey (warm toned) are meant for Asian skins and elsewhere in the world, there are 3 more shades – Fair, Medium and Dark. All this is very confusing, so suffice to say that all we get here are the "Asian" shades, 01 being a little lighter and a touch cooler in tone and 02 being warmer and a touch darker.
I don't deny that a part of the reason my eye was drawn to the product was due to its similarity in packaging to one of my favourite BB Creams, the Guerlain Lingerie de Peau BB Cream. It has a similar nude-pink tube with the cap bearing the signature checks of the Burberry fashion line.
I noticed that the product claims to be a Luminous Skin Correcting Beauty Balm with SPF30 PA+++ and it claims to give skin a natural looking finish with healthy luminosity, and is enriched with rosehip, tea and lavender extracts. I get the impression therefore, that the Asian versions of Nude Rose and Nude Honey are more like tinted moisturisers with a cool or warm base, depending on your skintone while the Fair, Medium and Deep versions overseas are more like foundation. Skin Correcting – is that what it's supposed to mean?
Anyway, here's a swatch of 01 Nude Rose. For the very fair, I'm afraid even this is will be too dark in tone, because I find the light to medium coverage does impart quite a lot of colour to the skin.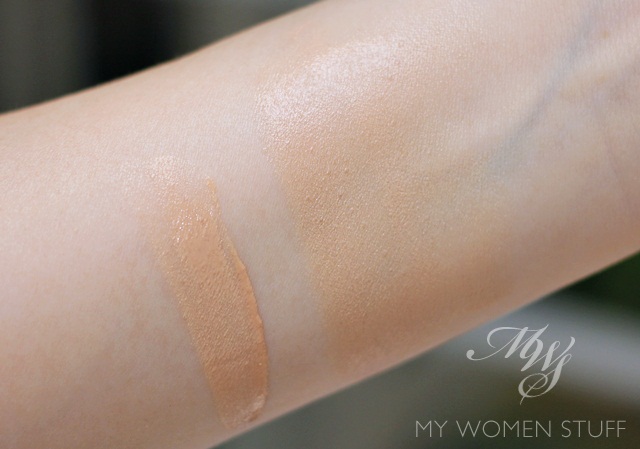 Burberry Fresh Glow BB Cream 01 Nude Rose Left: Swatched heavily Right: Blended out
I can wear Nude Rose, but only as a thin layer, which means I get medium coverage at best, and light coverage otherwise. I don't quite mind that to be honest. I usually wear very thin, light layers of base makeup so it suited me, and the heavier tint of colour doesn't bug me as much, as the cool undertones help temper that, so it doesn't look so dark.
But the texture does take some getting used to. I find that it feels a little tacky, and it never really dries down properly. When I set it with powder, it stays on better, but starts slipping off after a few hours. I have normal-dry skin so having base makeup slip off my skin isn't something I'm used to. Nor is an oilier feeling to the skin. Or is that supposed to be "dewy" and "luminous"? 😛
I don't quite mind this, but I'd say it's not something I'd reach for. When I have this on, I have been told that my skin doesn't look as nice as when I have other base makeup on, and I do notice it as well. It looks alright, but doesn't make me want to keep looking in the mirror, marvelling at my skin.
So, this is something I'd wear on a weekend, when I have to be out for a couple of hours to run errands, but it doesn't last on my skin long enough to take me through a whole day, so I will ultimately pass this up for foundation or even one of the other BB creams that I like.
Here's an approximation of how it looks on me. Due to the light-medium coverage, it's hard to get the after picture looking much different from the before one 😛 I use about half to one pump each time, spread thinly on my skin and then blended in with a flat top brush.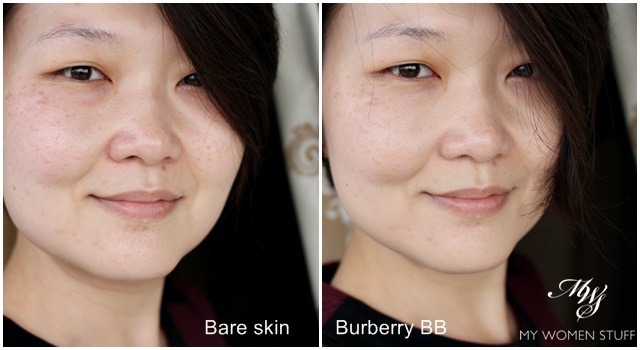 But you may hopefully notice that the skintone is a wee bit more evened out with the BB Cream on, with redness reduced, but blemishes and pigmentation aren't fully covered up. You still need a concealer for that.
In a nutshell

The Burberry Fresh Glow BB Cream is a limited edition release with their Summer 2014 collection and in Malaysia, comes in 2 shades – 01 Nude Rose and 02 Nude Honey. Nude Rose isn't a very light shade, but the cooler tone does help to brighten a little. Nude Honey has a warm tone and is more suited to a medium skintone. I find the coverage light to medium, and it doesn't offer much coverage for blemishes and discolourations on skin, but it does a fair enough job evening out the skin tone. The texture is rather tacky and I only use about half to one pump, blended out in a thin layer on my skin. The tacky feeling doesn't quite go away, and I do find that it is prone to get oily on my normal-dry skin after a few hours. The plus point is that it doesn't feel drying so this is one for those who doesn't need much coverage, just at touch of skintone evening out, and willing to touch up after a few hours. For me, this is my weekend errands base.

Pros: Not drying, Lightweight and evens out skintone even with a very light layer of product

Cons: Pricey, Feels tacky to the touch, Turns oily on my skin after a few hours even after setting with powder, Colour may not suit those who are very fair

Who will like this: Anyone who doesn't need a lot of coverage
Here is the ingredient list but you have to squint a little. It's hard to get it all in when brands go and print it all along the side of the box in tiny print.
I didn't manage to get a swatch of 02 Nude Honey but I found a blog that has a review on it here. I thought it might be helpful, because I haven't come across many reviews about this Burberry BB Cream at all!
Have you come across the Burberry BB Cream and did you test it out? What's your favourite item from Burberry Beauty?
I haven't been paying a lot of attention to the brand, primarily because I haven't been going out a lot to the malls and there's just 1 Burberry Beauty counter here. I have liked some of what I've tried but their base makeup hasn't sat well with me so far. Maybe I'm looking at all the wrong things so point me in the right direction! 😛
Paris B
Burberry Fresh Glow BB Cream Luminous Skin Correcting Beauty Balm SPF30 PA+++ comes in 2 shades locally – 01 Nude Rose and 02 Nude Honey Price: RM165/30ml Availability: Burberry Beauty at Isetan KLCC Limited Edition: Yes, Summer 2014