Fall 2014 sees 2 major luxury brands reformulate their eyeshadow palettes. Goodness now, are they joined at the hip? Years back, both these brands took to formulating sheer balmy lipstick with great gusto (but there can only be 1 winner) then, they went on their own paths only to find their vision for new, better quality eyeshadow converge this year. Yes, we're talking about the newly reformulated Chanel and Dior eyeshadow palettes.
Actually, we'll just be talking about the new Chanel eyeshadow palette today, because I'm not yet up to doing a head to head comparison (although I should, shouldn't I? 😀 ) and because I have just had my socks knocked off a brand I'd strayed from and whose eyeshadow quads I famously hated. Yes, HATED.
Back in the day when I was starting out with makeup, everyone loved a Chanel quad called In the Garden, a lovely green and pink quad. I bought it, and spent the rest of my time regretting and hating it because all I got was shimmer. Colour was non existent. It was as if Chanel had not even thought about making pigmented eyeshadow. Bah!
So their reformulation this year of the Les 4 Ombres Multi-Effect Quadra Eyeshadow palettes is timely. The big question is what took them so long?! 😛 The second big question of course, is did they make them better? They'd better!
Happily, the answer is yes. There are 8 new eyeshadow quads in the new formula and it's safe to say that they've impressed me enough that I've already earmarked 2 or even 3 to pick up very soon. The counter I usually frequent was out of stock so I'll check some other counters when I have the time.
However, there is one limited edition piece for Fall 2014. Don't you just hate that phrase "Limited Edition"? Especially when it's a very lovely piece that I'd actually love to see stay permanent. The limited edition quad is 234 Poésie released in the ÉTATS POÉTIQUES fall collection and I've been using this solely for almost 2 weeks.
Poésie is a fairly neutral quad that I was a little hesitant to use initially. In the old formula, all you get is big chunks of shimmer in a quad like this, and I've been prejudiced by this view. However, I'm happy to report that Poésie is not only a huge improvement on the previous Chanel eye quads, it is pigmented, and swatches like butter. Shimmery butter, but smooth, melted butter. Not the hard chunky butter you get from the fridge 😛
These swatches were made with my finger and represent just 1 pass on the skin. The colour is impressive and so is the smooth texture that blends and melds into each other seamlessly.
Poésie is a neutral palette and the colours based on my observation are thus:-
Shimmer warm bronze (top left corner) – a golden bronze shade that makes a good standalone lid colour or blends with the deep plum for a smokier effect
Shimmer Cream (top right corner) – a cream that can be blended with either the bronze or the deep plum to sheer out the colour or as highlight for the brow or inner corner
Shimmer brown plum (bottom right corner) – a deep browned plum that makes a good shading colour or to wear alone
Shimmer pale pink (bottom left corner) – a light pale pink that like the cream, can be blended with the deeper shades or worn as a highlight
It bears noting that when I use a makeup brush (I use the MAC 239) the colour is picked up quite easily and it also applies very easily without too much fall out. The product in the palette does however, get a little dusty, as you can see from my palette. But I do not experience fall out through out the day.
If you want more intense colour, pat on the shadow on your lid. If you want a sheerer wash, use a side to side motion to sheer out the colour. There is shimmer, but it is a grown up sort of shimmer, if you get my meaning. It isn't chunky glitter, nor does it scream "PARTAY!!!" at anyone looking at you. It gives your eye area an iridescent, awake look and it's very flattering.
Here is an example of how I wear Poesie, which I have everyday. If you apply more of the deep browned plum, you can create a deeper, evening look. Or use it as a shading colour in the corner.
Apologies for what seems like harsh unblended lines. I rectified that after taking these photos 😛 The product sits on the skin without settling into lines, or fall out and longevity was good for me. That said, I rarely have problems with eyeshadow longevity although if you do, a good lid primer solves that problem quite quickly.
This is juat the same look pulled out to show how I wear the eyes in a whole look. It's very neutral and because I'm in a neutral phase of my life, suits me fine. If you too like neutral eyeshadow palettes and like me, have always hated Chanel's quads, then I highly recommend checking out Poésie for the simple reason because it's pretty, it works and it's limited edition. The other 8 quads can wait 😉
In a nutshell

Poésie 234 is a limited edition eyeshadow quad from Chanel's reformulated Les 4 Ombres eyeshadow palette collection. The new eyeshadow formula is buttery smooth and pigmented and everything that the old formula was not. There is shimmer which I'd call 'grown up shimmer' because it isn't garish nor too blingy and allows you to wear these to work even in the most conservative and sedate of environments. Poésie is a very lovely neutral palette and because it's limited edition, I highly recommend that you check it out before it's all gone.

Pros: Smooth, pigmented texture and formula, Smooth shimmer that isn't gritty nor chunky glitter, Lovely and wearable neutral shades that will flatter most

Cons: Limited Edition, Pricey

Who will like this: Anyone who hated Chanel quads before, Anyone who likes neutral eyeshadow palettes with shimmer
I can't believe that I was so enamoured the moment I dug in, and this picture was taken just recently, 2 weeks after being used. I rather like the rough surface because that means, I can use the product without caring that it shows wear in photographs! HAHA 😀
Here is a picture of the rest of the permanent palettes, that I snapped at the counter.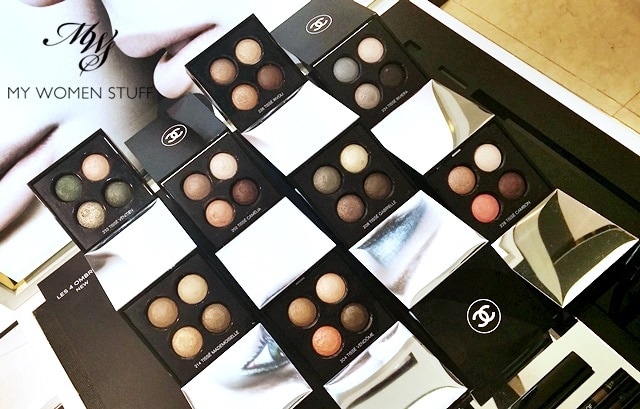 I definitely have my eye on 232 Tisse Venetien, which is the green quad in the top left. There's this beautiful gunmetal silver shade in there that's just breathtaking! I'm also eyeing 226 Tisse Rivoli, 208 Tisee Gabrielle and strangely, 214 Tisse Mademoiselle. The last is a very neutral palette where all 4 shades look quite similar so I don't know why I'm eyeing it but it swatches beautifully, so I am! 😀
Did you get the new Chanel Poésie eyeshadow quad? Have you seen the new quads yet?
When you check them out, I recommend looking at Poesie as well, because I like how the colours in Poesie combine. Tisse Rivoli appears to be a slightly deeper version of Poesie, so if you miss it, then maybe you could consider that one instead. A luxury, but then, Chanel isn't exactly drugstore yes? 😉
Paris B
Chanel 234 Poésie Les 4 Ombres Multi-effect Quadra Eyeshadow Price: RM185 Availability: Chanel counters and boutiques Limited Edition: Yes, Fall 2014 Etats Poetiques collection