When I noticed the similarity between the Chanel Rouge Coco Shine lipsticks and the new Dior Addict lipsticks, I guess I wasn't the only one. Being released so close to each other, and boasting similar textures, there is bound to be some comparisons to be made between the two. Incidentally, I've gotten a few enquiries so what better time to run a quick comparison eh? 😉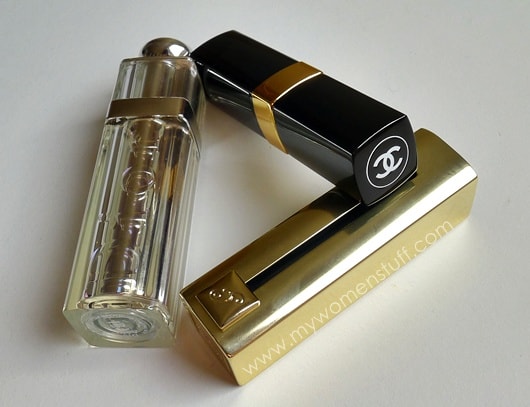 To be honest, I'm just throwing in the Guerlain Rouge Automatique for confusion haha! The real comparison here is between Chanel Rouge Coco Shine and the new Dior Addict lipsticks, and which I prefer (which may not necessarily be the same as what you prefer). My comparison was based on packaging, texture, lasting power and price.
Packaging
My vote goes to Chanel on this one. I like the sleek simple packaging of the Chanel lipstick tubes. Always have, and probably always will. Dior's futuristic looking tube looks a bit plain and bulkier whilst Guerlain's just a tad gimmicky for me. Of the 3, the Chanel lipstick has the best heft and feels the most solid. Guerlain's the lightest.
Texture
Both Chanel Rouge Coco Shine and the new Dior Addict boast the same sort of texture. A lipbalm lipstick. Sheer colour that glides on the lips on with a balmy texture. Not sticky, not thick, not too stark. Both deliver on all counts.
My choice however goes to Dior Addict because I prefer how it feels and how it looks. It glides on the lips yet imparts good colour intensity, which is mostly why I wear lipstick in the first place. The Chanel Rouge Coco Shine is more like a tinted lipbalm. The colour is very much sheerer and lighter. I swatched about 20 at the counter and found them all looking remarkably similar.
The swatch comparison should tell all.
Left-Right Swatched 1 time: Dior Addict Icone, Chanel Rouge Coco Shine Antigone, Guerlain Rouge Automatique Chamade (please click the links to go to the reviews if you're keen)
Swatched once, you can see how the intensity varies between the three different lipsticks. Swatched twice, the Chanel is noticeably lacking in colour. You might like that and if you do, Chanel will be your choice.You will also note that despite being layered, all three lipsticks still have a sheer texture to it and do not become opaque and thick.
Left-Right Swatched 2 times: Dior Addict Icone, Chanel Rouge Coco Shine Antigone, Guerlain Rouge Automatique Chamade
The Chanel is nice for a weekend or for when I don't feel like looking like I have lipstick on. But for everyday, I prefer Dior Addict which may feel a bit stickier to some but which imparts a better variety of colour and intensity.
Guerlain Rouge Automatique feels more like a lipstick. It glides on, but it is strongly pigmented so what you get is good colour in a light textured lipstick. It is, as I have noted in my review on the Rouge Automatique, a marriage between Chanel Rouge Coco Shine and Dior Addict if that's what you might prefer.
Lasting power
Guerlain Rouge Automatique outlasts the other two. If I don't wipe it off after lunch, it'll still be there and with minimal touch up, will look as good as new. Dior Addict has noticeable wear after about 4 hours with drinks in between. Chanel Rouge Coco Shine has the poorest lasting power of the trio. It barely takes me to lunch.
Price
Dior Addict and Chanel Rouge Coco Shine both retail at RM90 hence my comparison being solely based on these two. Rouge Automatique at RM114 takes itself a little out of the league
Overall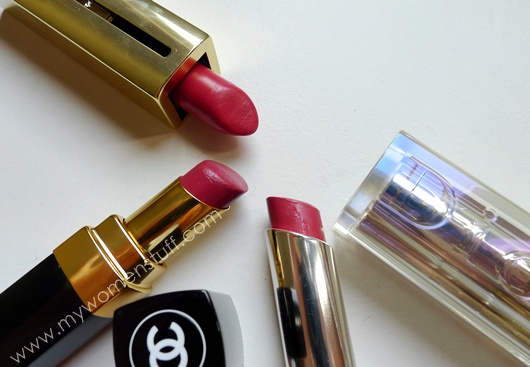 As I have noted before, comparing Dior and Chanel, my preference lies with the Dior Addict lipstick. The colour selection is better, the colour intensity is good yet retaining the sheer lightweight texture of a lipbalm, it isn't drying, and if you like, you could apply a light sheer colour with just 1 swipe, or up the ante by applying more layers. I also like the slant of the Chanel and Dior lipsticks vs the Guerlain one. Chanel and Dior are easier to apply.
On overall terms, I'd go for Dior Addict, Guerlain Rouge Automatique and Chanel Rouge Coco Shine in that order.
As for how either of these 3 lipsticks fare next to the Dior Serum de Rouge, I don't think they are in the same league. Serum de Rouge is more like a lipstick than lipbalm in texture. It also hydrates and treats my lips if they are feeling dry, and feels quite different on. Its like Rouge Automatique with hydrating qualities. If you are considering a sheer lipstick, Serum de Rouge isn't quite it.
Everything said, they are all very nice lipsticks and I do have uses for them all. I always have space for more lippies anyway! 😛 I hope this comparison has helped you decide if you are just looking to buy one (or maybe its just confused you even further! haha…)
Do you own any one of these three and do you have a preference? Don't worry if you don't share mine – we're all entitled to our preferences! 🙂 If you haven't read my thoughts on each individual brand here are the links to reviews on Dior Addict Icone, Chanel Rouge Coco Shine Antigone, and Guerlain Rouge Automatique Chamade
Paris B
Dior Addict lipsticks retail at RM90, Chanel Rouge Coco Shine lipsticks retail at RM90, Guerlain Rouge Automatique lipsticks retail at RM114 at all their respective counters.