So, if I'm to be perfectly honest, the new Marc Jacobs Beauty line hasn't been knocking my socks off. If I wore socks that is. They aren't flying off my feet, at any rate. In fact, I've been rather underwhelmed by almost everything I've tried, so I haven't even felt like talking about them (I know, I should and I'll get round to it – just don't hold your breathe lest you turn blue) So, the day I picked up the Magic Marc'er Precision Pen Waterproof Eyeliner, I had no expectations. Ok, I lie. I did. I expected it to be another disappointment.
But you know, someone needs to find my socks, because I've finally found something pretty impressive from the MJB line! 😀
For now, this liquid eyeliner comes in just 1 shade – Blacquer – which is touted to be the blackest black and to have extreme wear. I must say, they are accurate on all counts. I haven't been wearing liquid eyeliner a lot, because I'm just not very good at controlling the pen. You know how it is.
You hold the liner pen with your shaky hands, draw a shaky line, try to rectify it and end up with eyeliner all over your lid, or a line thicker than Cleopatra's. I'm just not good at it. But I have to say that this Marc Jacobs one, whilst hardly "magic" is relatively easy to use, draws a lovely dark black line and stays put all day. All. Damned. Day! No smudges, no running, no fading. Colour me impressed! 😀
The Magic Marc'er is quite an apt description because the pen does remind me of the magic markers I used back in school. (Aside: Oh please, don't anyone tell me they've believed the urban myth that you can use a Sharpie or marker pen as an eyeliner, please!)
You get a felt tip nib, pretty much like that of a marker pen, which is fairly long and pointed like a calligraphy pen. It says on the box that this is Made in Japan so I have a sneaky suspicion it's related to some of the Japanese brands available out there except I have no idea which 😛
What this means is that you can, if you use light pressure and a light hand, get a fairly thin line, using just the tip of the pen to draw. Or, if you prefer something more visible, then press on a little more and you get a thicker line. It isn't too soft or floppy and I found it fairly controllable.
If I can handle this pen, trust me, anyone can. I'm such a klutz and goof when it comes to things like this, and I'm no makeup artist nor do I aspire to be one, so trust me on this 😀
Here is how the Magic Marc'er pen looks when scribbled on the back of my hand.
On left, is a fairly thick line, drawn by putting down a little pressure. there isn't a lot of give, and you may see how the line is fairly controlled even with the pressure.
In the middle is a thin scribble using just the tip of the pen and a light pressure, just to show you that you can get a thin line if you want to.
On right is the pressure I usually use, getting a fairly medium thick line and you can vary it up by starting out thinner and going thicker as you go.
But you know what? It's easy to scribble on your hand. But we don't wear eyeliner on our hands right? So here's how I do it on my eye. I couldn't get pictures so you just have to use your imagination a little, and practice 🙂
I look in the mirror, head tilted back a little, and looking down about 45°
I hold the pen in my right hand, so I use my left hand to hold down the outer corner of my lid so the skin is taut, and then I hold the pen at a 45° angle to my lid and draw a line along the top lid, as close to the lash line as possible. I don't use the tip at a 90° angle to the skin, but use a 45° angle so you allow the side of the pen nib to help you draw your line. It's quicker this way.
Don't double back too much. I try to get the basic line with 1 slow, smooth swipe of the pen, then go back for a thicker line if I feel like it, but you always risk uneven lines when doubling back so minimize it.
Keep looking down for a minute or two while the ink dries and you're done.
When I get it right, it looks something like this.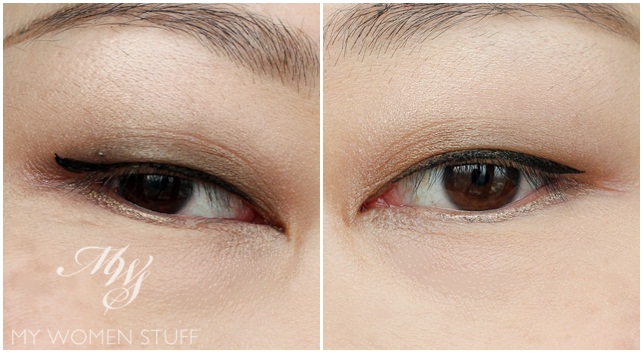 In the picture on left, I gave it a little flick at the end. I usuallydraw a slightly thicker line at the outer edge, and a flick because of the shape of my eye. So work with your eye shape, not just follow the trends for the sake of following trends. Sometimes, it doesn't work for us.
In the picture on right is a simple line without a flick at the end. It was drawn with just 1 smooth line from the pen, so you can see that it is quite smooth and I find that using the side of the nib to draw and control the line is far more effective than just focusing on the tip, as I had been taught previously.
So, what's great about this Marc Jacobs Magic Marc'er is that the ink flows very smoothly all the way through the pen nib, so I can get the same intense black whether I use the side of the pen nib or the tip, it is flexible yet not too flexible so it's fairly easy to control, the black is intense, it dries fairly quickly and once it dries, it is budge proof. I even have trouble removing it at the end of the day, so that tells you something. If you use an oil cleanser, that's the quickest way to remove this eyeliner. Otherwise, be prepared with patience and a good waterproof eye makeup remover.
In a nutshell

The Marc Jacobs Magic Marc'er Precision Pen Waterproof Eyeliner in Blacquer lives up to its promises and then some! I like the simple, easy to control pen nib that allows me to draw a fairly smooth line on my upper lid and the thin nib allows me to get close to my lash line for a more seamless look. It does take a minute or two to dry so you have to be a little patient while it dries, but once it does, it is all but budge proof and lasts through sweat and tears. The colour is an intense black with a bit of a shine that is quite interesting. I might have preferred it to be just matte black, but because it's so budge and smudge proof, I will give it that. It's a really good eyeliner and definitely one of the better ones I've tried.

Pros: Nib is not too soft and is saturated with product to make it easy to draw a line, Intense dark black ink, Waterproof and lasts all day without flaking or fading, Relatively easy to use

Cons: Pricey, Hard to remove but easily removes with oil cleanser, Has a glossy shine that may not appeal to everyone

Who will like this: Anyone who wants a dark, black liquid liner that stays on all day long
While I don't know how long this will last (as with all liquid eyeliners, you must make sure you cap it back quickly and properly and I must have expedited the drying process trying to take pictures here LOL!) I plan to use it up, and I have been. I have been tightlining a lot (because I'm lazy) but since I started using this pen, I've been using it almost daily so it doesn't go to waste, and because I just like how the crisp line looks.
Unlike other Marc Jacobs Beauty products I've tried, this one has a little more function over form, although the form is impressive as well. A relatively weighty sleek pen with a shiny tip on the cap feels comfortable in your hands, looks amazing on your vanity and stays all day on my lids. Couldn't ask for better!
Have you tried this Marc Jacobs liquid eyeliner pen? Do you use liquid liners and if you do, what's your fave?
I don't use liquid liners a lot because I don't like how quickly they dry out, and because I'm just not very good at it. The last one I used and liked a lot was the Maybelline Hypersharp liner (good and affordable!) but it dries so quickly and the colour wasn't as pigmented after a while. This one's nice, but the price is rather hefty so think of it as a splurge item if you're feeling flush, or wait for Sephora sales or discounts. But I will warn you that because it's so impressive in both form and function, it'll be hard to move on once it's dried out 😀 Now, has anyone actually used a Sharpie or marker as eyeliner? 😛
Paris B
Marc Jacobs Magic Marc'er Precision Pen Waterproof Eyeliner in Blacquer Price: RM89 Availability: Sephora stores