I'm picky about liquid eyeliner. For me, its one of the hardest things to get right. Some brands try to get all rocket science on us and put their liquid liner in clicky pens. Perfect – it won't dry out so quickly. But it falls out in gobs as you click it out. Bad idea. So for liquid liner, I prefer to go for those that come in marker style pens. I had a favourite one from Smashbox – I don't think I ever told you about it. But I do like it very much. I still do.
But its pricey. So when Maybelline released a liquid eyeliner pen called Hypersharp and priced it at RM23.90, I was ready to see what it could do.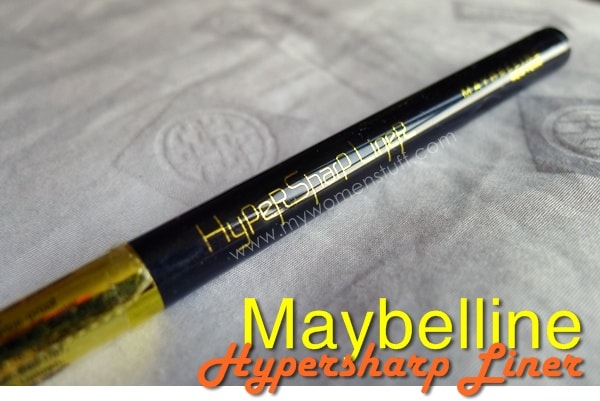 I've had this one a while – almost 5 months actually. And I use it almost everyday.
Does that sum up the review for you? 🙂
Yes, this one's a keeper. I remember when I first posted about this for information purposes, someone left a comment saying that the pen nib was too short.
I fully agree. The pen nib IS too short. If you like to apply your liquid eyeliner by laying the pen on its side it is hard to be comfortable with the Maybelline Hypersharp liner pen. You'll find that the plastic bit will bump against your lid and it won't give you a good line.
I was ready to dislike it for this point, when I first used it. However, I did like the texture, longevity, and how quickly it dried. So I had to find a way to use this and happily for me, it wasn't too hard.
I now angle the pen about 45° so about half the nib is lying against my skin and I use that to draw a line. Its quick to draw and it gives me a nice clean line. The fine tip makes it easy to get a nice precise line, and a nice flick at the end.
It took a bit of practice the first few times, but I'm used to it now, so I work quite quickly. I can also use this straight on, because the nib is fine and flexible enough to give a nice sharp line. If you ignore the zombie cast to my skin, here is an approximation of what the Hypersharp eyeliner looks line when drawn on my upper lid.
I like the texture of the liquid. It dries in very impressive time, so I like that. I'm a right klutz and I've ruined many a good eye look by having liquid liner mark my lids when I blink. With the Maybelline Hypersharp liner, I only have to wait a few seconds and its all good. I like that – it allows me to get things done more quickly (especially when I'm running late in the mornings).
I also like that the texture of the liquid is thick enough so the black is really BLACK yet its not so thick as to be goopy. One line is more than enough to get it nice and black. None of that strange weird grey you sometimes get with liquid liners.
This was to show you that you can get a thick or thin line, depending on whether you press down on the pen nib or don't. The nib is flexible enough to depress for a thicker line, but it isn't so flexible as to be floppy. Its firm, but pliable. If that makes sense.
Now that I've gotten used to the short nib, I couldn't see myself using another liquid liner. I use this for lining my top lid, and to tightline. The nib is fine enough to get right between the lashes and its black enough so you don't have to double back. Perfect.
In a nutshell
Hypersharp Liner is an affordable liquid eyeliner pen from Maybelline. The ink is a dark black and the nib is firm yet pliable so you can get a thick or thin line depending on how much pressure you apply. I find the nib a little short so it can take a bit of getting used to. However, for the price and how long it lasts on me (all day and more!) and how easy it is to use, I would say this is a keeper!
Pros: Affordable, Good dark black ink, Pen nib is flexible yet firm so you can get a thick or thin line very easily, Longlasting formula, Dries quickly
Cons: Nib is a bit short so if you aren't careful you can bump the plastic bit against your lid
The formula in this one is quite amazing. It dries in super quick time, yet lasts all day on me. I even wear it to tightline sometimes, and it doesn't smudge or rub off. I can't say much bad things about it. There really isn't any. For the price, I'd say get it! I know I will once this runs out (not happening that soon and its already in use for over 3 months!)
Have you tried the Maybelline Hypersharp Eyeliner? Do you like it like I do or perhaps you don't? Do share your views on this 🙂 But remember, an eyeliner is an eyeliner. It will wash off easily with makeup remover (this one does). A marker pen or Sharpie is NOT a substitute for liquid eyeliner, no matter what anyone tells you. Please do not tell me you have ever tried that 😛
Paris B
* Hyperbole = exaggeration
Maybelline Hypersharp Liner comes in black and retails at RM23.90 at all Maybelline counters.