Alrighty, I know some of you have been champing at the bit for me to hurry up and tell you about the Estee Lauder Nutritious Essence Oil. It was supposed to have gone up last week, but what can I say? It didn't! LOL!
Nevermind, because here it is 😀 You can read an overview of the Estee Lauder Nutritious skincare collection in my previous introductory post so I don't have to repeat it here. Essentially, this is a range of skincare that uses pomegranate extract which is a known antioxidant, to give your skin a detox and infuse it with radiance and a glow.
The Nutritious line isn't targeted at anti-aging or hydration or whitening. It is a sort of, I'd say, "maintenance line" where if you don't have a particular "problem" you want taken care of, this helps you stay on the ball and to retain that glow in your skin.
I'm just telling you about the Nutritious Essence Oil today because for me, this has been the star of the show. I'll also share some thoughts from a reader who had the chance to try this a month or so ago so you have not just 1, but 2 reviews! (Talk about value for money hehe…) 😀
What the Nutritious Essence Oil is, is a sort of "booster oil". Its not even an oil in a true sense, being a blend of various oils, extracts and other ingredients including fragrance and silicone; the latter 2 of which I can almost see send warning bells to those sensitive to these ingredients. The oil is a clear liquid that doesn't have a very oily texture. It has been described as "silky", a description with which I tend to agree. I don't quite like the texture because it feels a bit "artificial". Then again, I like my oils to be oils. The packaging is a red translucent plastic bottle (dislike) and a pump with pipette dispenser. What I found is that when I depress the pump while the cap is screwed on and then, I unscrew the cap, I don't even really have to physically pump out any product. I just remove the cap, hold the pipette over my palm and allow a few drops to fall. No physical pressing necessary.
The instructions say to use a few drops on skin and smooth over skin before moisturiser. Here's how I use it, for best results (for me).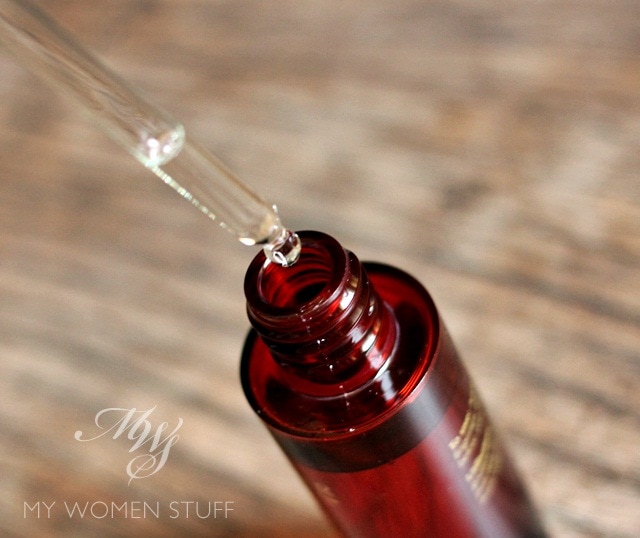 I usually drop about 3-4 drops into the palm of my hand, rub my palms together to spread out the product, and then I press and pat my palms all over my face, starting from my cheeks. I find that the light, silky smooth oil absorbs very quickly into my skin this way. If you are concerned, mist on some thermal water or toner and then pat the oil onto your damp skin. It'll absorb really quickly then.
I don't stop there. In my evening routine, I drop 2-3 more drops into my night moisturiser, to thin out the thick texture and then apply it to my skin. I found that for some reason, although my night moisturiser (the one I'm using is the Dior Capture Totale night cream) works very well for my skin, it had a tremendous boost after I started using it together with the Nutritious oil. I don't do this extra step in the day so my skin isn't too oily so I reserve it only for the evening routine. It must be noted that I have skin that tends to be dry so it might be why this works so well for me.
I've been using this for over a month now and my skin loves it. In the first 2 weeks, I noticed that my skin seemed to almost visibly look more radiant, clearer and smoothen out with twice daily use. It also feels much softer. I can't say its helped a glow because I'm going through a stressful period and nothing really, can give a glow to the skin right now, but it isn't looking as bad as it should be otherwise and perhaps this is helping my skin retain the status quo. Not all bad.
Suffice to say therefore that I love this oil not because it really does anything but because it just makes my skin look and feel better, and additionally, gives my already effective face cream that extra boost of efficacy. I'm not sure I understand how it works, but its worked very well for me 🙂
I must mention 2 things I'm not crazy about:-
Packaging – The plastic bottle doesn't grab me at all. For oils, I'm a glass girl. I also felt that the cap didn't seem to screw on very tight so I didn't dare travel with it. Wish they'd used glass for the bottle and I'd have been sold, hook line and sinker!

Scent – Its not an unpleasant scent, but there is a sweet fruity sort of scent that I'm not crazy about.
A bottle isn't cheap but then you only need a few drops so it'll last you a long long time. This is definitely one to consider and a serious contender to the popular Kiehl's MRC 😉
Reader Cecilia won a bottle during the MWS 6th Anniversary Giveaway and here's what she had to say:-
I'm a strictly-by the-instruction skincare user. I know, no imagination. So when I got the bottle of Estee Lauder Radiant Vitality Essence Oil, I felt lost. Basically, all it said was apply on face after moisturizer. I scooted off to the Estee Lauder SA for more information. I used to be a loyal user until hormonal changes made me allergic to their skincare. Since it wasn't out in the market yet, she was as lost as me. Because of my past experience, I was hesitant about using it. But I had given you my word to try it, so I had to do it.
The first time I used it was before bedtime. The next morning, I woke up with two zits. One on each side of my cheeks. I guess coupled with the richer night cream, it was just too oily for me. I then decided to use it only with my day moisturizer. I stuck to my regular skincare routine, so I could really see the effect on my skin. There were no more zits after that, I'm glad to report. So, did I like it? I liked it. I liked that it barely had any fragrance. I liked that it was quickly absorbed into my skin. It felt comfortable on my skin. There was a nice little glow to my skin after application. But after one month, I don't see any changes or improvements to my skin. For a 55 year old, I have pretty good skin (thanks to my mom). Maybe there was nothing else it could do for me? I still have 3/4 of the bottle to go, and I intend to finish it before I give my final verdict. So, to your question "Did you like it?" I did. I liked it but I didn't love it.
As you can see, Cecilia had a rather different view from mine so the moral of the story is that the same product will work differently for different people and different skin types and you will have to learn to tailor its use to suit your skin best.
In a nutshell

The Estee Lauder Nutritious Radiant Vitality Essence Oil is a new product in the Nutritious skincare range. It is tailored to protect the skin with antioxidants, detoxify the skin and boost skin's radiance. I found that it worked well for me as a radiance and product efficacy booster. It seemed to boost the efficacy of my night cream, and regular use visibly smoothed out my skin texture and also made my skin look better generally that it did before. I don't personally find it hydrating but it isn't meant to be so I do use it with a hydrating serum or a whitening serum, depending on what my skin needs at the time. I also don't think its an oil in a true sense because it is a blend of different oils and other ingredients including fragrance and dimethicone (silicone) which explains the texture. Its not a texture I particularly like, but as a product, I do like it, and I think its a nice product that I'll be happy to continue using for 1 bottle at least which I estimate will take 6-8 months. I am not crazy about the packaging or the sweet scent so I do think there is still room for improvement.

Pros: Seems to boost the efficacy of my night cream to work better, With regular use, my skin visibly improved in texture and feel and just looked better overall, Not oily, Skin feels significantly softer

Cons: Plastic bottle packaging makes the product look less attractive, I find the scent a bit too sweet, Texture feels a bit "serum-y"

Who will like this: Anyone who may be experiencing a bout of dull skin
I know what many of you are thinking – how does this compare with the Kiehl's Midnight Recovery Concentrate, also a face oil that I particularly like. Well for one, Kiehl's wins for scent and packaging – glass bottle and lavender wins me over any time. I also find that the Kiehl's oil feels more "oily" and seems to help my skin feel more hydrated and rested. By contrast, the Estee Lauder Nutritious Essence Oil feels more "silky" and my skin doesn't get that hydrated feel.
In terms of efficacy, they both seem to work well for me. I've blended the Kiehl's MRC with the Dior night cream before but didn't notice anything different except a thinner consistency. However, blending the Nutritious oil with the cream seemed to make it work better for me. So, from a booster point of view, it seems like this Nutritious Oil works better for my skin. Its a bit of a toss up at this point so I think it will ultimately come down to your personal preference of texture, scent and possibly even efficacy. There isn't much of a difference in price between the two, so go touch them, smell them and then see which you might like better. They both work for me so its hard for me to pick one. I might lean just a little bit more in favour of Kiehl's MRC mainly because of the calming scent and I like the oily texture, but then I'd be swayed back to EL because of the "vitamin boost" effect it gives my skin. Gah! Choices! 😛
Update: Reader Kel sent me this picture from a brochure to show you how to use the Nutritious Essence Oil. I thought it was very helpful!
Ingredients: Caprylic/Capric Triglyceride-Octyldedecanol, Dimethicone, Neopentyl Glycol, Diheptancatetrisloxane, Olea Europea (Olive) Fruit Oil, Polybutene, Tricaprylin, Phytoserols, Silybum Marianum Seed Oil, Mangifera Indica Seed Oil (Mango), Glycine Soja (Soybean) Oil, Vaccinium Macrocapron (Cranberry) Seed Oil, Punica Granatum (Pomegranate) Extract, BHT, Tocopherol Acetate, Tetrahexyldecyl Ascorbate, Fragrance
Have you sampled this at the Estee Lauder counter?
Its a little new right now but it should have rolled out to all EL counters by now. Go have some touchy feely sessions with it and let me know what you think! 🙂
Paris B
Estee Lauder Radiant Vitality Essence Oil Price: RM240/30ml Availability: All Estee Lauder counters