At the end of last year, I told you about how I'd embarked on this regime to make me 21 again 😛 Well not quite, but I was testing out the Dior Capture Totale 21 night renewal treatment (and I'm only just started on Bottle #3!) and I must say I've been quite impressed by the serum. Complementing the serum, I also put to work the Dior Capture Totale Creme Nuit Haute Regeneration which loosely translates as the Capture Totale High Regenerating Night Cream or as Dior will have it, the Intensive Night Restorative Rich Creme for normal to dry skin.
At the time, I had dryish skin, in particular on my cheeks and even on my forehead. In many ways, I believe that this cream has helped rebalance my skin because its stopped being very dry and is now bordering on normal. Also, I love how my skin feels and looks in the morning, and if there's no better testament, I can't bring myself to give up the use of this cream. I've had to physically hide it just recently so I could try commiting to trying another brand that was sent to me, but I just know this is going to come out of its hiding place the minute I'm done with testing 😛
The Capture Totale line is targeted at those with older skins and is an anti-aging skincare line. If you are young and pert and firm then my guess is, you don't need this. So, move along now… nothing to see here 😉
The cream is rich, as the name implies. The jar comes with a spatula so you can scoop out the amount you need, and because its so rich, I use only a smidgen <- accepted technical term for review purposes haah! 😉
Its thick and creamy and what I do is spread it out between my palms and then apply to my face starting with the cheeks (where its driest), then neck and only then on the forehead and nose where my skin is oilier.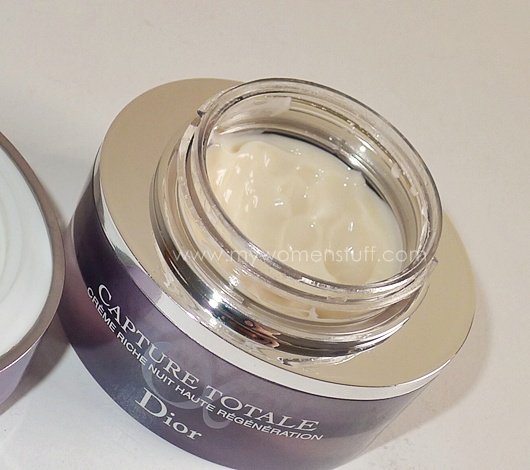 I experienced no breakouts despite the heavy cream and as I've said, I do think that this cream has helped my skin remain firmer and in particular my neck, which was developing a bit of saggy skin. Its all good now! No wattles, thank God!
I sleep in an air-conditioned room which can get drying but thanks to this cream, my skin isn't drying out more than normal (a recent skin test confirmed that my skin was less dry now compared to the last time – yay! :D) and like it or not, I believe its keeping lines and wrinklies at bay, which is, y'know all sorts of awesome because no one has guessed my age… yet 😀
Some nights, when I feel I want a cream with more slip, I play mad scientist and mix this cream with 1-2 drops of the Kiehl's Midnight Recovery Concentrate.
The oil helps to thin out the rich cream and it of course smells really good. The cream itself has a floral scent which I rather like and the scent of lavender in the Kiehl's serum complements it beautifully. I also find that if I use this mixture, I wake up to even better looking skin. But I don't do this everyday. Maybe about 3 times a week, especially if I've had a long day. Don't believe in overdoing a good thing 😛
I don't believe in HG (Holy Grail) products. But if I have one, this comes pretty close to Holy Grail status for me. Oh and because I only use a smidgen, what you see in Picture 3 is after nearly 3 months use. Barely making a dent! A 50ml tub will easily last 6-8 months or even longer. Actually, much longer.
Pros: Firmed up skin on my neck, Facial skin feels firmer smoother and more radiant, Keeps lines at bay, Helped to rebalance my dryish skin
Cons: Pricey, Floral scent might not suit everyone
I've learnt that there is a lighter texture night cream in this range for normal-combination skins. Its just a little lighter, rather like the day cream but still creamy.
Do you use anything from the Dior Capture Totale line? I still use the One Essential serum off and on. I seriously think it awesome and if you use it, you'd know it now comes in a larger 50ml size which is of course more economical in the long run 🙂 I'm also using the Capture Totale day cream which I'll tell you about at a later time 🙂 Its good but I'm less attached to it compared to this night cream.
So if you're below 35 and are reading this, come back when you're older 😉 But if you're 35 and up or are starting to experience dry saggy skin at any age, try asking for a sample at the Dior counter to see if it will suit you. But don't blame me if you find yourself swiping plastic after that. Seriously, don't 😛
Paris B
The Dior Capture Totale Creme Nuit Haute Regeneration Intensive Night Restorative Rich Creme comes in 2 formula for Normal/Dry and Normal/Combination skin and retails at RM470 at all Dior counters.