Remember a little while ago, I told you I was using cream cleansers instead of oil cleansers? When I finished up the cleansers I decided not to repurchase but to try instead cleansing waters. I've heard so much about these micellar solutions and how they act as all in one makeup removers, cleansers and toners while being gentle enough for even the most sensitive of skins. The most famous one that most would have heard of is Bioderma. I actually have 2 really large bottles of them which I probably should tell you about some day… but you know what. I find it really hard to write about something I find at most average, when its so much more fun sharing about something I like! 😛
So yes, my introduction to cleansing waters on this blog will be the Caudalie Cleansing Water because I like this one. I bought this online a little while ago when it was on sale so I think it was something like £11. I don't know how much it retails for locally but it shouldn't be too pricey.
Micellar solutions or cleansing waters were popularised by the French so you will see many of them appearing under French skincare lines of which Caudalie is one of them. My skin seems to take well to French skincare in general. I looked around for information on what is micelles and micellar water but its so bloody technical, I need a scientist (will Larie please step up to the task? :P) In a nutshell, in this liquid which approximates that of water are molecules that will bond with dirt and makeup on your skin and lift it off, leaving your skin clean. All without having to rinse with water. This is also known as the waterless cleansing method. But I use this one slightly differently.
Whilst Micellar solutions and cleansing waters are supposed to be sufficient to cleanse skin at one go without rinsing, I use it instead as my first step of a double cleanse routine. I find its better for my skin and this way, I never really need the cleansing water to do an excellent job at removing eye makeup and foundation because I have my backup solution. Its a personal thing and it works for me.
This product is supposed to be safe for all skin types, including sensitive skins. How you use it is very simple. Wet a piece of cotton pad and wipe it over your skin. You will notice your makeup being removed and if you really do not want to wash your face again thereafter you can do it a few times until the cotton pad is clear.
As a makeup remover, I think this isn't perfect. Neither is Bioderma, no matter what anyone says. The difference is, Bioderma is more affordable so using more of is doesn't seem as sinful as using more of the Caudalie. I find if I want a truly clean face (after a day's worth of makeup to work) I have to go through at least 3-4 pieces of cotton. It works around the eye area to remove my eye makeup although mascara does take more work. It does remove though, but you just have to work harder at it. A dedicated eye makeup remover does the job more quickly.
What I like about this is, although I just make one pass over my skin with a dampened cotton pad, to remove the most of my makeup and the day's dirt and crap, my skin almost immediately feels clean and refreshed. When I touch it, it feels smooth and clean and cool. It feels lovely! My skin seems to have benefited as well from using a cleansing water, in that it seems less irritated, and less sensitized.
I have come across complaints about the scent but to me, it just smells faintly of grape juice. I find it refreshing. For a spell, I was using this in the morning in place of a face cleanser. I was testing the theory that our faces don't get that dirty in the night while we sleep, so we don't really need a heavy duty cleanser in the morning. This cleansing water was refreshing in the morning, and did make my skin feel clean without feeling stripped, or uncomfortable. Unfortunately, I just like splashing my face with cool water in the morning. It wakes me up better than gently wiping a cotton pad over my face so I'm back to using a face wash 😛
Would I use a cleansing water over a cleansing cream?
Yes actually I would and I have. Cleansing waters aren't drying on my skin and not as messy as using a cream. I've all but abandoned cleansing oils for the moment because I tried using one recently and it made my skin feel so dry almost immediately. Boohoo! Can't say I haven't given them a good run for my money! 😀
In a nutshell

The Caudalie Cleansing Water Micellar Solution is a watery liquid that acts as a makeup remover, face cleanser and toner so it effectively takes the place of 3 products. I personally use it as a makeup remover and pre-cleanse routine, following up with a foaming face wash because I prefer it this way. It doesn't work too well to remove all makeup and dirt at one go, so you will need a few passes with a damp cotton pad to get it 100% clean. That makes it quite pricey, but my skin feels lovely, cool, clean and smooth which is very nice. It is importantly also, not drying and not messy and very convenient. I've replaced my pre-cleansers with a cleansing water because I like the way my skin feels with it and I am not in the market to find others!

Pros: Cleans skin and leaves it feeling comfortable, Convenient, Skin feels clean, cool and smooth

Cons: Scent may not appeal to everyone

Who will like this: Anyone who wants a convenient pre-cleanser and cleanser in one, Anyone for whom cleansing oils don't work
Here is the ingredient list if you're interested.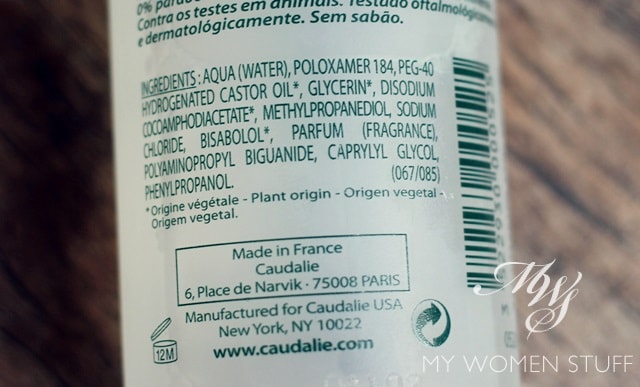 My skin seems to like this better than Bioderma in that it feels more comfortable as compared to Bioderma. Bioderma isn't bad either but I'm just not enamoured with it like most people are. Some day, I'll get around to sharing some more concrete thoughts on it 😛
Have you used the Caudalie Cleansing Water before? Do you have other cleansing waters that you like?
Cleansing waters don't seem to be very popular locally but it could well be because the big one (Bioderma) isn't available here yet. For now, I know of Caudalie and Melvita that both have micellar cleansing waters but we don't hear much about them. I haven't tried the latter but I plan to. I hear the one from Vichy is good (no more Vichy here boohoo!) and so is the one from La Roche Posay (neither is this one boohoo!) so I guess trying out cleansing waters is going to be my next big thing after my cleansing oil exploits! 😀
Paris B
Caudalie Cleansing Water Price: US$28/£15 for 200ml. Local price unknown Availability: Ken's Apothecary stores (Empire Shopping Gallery, Bangsar Village 2)