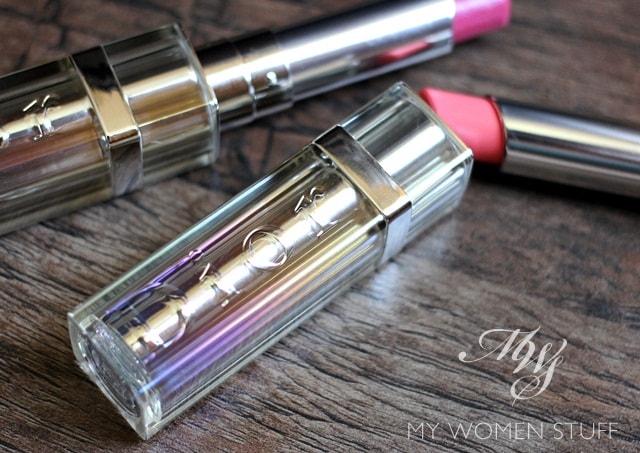 I just had to use this picture to introduce the Dior Addict lipsticks from the Cherie Bow collection. I didn't realise just how pretty the Dior Addict lipstick casings can look when the light hits it right. The prismatic colours are absolutely lovely!
These pretty covers house the Dior Addict lipstick line which are one of the early balm-lipstick hybrids. I have Dior Addict lipsticks from way back (I'm a big fan) and they have all been very similar in texture. Light, balmy and moisturising. Some have sheerer colours and some have more pigmented colours depending on the sub-lines but the take away is always the same – moisturising, lightweight colour.
In the Spring 2013 collection, a couple of new colours were included. Dior reformulated their Addict lipsticks about 2 years back, where they were made more pigmented, without losing the balmy texture. I am not sure why these new colours don't feel the same. Am I disappointed? Well, yes I am. Let me tell you why.
The 2 colours I have from the Spring 2013 collection are Candide 457* (left) and Espiègle 687 (right).
In tube, they both look opaque and creamy. Candide in tube, is an opaque milky peach-pink. Not a colour I'd usually pick up if I'm honest. Espiègle attracted me right off the bat because its one of those colours I usually wear – a rosy hue. Its no wonder I chose to pick up that one! If I look closely, there is minute shimmer in Espiègle.
However, swatching them on skin made me frow my brow in surprise and a little annoyance. They pretty much went on my skin sheer.
Swatches L-R: Dior Addict Candide 457, Dior Addict Espiègle 687 (2 layers each)
While I don't necessarily consider this a bad thing (I almost expect sheer lip colour from Dior Addict lipsticks anyway) this one still surprised me because the colours coming out of Dior recently have been more impressive. These two colours fit right into the pink theme of the Cherie Bow collection, but the problem is, they aren't very special otherwise. You could quite easily get similar colours in other brands, which is what disappoints me more than the formula.
Swatched, Candide that looks opaque peach-pink in tube applies on my skin a sheer light pink. Espiègle that looks rosy and a touch shimmery in tube, applies on my skin a sheer rose with no discernible shimmer.
The gloss and shine factor is lovely but that is almost de rigueur coming from the Dior Addict range. What I like about the lipsticks in this range is the moisture and the translucent shine, so if you are looking for an opaque lipstick that lasts, don't do Addict, go for Rouge Dior instead.
Here's an example of how they look on my lips (swatches on the arm only take you that far because most people don't wear lipstick on their arms you know 😉 )
Left: Candide layered with a gloss Right: Espiègle worn alone
I didn't have a picture of just Candide worn alone. On my arm, it looks like a light pink but on my lips, it washes me out terribly. I can't wear these "nude" or "light peach" shades most of the time. When I do, I look like I need to visit a doctor. So, layering it with a gloss (Dior Addict Ultragloss Flash 557) made it look a bit brighter and thus better on me.
Espiègle is one of those "my lips but better" shades. This is usually what happens when I go for a sheer rose shade because that is very close to my natural lip colour so I was expecting it. I looked up the definition of "Espiègle" and it translated into "frolicsome, roguish or mischievous" . Unfortunately, the name is much prettier than the colour. Nothing very mischievous or roguish about this gentle tint of rose on lips 🙁
If you have pale lips these will of course, show up better on you. If you have pigmented lips then I suggest you don't bother because you'd just be frustrated and disappointed at the lack of colour. I have these now, so I'd use them. However, if you don't have them, I'd say hold off or look into the regular permanent Dior Addict range instead for a better colour selection. My personal favourite is Icone (681) 😀
In a nutshell

Dior introduced 3 new limited edition shades in their Spring 2013 Cherie Bow collection – Charmante (437), Candide (457), Espiegle (687) and Bow (467). All colours are pink toned to match the pink themed collection. I tested all the colours at the Dior counter but they didn't attract me primarily because I don't usually wear pink on lips very often. All the colours are sheer and light and truth to tell, aren't very inspiring. The texture is classic Dior Addict which is light, moisturising with a translucent shine. Colourwise, its very sheer which may not suit many, but may suit those who like these sorts of sheer tint of colour because quality wise, its still pretty good.

Pros: Light balmy texture, Easy to wear colours

Cons: Colours aren't special

Who will like this: Anyone who likes wearing light sheer tints of lip colour
Do you like the Dior Addict lipstick formula? Did you like any from the Cherie Bow collection?
Any time people tell me they don't like wearing lipstick (why??) I gently (or not so gently) steer them in the direction of the Dior Addict lipsticks. They are a very good "transition lipstick" for gloss wearers because of the texture and formula and light colour so it doesn't frighten people so easily. The ones from Spring 2013 didn't grab me but I hope there'll be more interesting ones to come in the later collections. Like these? 🙂
Paris B
Dior Addict Cherie Bow lipsticks – Charmante (437), Candide (457), Espiegle (687) and Bow (467) Price: RM98 Availability: Dior counters Limited Edition: Yes, Spring 2013 Cherie Bow Collection