I just received the official news about the upcoming Guerlain Blanc de Perle skincare and makeup range yesterday and I just had to show you the one item in the whole collection that I have my eyes on. Not eye, mind you, eyes!
I believe that the Blanc de Perle skincare range is released only in Asia but do correct me if I'm wrong. The reason this is so, is because this is the whitening range for Guerlain, and as we all know, Asia is where whitening is all the rage. I personally have not used anything from the Guerlain Blanc de Perle skincare range although I've been told that the sunscreen isn't bad. I plan to pick up the Super Aqua serum soon so I'm not about to delve into the whitening products of this brand just yet.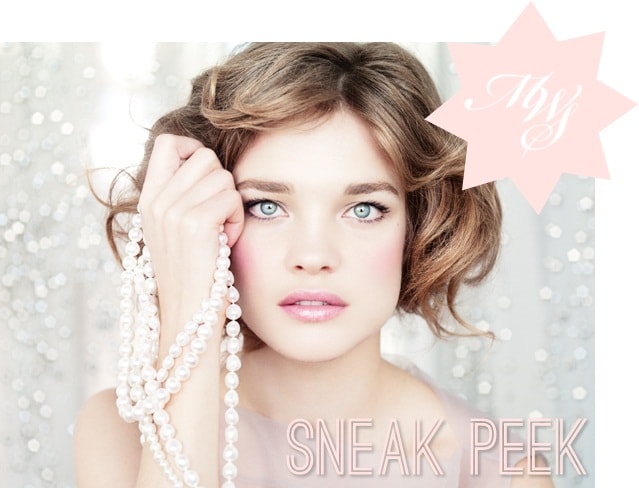 This is one of 2 images for the Blanc the Perle range, and as you can see, it reflects the luminous ethereal effect which is promised when you use the Blanc de Perle skincare and makup. The pink on the cheeks appear to be that of the Blush G Sakura blush – a beautiful pink palette housed in a lovely white compact.
If you like pink blushes as I do, you might have to go and lie down after this to slow the pitter patter of your heartbeat after viewing the picture of the blush 😉
Here it is then, the Guerlain Blush G Sakura Cherry Blossom blush.
I have to confess that part of the reason I'm lusting after this wonderous beauty is because I see it as the perfect counterfoil to the Blush G Serie Noir released about 2 years ago! The Blush G Serie Noir comes housed in a polished black case and I can just see them sitting side by side – black vs white. Eeee….!!!! 😀
I have no idea as yet what the texture will be like or if it will be pigmented, or if it will be pale. If it is anything like the texture of the Blush G Serie Noir blush then I will tell you that the quality is sublime. The powder is lovely and pigmented yet blends beautifully to impart just a soft blush of colour on the cheeks. Blush G Serie Noir was more coral-pink and I expect this one to be a bit cooler, just based on the images.
According to Guerlain, the Blush G Sakura blush was inspired by the tenderness of Spring and blooming cherry blossoms. The striped palette contains white, coral, and petal pinks. Blend the 2 top shades of coral and white to give skin a flush of "nude pink" and blend the lower two shades of fuchsia and soft pink to create a "pink explosion" and highlight cheekbones.
To be honest with you, I"m not sure what this all means, but all I do know is that I have set my eyes and heart on this one and I can't wait till its available in stores. At present, I'm told it will be available locally in February 2013 and perhaps around mid-February 2013 so keep a look out for it then.
I had the impression that this Blush G Sakura is exclusive to Asia but its available on the Selfridges website so perhaps, not just Asia after all, but it certainly has limited distribution.
Here are 2 more shots of the complete Guerlain Blanc de Perle collection for 2013 for your viewing pleasure.
Yes, there are Meteorites Perles too. They come in a tin of white pearls of varying shades of ivory and white, and you maybe wondering why I'm not making a big song and dance about it as I usually do. The answer is simple. I already have them! Mwahahaha! 😀 They are available permanently here in Asia so I picked up a tub a while ago. I'll post some pictures and talk about them soon 😀
Have you tried anything from the Guerlain Blanc de Perle skincare and is anything worth trying? Does the Blush G Sakura blush make your heart go pit-a-pat?
I can't wait till its out at the counters because I swear, this is about the only item I'm actually excited about during this quarter of 2013 and that is saying something! 😀
Paris B
Guerlain Blush G Sakura Cherry Blossom Blush Price: RM198 Availability: Guerlain counters from mid-February 2013